Dom Robinson reviews

Pulp Fiction
Classic Collection Box Set

Distributed by
CDA Entertainment
Cert:
Cat.no: C 201501
Running time: 148 minutes
Year: 1994
Pressing: 2002
Region(s): 2, PAL
Chapters: 26 plus extras
Sound: Dolby Digital 5.1, DTS 5.1
Languages: English
Subtitles: English for the hearing-impaired
Widescreen: 2.35:1
16:9-Enhanced: Yes
Macrovision: Yes
Disc Format: 2 * DVD 9, 1 * CD
Price: £44.99
Extras:Jackie Brown DVD trailer, Enhanced Trivia Track, Soundtrack Chapters,"Pulp Fiction: The Facts" documentary, Deleted Scenes, Behind the ScenesMontages, Production Design Featurette, Siskel & Ebert TV special,Independent Spirit Awards, Cannes Film Festival – Palm d'Or Acceptance Speech,The Charlie Rose Show, Theatrical Trailers, TV Spots, Still Galleries,Reviews and Articles, CD soundtrack, Senitype image, Poster, Booklet.


---

Director:

(Jackie Brown, Kill Bill, Pulp Fiction, Reservoir Dogs)
Producer:
Screenplay:
Music :
Cast :
Vincent Vega: John Travolta
Jules Winfield: Samuel L Jackson
Mia Wallace: Uma Thurman
Winston Wolf: Harvey Keitel
Pumpkin: Tim Roth
Honey Bunny: Amanda Plummer
Fabienne: Maria de Medieros
Marsellus Wallace: Ving Rhames
Lance: Eric Stoltz
Jody: Rosanna Arquette
Captain Koons: Christopher Walken
Butch Coolidge: Bruce Willis
Trudi: Bronagh Gallagher
Zed: Peter Greene
The Gimp: Stephen Hibbert
Marvin: Phil LaMarr
Jimmie: Quentin Tarantino
Brett: Frank Whaley
Maynard: Duane Whitaker
Waitress: Laura Lovelace
Buddy Holly: Steve Buscemi
---
Pulp Fiction.After Quentin Tarantino's startling directorial debut,Reservoir Dogs,it was a frustrating three-year wait for his follow-up, but one that waswell-rewarded, and a film that I saw twice at the cinema, and just had to rentit out on video the day it was released, even though it would be a bastardisedpan-and-scan, cropping at least half the action.
For those of you unfamiliar with the story, it's actually several storylineslinked together, played out, like Tarantino's previous film, in an order that'sfar from consecutive, but in a way that works very well indeed.
John Travolta saw his career take off after a long dry spell, ashitman Vincent Vega, brother of Vic Vega inReservoir Dogs,and he's partnered with bible-quoting Jules Winfield (Samuel L Jackson in a role thatalso brought him to the fore and for many movies since), who are contracted bythe ubiquitous Marsellus Wallace (Ving Rhames) to recover a briefcase,the contents of which are unknown and shine a gold colour upon whoever looksinto it. For the record, the contents were never officially revealed by Tarantino,thus making it seem all the more cool.
Vincent is also obliged to take out Marsellus' wife Mia (Uma Thurman)on a date, which doesn't quite go as planned like the above briefcase recovery,but to reveal the details would spoil the fun for those who have yet to watchit.
---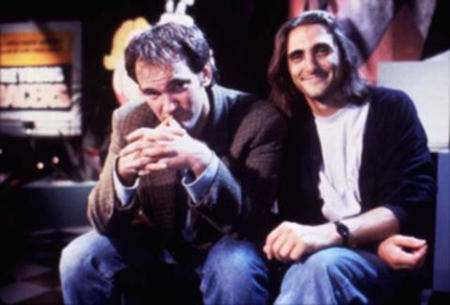 Director Quentino Tarantino
and producer Lawrence Bender.
---
Elsewhere, there's a young couple, known only as Pumpkin (Tim Roth)and Honey Bunny (Amanda Plummer), who plan to hold up a diner but chooseexactly the wrong moment at which to do it, and a boxer called Butch(Bruce Willis, pioneering the bald look he would have to use to good effectin later films) who's paid to throw a fight by the aforementioned Mr Wallace,except he doesn't and throw's a hook that does his opponent no good at all,leaving him in a world of trouble.
The rest of the cast features great talent from the likes ofHarvey Keitel, Stoltz, Rosanna Arquette, Christopher Walken, Frank Whaley, and cameos for Steve Buscemi and directorQuentin Tarantino, but, again, to give more info would spoil things.If you've seen the film before, you'll know what to expect, and if you haven'tand enjoy well-written thrillers, make this your next choice.
This film also set a precedent in that it features characters just going abouttheir business, talking about completely-unrelated things like what a hamburgeris called in another country, and making that seem cool. Many scenes, includingthat one, also went on to be spoofed from here to eternity in several filmsand programmes, such as The Simpsons. Tarantino also made an art ofjust keeping the camera static, at times, to film a scene whereas many otherdirectors would just cut from shot to shot too much.
---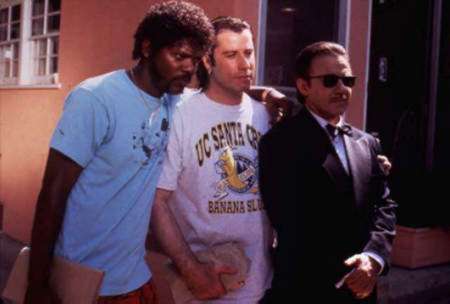 Vincent and Jules hang out
with the Wolfman (Harvey Keitel).
---
Crystal clear picture and sound quality is the order of the day, apart fromBig Kahuna cheeseburgers, with an anamorphic 2.35:1 widescreen image that haszero defects and is perfectly sharp. Anyone who saw the film in pan-and-scanwill know of the dreadful panning effect attributed to the surprise bulletin an early scene as the panning shot across the room, destroying the moment.
Sound comes in Dolby Digital 5.1 and DTS 5.1 flavours, the latter of whichwill always have the edge, and brilliantly reproduces the the dialogue, thethumping tunes, and the gunfire that'll pop your ears.
Also on disc one is a trailer for the Jackie Brown Collector's EditionDVD, which seems to have a jittery quality to it that also affects someof the extras on disc 2 in the same way, an Enhanced Trivia Track that lists text information throughoutthe film where it counts, in place of subtitles and in addition to the 26chapter that split up the film, a separate list of Soundtrack Chaptersthat take you to the individual songs within.
---
This boxset.
---
Disc two has a wealth of extras, and those parts which are affected the sameway as the Jackie Brown trailer are listed with a "*", as it does give you aheadache if watching for an extended length of time :
Pulp Fiction: The Facts (30 mins):A collection of interview clips and comments, largely in 4:3, from most of the key cast membersand some crew, which also brings Tarantino's other films into the mix. Wortha look for info on more than just the film you've paid for.
Deleted Scenes * (24 mins, 4:3 letterbox):Five short scenes, each introduced by Tarantino, and all in non-anamorphicwidescreen and surround sound, so no anamorphic treatment or DTS here, alas.I'd like to have seen these put back into the film with a branching optionto give you the choice.
Behind the Scenes Montages * (11 mins):Work-in-progress footage following the filming in "Jack Rabbit Slim's" andButch runs Marsellus over.
Production Design Featurette (6 mins):Talk about the creation of the symbols and logos from small things likefake products used in the film such as Red Apple cigarettes to larger itemslike the entire "Jack Rabbit Slim's" location.
Siskel & Ebert "At the Movies" – "The Tarantino Generation" * (16 mins) :Two of the most well-known reviewers discuss Tarantino and his films in aspecial edition of their show.
Independent Spirit Awards * (11½ mins):Tarantino, Lawrence Bender and Samuel L Jackson are interviews byMichael Moore at the awards show.
Cannes Film Festival – Palm d'Or Acceptance Speech (5 mins):by Tarantino, joined on-stage by Lawrence Bender, John Travolta,Samuel L Jackson, Maria de Medieros and Bruce Willis.
The Charlie Rose Show (55½ mins):I've never heard of him before, but it's a full interview with Tarantino,following the Cannes win. An addition like this, of a one-off TV special, makesup for the previous featurettes being so short.
Theatrical Trailers * (11 mins): Five in all, from the US, UK, France, Germanyand Japan.
TV Spots * (5 mins):Thirteen brief trailers for TV, each with a different theme.
Still Galleries:A host of silent step-thru screens broken down into categories:Pulp Fiction posters, Behind the scenes photos, Special photo shoots,Production stills, Academy Award campaign and trade ads, Location scoutingand set construction, Production design and logos, and Props and Memorabilia.
Reviews and Articles:Plenty of text-based content that does exactly what it says on the tin.
This special boxset also contains a few extra non-DVD supplements which are asfollows:
CD soundtrack:Not quite what you'd expect, since it's not the full soundtrack, the latestrelease being the 20-track Special Edition available from Amazon (see right).

The CD included here only features six tracks, Bustin Surfboards (TheTornados), If Love is a Red Dress (Maria McKee), You Never Can Tell(Chuck Berry), Flowers on the Wall (The Statler Brothers), JungleBoogie (Kool and the Gang) and Son of a Preacher Man (DustySpringfield).

The disc lists the Chuck Berry track as "You Can Never Tell" and was a buggerto get out of the packaging without breaking it since it was pressed down hard.

The Senitype:An image from the movie with 35mm film frame, mine being a close-up of JohnTravolta dancing at "Jack Rabbit Slim's", and No.068289.
Poster:The box promises a one sheet movie poster, size 27″x40″, but, natch, youhave to send off for it. The poster is free, but the postage cost is£3.99. Work that one out.
Booklet:A 16-page commemorative booklet with photos and information about the film.
So, definitely one of the DVD boxsets of the year, but it is disappointingthat, firstly, the film is still censored for the moment where Vincent Vegashoots up. The image was reframed for pan-and-scan video to show the otherside of the screen where the needle pierces his skin, and the widescreen versioncropped that further. It's the only phyiscal cut from the film, but you'd think thateight years on the BBFC would've let that go.
Also, I expected the full CD soundtrack – even if it was the 1994 release -and *didn't* expect to have to send off for the poster.
There are English subtitles for the hard of hearing, and excellent menus,both animated and scored, with clips from the film appearing between the sub-menus.
FILM CONTENT
PICTURE QUALITY
SOUND QUALITY
EXTRAS



















OVERALL





Review copyright © Dominic Robinson, 2002.
[Up to the top of this page]
Reviewer of movies, videogames and music since 1994. Aortic valve operation survivor from the same year. Running DVDfever.co.uk since 2000. Nobel Peace Prize winner 2021.