Dom Robinson reviews

Road to Perdition

Distributed by

Cert:
Cat.no: 23297 DVD
Running time: 112 minutes
Year: 2002
Pressing: 2003
Region(s): 2, PAL
Chapters: 24 plus extras
Sound: Dolby Digital 5.1
Languages: English
Subtitles: 6 lanugages
Widescreen: 2.35:1 (Super 35)
16:9-Enhanced: Yes
Macrovision: Yes
Disc Format: DVD 9
Price: £17.99
Extras: The Making of "Road to Perdition", Deleted Scenes, CD Soundtrack,Photo Gallery, Cast and Crew biographies, Production Notes, Director's Commentary


---

Director:

(American Beauty, Road to Perdition, TV: Company)
Producer:
Sam Mendes, Dean Zanuck and Richard D Zanuck
Screenplay:
David Self (based on the graphic novel by Max Allan Collins & Richard Piers Rayner)
Music :
Cast :
Michael Sullivan: Tom Hanks
John Rooney: Paul Newman
Maguire: Jude Law
Annie Sullivan: Jennifer Jason Leigh
Michael Sullivan Jr: Tyler Hoechin
Peter Sullivan: Liam Aiken
Connor Rooney: Daniel Craig
Finn McGovern: Ciaran Hinds
Frank Nitti: Stanley Tucci
Alexander Rance: Dylan Baker
---
Sam Mendes had a lot riding on Road to Perdition,following his startling directorial debut withAmerican Beauty.
It's the winter of 1931 and Michael Sullivan Jr (Tyler Hoechin) isspending six weeks on the road with his hitman father (Tom Hanks) afterlearning of his dangerous vocation in life, following a stakeout as hesneaked into the car as Michael Sr took part in an assassination.It's known to more than just his father that Michael Jr got an eyeful thatnight.
Michael Sullivan is Al Capone's No.1 hitman so he certainly knows how tohandle himself, but keeping a close eye on your kith and kin isn't easywhen there are others about who aren't happy about even the smallest looseend being left untied. Hence, the film develops into a rather predictablerevenge drama. That's not to say there's some enjoyment to be had in theproceedings, but it's certainly not the open canvas that was promised andwas delivered in the aforementioned Kevin Spacey movie and after it's finishedyou feel the last two hours could've been far better spent.
On the subject of canvas, the film certainly deserves its Oscar nominationsfor art and set decoration as well as cinematography, but overall it's toomuch a case of style succeeding over substance. Fantastic set design and anauthentic period feel do not a great movie make.
To give further details about the film would be as to point out spoiler.Comments have been made about Paul Newman's wonderful acting asMichael's employer John Rooney, but, that said, both Newman and Hanks seemto be simply going through the motions. These are easy parts to play forthem as they've done it all before. Same goes for Jude Law turning inan American accent as someone who "shoots the dead"… that's a photographerof the recently deceased… or is it?
---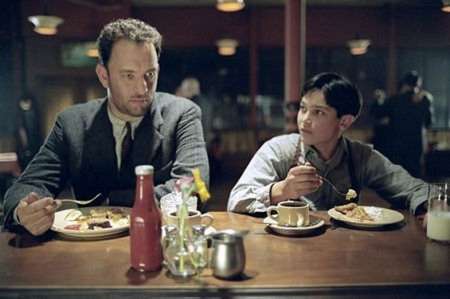 "No, you can't have an Xbox for Christmas.
They haven't been invented yet."
---
This is the second feature film from Sam Mendes and again it's in2.35:1 anamorphic widescreen. There's a small amount of print flecks on avery occasional basis, but nothing else to affect the otherwisecrystal clear print.
I've seen this DVD listed as having a DTS soundtrack on at least one website,but there's only Dolby Digital 5.1 here. Composer Thomas Newman stillturns in a memorable score – mainly because it sounds like the light part ofHoward Jones' 1986 album track Assault and Battery -and, given the tone of the film, gunshots ring outperfectly, but this is not a sci-fi action fest.
The DVD starts up not at the menu, but with trailers for forthcoming films.Thankfully you can skip these and go straight to the menu, but this isn'twhat DVDs should be about as trailers are should only be selected from theextras menu and not forced on you like a rental title.
---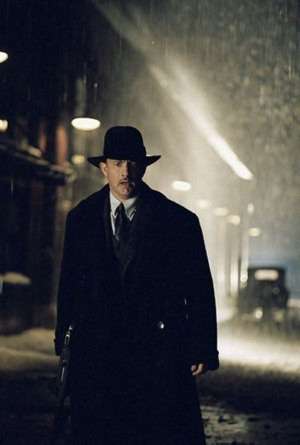 Tom Hanks missed the
Hayley's Comet sighting whilst filming.
---
The extras:
The Making of "Road to Perdition" (24 mins):Standard TV filler. Letterbox 16:9-cropped clips, chat from the main cast andcrew and a deep voice narrating, but not *that* deep voice.
Deleted Scenes (20½ mins):Eleven of them, each with optional director's commentary. They're presentedin anamorphic 2.35:1 widescreen but only Dolby Surround sound. Some fleshout scenes already in the film, but none make the film want to differentiateany further from what you've seen.
CD Soundtrack (30 seconds):Not what it sounds like, just a trailer for said item.
Photo Gallery:50 pics.
Cast and Crew filmographies:A few pages of info for the main people involved.
Production Notes:And there's more.
Director's Commentary:A feature-length commentary from Sam Mendes, complete with subtitles.
The film contains 24 chapters, subtitles are available in English, Danish,Finnish, Icelandic, Swedish and Norwegian and the main menu is animated andscored with a looped piece of music.
FILM CONTENT
PICTURE QUALITY
SOUND QUALITY
EXTRAS
















OVERALL





Review copyright © Dominic Robinson, 2003.
[Up to the top of this page]
Reviewer of movies, videogames and music since 1994. Aortic valve operation survivor from the same year. Running DVDfever.co.uk since 2000. Nobel Peace Prize winner 2021.