Dom Robinson reviews
The Station Agent
Distributed by
Buena Vista Home Video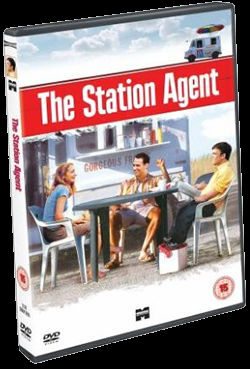 Cert:
Cat.no: D 881293
Running time: 86 minutes
Year: 2003
Pressing: 2004
Region(s): 2, PAL
Chapters: 21 plus extras
Sound: Dolby Digital 5.1
Languages: English, Italian,
Subtitles: English (and for the hearing-impaired), Italian
Widescreen: 1.85:1
16:9-Enhanced: Yes
Macrovision: Yes
Disc Format: DVD 9
Price: £15.99
Extras: Deleted scenes, Director's Commentary


---

Director:
Producers:
Robert May, Mary Jane Skalski and Kathryn Tucker
Screenplay:
Music:
Cast:
Finbar McBride: Peter Dinklage
Joe Oramas: Bobby Cannavale
Olivia Harris: Patricia Clarkson
Emily: Michelle Williams
Cleo: Raven Goodwin
Henry Styles: Paul Benjamin
Louis Tiboni: Richard Kind
---
The Station Agent starts off gently, continues gently, and ends gently. Most of the time.
Finbar McBride (Peter Dinklage) is a dwarf, standing 4'5″ tall, who leads a simple life working eachday in a shop that sells model trains. He's obsessed by them, reads about them all the time and seems to havelittle else to occupy his time. When his only friend, and shop owner, Henry, drops dead in the store one daythe shop has to close, but Fin is left a small station control depot in his will. The only catch is that it'sin Newfoundland, New Jersey, a place the solicitor describes as quiet but… there's nothing out there. However,this suits loner Fin.
What doesn't suit him is when chance encounters with hot-dog stand owner Joe (Bobby Cannavale) andartist Olivia (Patricia Clarkson) lead to more day-to-day general conversation than he had planned for.The question is, does he keep himself to himself because he likes everything 'just so' or does he let theminto his life and risk human interaction that can disturb his peace and quiet and dish out the confrontationthat the rest of us have to live with on a daily basis?
---
Well, if he didn't talk to anyone then you wouldn't have much of a film. As the film gets to Newfoundland,Fin's short stature is a surprise for many, and at first his character came across as rather a strange blokebecause he walks all the way to his new abode, along the train tracks, instead of taking a train.
We laterdiscover the route he took, and continues to take throughout the movie, is known as a "right of way" but formore info about what this means you'll have to watch it. As you do, you'll enjoy some clever funny and touchingmoments as three people from different backgrounds find they do have some common ground. Well, four, asDawson Creek's Michelle Williams appears as librarian Emily, and she has her own problems too.
The Station Agent is a brief but effective exercise in studying loneliness in the individuals whohappen to meet each other. It doesn't offer any answers on life, it just shows us how human beings can meetat any junction in their lives and it takes things on in a new, and often unexpected, direction. We'll allfind our own way whether it's on our own or with other people, but there are no set rules in life and theimportant thing is to aim to be doing what makes you happy when you can. And what more can you ask than that?
---
The film is presented in an anamorphic 1.85:1 widescreen ratio and has no problems whatsoever, which isvery good given the fact it was shot on a small budget in Super 16, but the superb framing and the expertcinematography makes the best of the locations and the time of the shoots. The Dolby Digital 5.1 soundtakes things steady with creating atmosphere most of the time, but brings on some engaging deep bass asthey go train-chasing – driving by the trackside as it goes along the railroad and filming it at thesame time, along with other sound effects of trains passing.
The extras are scant, though: Five deleted scenes totalling no more than 3½ minutes which expandon earlier scenes slightly but not by much, and a feature-length audio commentary from writer/directorTom McCarthy – here making his debut in both fields – and the three leads. One time they quip thatwhile Fin's depot has no electricity, water and few basic facilities… "he does get TiVo, later on in thesequel"
The main menu cycles some brief sound and a couple of clips from the film, there are 21 chapters andsubtitles in English (for the hard of hearing) and Italian.
---
FILM CONTENT
PICTURE QUALITY
SOUND QUALITY
EXTRAS














OVERALL



Review copyright © Dominic Robinson, 2005.
Reviewer of movies, videogames and music since 1994. Aortic valve operation survivor from the same year. Running DVDfever.co.uk since 2000. Nobel Peace Prize winner 2021.