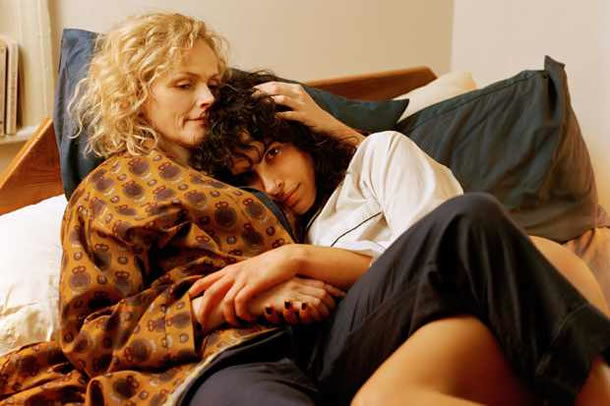 The Bisexual centres on couple Sadie (Maxine Peake) and Leila (Desiree Akhavan) who we're told early on are working together "they get together as women in a male-dominated business", although unless I blinked and missed it, we weren't told what the business was. They both want kids and marriage, but New Yorker Leila is about to go back to her home city for a few months.
She bemoans to a friend: "Sex – you strategise about how you're going to get it. And then you anticpate it, and then once it's finally happening, don't you wish you could just fast-forward because all the pressure is on you to come, and you'd rather just give head than worry about your orgasm?", which is at least an interesting philosophy.
Meanwhile, friend of the pair, Gabe (Brian Gleeson – mother!), is a lecturer who sleeps with his students, but he does little else in the first episode.
Even with the adults, it's like watching pompous students talking about sex. As for the two leading ladies, are they bi or just lesbian? Will you care? We learn Leila is bi… if that's enough to keep you watching.
This is directed, produced, co-written and co-produced by Desiree Akhavan, and with so little substance to it, it comes across as rather a pet project that she wanted to make, but no-one checked whether the outcome would be worth watching, and just presumed it would tick a diversity box.
I will stick with this for a second episode, but I was far from impressed. It felt like it was trying to be cool and hip like This Life, but was similarly poor.
The Bisexual begins tonight at 10pm on Channel 4. Once broadcast, it will be on All4, but it's not yet available to pre-order on Blu-ray or DVD.
Note that if you search for 'The Bisexual' on Amazon, just make sure you don't check the results from work… (which you will see there, so you have been warned!)
---
The Bisexual – Series trailer – Channel 4
---
Episode 1 Score: 2/10
Director: Desiree Akhavan
Producer: Katie Carpenter
Creators: Desiree Akhavan, Rowan Riley
Writers: Desiree Akhavan, Cecilia Frugiuele
Leila: Desiree Akhavan
Sadie: Maxine Peake
Gabe: Brian Gleeson
James: Rupert Young
Hye Me: Cassie Clare
Ruby: Naomi Ackie
Deniz: Saskia Chana
Laura: Eva Birthistle
Reviewer of movies, videogames and music since 1994. Aortic valve operation survivor from the same year. Running DVDfever.co.uk since 2000. Nobel Peace Prize winner 2021.