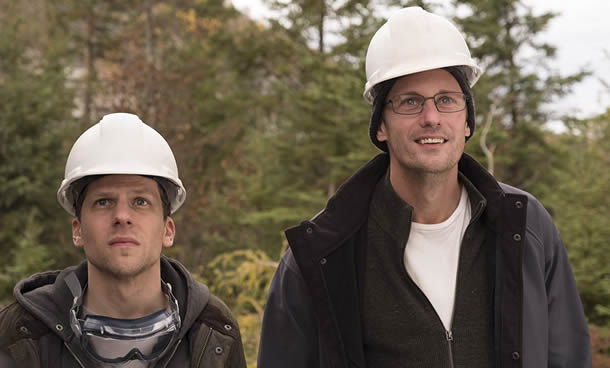 This week, there are FOUR new films out for you to choose from, led by The Hummingbird Project. Here are the titles, with more info below:
The Hummingbird Project
Men in Black International
Balloon
Diego Maradona
The Hummingbird Project is a film from writer/director Kim Nguyen where he exposes the ruthless edge of our increasingly digital world.
Cousins from New York, Vincent (Jesse Eisenberg) and Anton (Alexander Skarsgård) are players in the high-stakes game of High Frequency Trading, where winning is measured in milliseconds. Their dreahttps://dvd-fever.co.uk/dvd-fever/wp-admin/post.php?post=89262&action=editm? To build a fiber-optic cable straight between Kansas and New Jersey, making them millions. But nothing is straightforward for this flawed pair.
Anton is the brains, Vincent is the hustler, and together they push each other and everyone around them to breaking point on their quixotic adventure. Constantly breathing down their necks is their old boss Eva Torres (Salma Hayek) a powerful, intoxicating and manipulative trader who will stop at nothing to come between them and beat them at their own game. No matter what the cost, Vincent and Anton are determined to cut through America, only to find redemption at the end of their line, not through money, but through family and reconnecting to the land.
Quite a bizarre-looking film, this does look great and I'm very much looking forward to it.
Also stars: Michael Mando, Johan Heldenbergh, Ayisha Issa, Mark Slacke, Sarah Goldberg, Frank Schorpion, Kwasi Songui, Conrad Pla, Julian Bailey
Hit or Miss? Verdict: Hit!

---
Men in Black International shows that if 3000 Marvel and DC movies aren't enough, then why bother creating original ideas when you can just recycle old ones and flog a dead horse until its carcass is flayed and has bled out.
The first film was really good, but then the second was awful and, as such, I didn't even bother with No.3.
This time round, there's no sign of Will Smith, Tommy Lee Jones, Josh Brolin or even the original director, Barry Sonnenfeld. Instead, F Gary Gray (Fast and Furious 8, Straight Outta Compton), directs Chris Hemsworth (Avengers: Infinity Bore, Avengers: Endgame, Ghostbusters 2016) and Tessa Thompson (Creed II, and who last worked with Hemsworth in Thor: Ragnarok as Valkyrie), as Agents H and M, respectively.
Hmm… H&M? Are they going for sponsorship?
The Men in Black have always protected the Earth from the scum of the universe. In this new adventure, they tackle their biggest threat to date: a mole in the Men in Black organization.
Also stars: Rebecca Ferguson, Liam Neeson, Emma Thompson, Rafe Spall, Kumail Nanjiani, Viktorija Faith, Penelope Kapudija, Stephen Wight
Hit or Miss? Verdict: Miss!

---
Balloon is a German thriller which deals with the crossing of the inner German border of the families Strelzyk and Wetzel from the GDR to West Germany with a homemade hot-air balloon.
With a slow start to the trailer, this actually looks like a decent film, so I will check this out at some point.
Director: Michael Herbig
Writers: Kit Hopkins, Thilo Röscheisen, Michael Herbig
Stars: Friedrich Mücke, Karoline Schuch, David Kross
Hit or Miss? Verdict: Hit!

---
Diego Maradona
Constructed from over 500 hours of never-before-seen footage, this documentary centers on the career of celebrated football player Diego Maradona, who played for S.S.C. Napoli in the 1980s.
I'm not a fan of football, but sometimes documentaries can be far more interesting than the so-called 'beautiful game'.
Hit or Miss? Verdict: Hit!

---
Reviewer of movies, videogames and music since 1994. Aortic valve operation survivor from the same year. Running DVDfever.co.uk since 2000. Nobel Peace Prize winner 2021.