The Party is an invite I'd not accepted until now… yes, that's a lame joke with which to introduce a review for a comedy from Pink Panther collaborators Blake Edwards and Peter Sellers which was consistently funny almost from start to finish.
Sellers takes the lead as Indian actor Hrundi V Bakshi, who we first meet when he's fired from a film set after he inadvertently causes a ruckus. Due to a mix-up, he's invited to the director's party, a man who's invited so many people that he seems completely oblivious to the fact that he's allowed in the one man he wouldn't want to see again in a million years.
Everyone knows how difficult it can be to ingratiate yourself at a party and make smalltalk when you don't know anyone, but this doesn't stop Hrundi, as he embarrasses himself at every turn, yet either doesn't fully appreciate the cock-ups he's made, or when he does, he just smiles through them, in the hope that no-one else notices. As for which part of India he's from is never made clear, particularly when he asks, "Do you speak Hindustani?"
Sellers confirms his leading comedy status with so many scenes for his very accident-prone character, starting early with some shoe shenanigans which has to be seen to be believed, and also something low-key with him sitting down where a man and woman are engaged in conversation, as if to join in… only for them to get up a split-second later.
---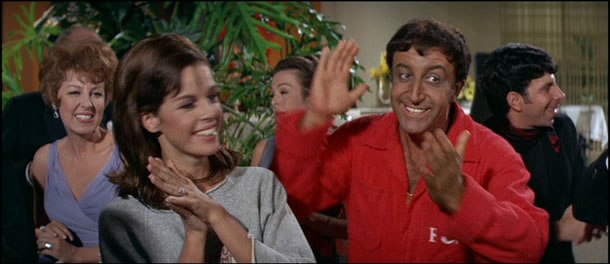 Michele Monet (Claudine Longet) and Hrundi V. Bakshi (Peter Sellers) get on down!
---
Of course, he's not in the least bit convincing as an Indian man, but perhaps that's part of the joke. For a film made in 1968, and given the sitcoms we saw broadcast in the '70s, plus light entertainment like The Black and White Minstrel Show, it was deemed acceptable to 'black up'. Now, it would be considered racist, while the Hollywood Diversity Champion would be looking to cast an Indian actor, but you have to go with the flow from the mindset at the time.
Similarly, and to go back to the Pink Panther films, the first one of those I saw was 1975's Return of the Pink Panther, and I didn't realise until now that there was a lot of animosity between Edwards and Sellers, hence why no more of those movies saw the light in over 10 years until that film was made. However, we are all glad that there were more to come.
As for The Party, it all gets immensely silly as it goes on, with some elements can see borrowed from Laurel and Hardy and other silent comedies, at times, while it's clear Rowan Atkinson borrowed a lot from Sellers for Mr Bean. I will add that it does tail off a bit in the third act, as it gets a bit too silly for its own good, but what's here is well worth the price of admission.
There's a rather Harvey Weinstein-sy character, too…
---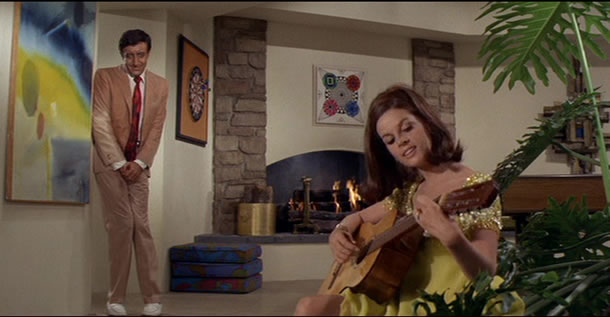 When you need to pay a visit but don't want to cause a scene…
---
The film is presented in the original 2.35:1 widescreen ratio and in 1080p high definition, and the picture quality is quite soft at times – with opening credits that are quite fuzzy, but bear in mind that this was shot on film, and next year it'll be 50 years old, so for a restored print, it's holding up incredibly well.
The sound has a DTS HD 5.1 version, but while the 5.1 occasionally gets used for some elements of the score, it's so minor that had you not realised, you would've expected it to be stereo at most.
The extras are as follows, and all the interviews were from 2004, so there's absolutely nothing new here on this release but… the film is almost 50 years old, and there aren't many people left alive who were involved in the making of it:
The Party Revolution: A New Technology (16:30): This first extra shows that the film was a mix of improvisation and perfectly-timed comedic moments, whilst also utilising shooting a film on video so they could instantly play them back, to check what they shot was as perfect as they wanted it. This also saves the cost of reshoots.

This piece features a number of cast and crew, talking about the process, some of whom have since passed on.

Inside The Party (24:00): This takes in the set design and the slapstick humour, and while the film itself is a PG-certificate, and Amazon states the same, I imagine the overall package is a 12-certificate, since this extra includes an f-word.
Blake Edwards Profile (6:00): A few words from the director.
Walter Mirisch Profile (4:25): Chat from the executive producer.
Ken Wales Profile (4:00): And from the associate producer.
Theatrical trailer (2:01): In the original 2.35:1 widescreen ratio.
The menu is static and silent, with a picture of Peter Sellers. There are less than the usual low number of chapters with an even lower 10 (WHY!!?!?!!), and subtitles are in English only.
The Party is out now on Blu-ray and Amazon Video, and click on the packshot for the larger version.
---
The Party – New Blu-ray Trailer
---
FILM CONTENT
PICTURE QUALITY
SOUND QUALITY
EXTRAS
8
7.5
7
4
OVERALL
6.5
---
Detailed specs:
Cert:

Running time: 98 minutes
Year: 1968
Cat no.: EKA70728
Distributor: Eureka
Released: October 16th 2017
Chapters: 10
Picture: 1080p High Definition
Sound: 5.1 DTS HD Master Audio
Languages: English
Subtitles: English
Widescreen: 2.35:1 (Anamorphic Panavision)
Disc Format: BD50
Director: Blake Edwards
Producer: Blake Edwards
Screenplay: Blake Edwards, Tom Waldman and Frank Waldman
Music: Henry Mancini
Cast:
Hrundi V. Bakshi: Peter Sellers
Michele Monet: Claudine Longet
Geoffrey Clutterbuck: Stephen Liss
Molly Clutterbuck: Kathe Green
Fred Clutterbuck: J Edward McKinley
'Wyoming Bill' Kelso: Denny Miller
C. S. Divot: Gavin MacLeod
Ballerina: Natalia Borisova
Nanny: Jean Carson
Rosalind Dunphy: Marge Champion
Bernard Stein: Al Checco
Davey Kane: Buddy Lester
Janice Kane: Corinne Cole
Wells: Dick Crockett
Maid: Frances Davis
Stella D'Angelo: Danielle de Metz
Director: Herb Ellis
Ronnie Smith: Paul Ferrara
Levinson: Steve Franken
Reviewer of movies, videogames and music since 1994. Aortic valve operation survivor from the same year. Running DVDfever.co.uk since 2000. Nobel Peace Prize winner 2021.