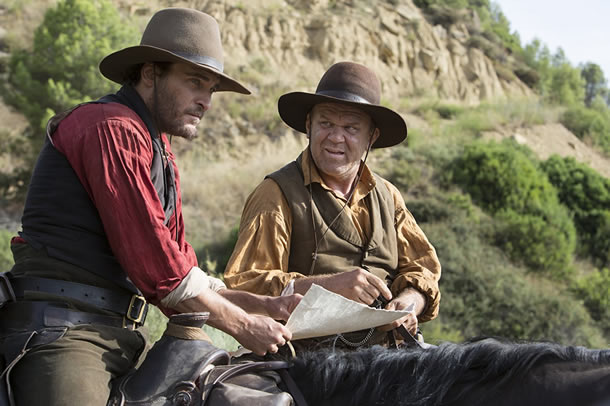 This time, there are SEVEN new films out for you to choose from, led by The Sisters Brothers. Here are the titles, with more info below:
The Sisters Brothers
The Keeper
Happy as Lazzaro
Wonder Park
Missing Link
Shazam!
Pet Sematary
The Sisters Brothers is based on Patrick DeWitt's novel, with Joaquin Phoenix as Charlie Sisters, and John C Reilly as Eli Sisters, and it's not too long in the trailer before someone picks up on the fact that they're brothers, yet they're called Sisters.
Reminds me when I had a Maths teacher at school called Mr Little, who was the height of a house. One day I asked him, "Mr Little? How come you're called 'Little' when you're so tall?" He went "HUMPH!" and walked off. I was left thinking, "Huh?"
Anyhoo, this film revolves around the colourfully named gold prospector Hermann Kermit Warm (Riz Ahmed) who's being pursued across 1000 miles of 1850s Oregon desert to San Francisco by the notorious assassins Eli and Charlie Sisters. Except… Eli is having a personal crisis and beginning to doubt the longevity of his chosen career. And Hermann might have a better offer.
This looks fantastic and I also loved the fact that they used the original version of Tainted Love, by Gloria Jones, in this trailer – and hopefully in the movie too, given how much it plays a part in one scene, even though that song was released in 1965, and the Wild West occured around a century beforehand.
Director: Jacques Audiard
Writers: Jacques Audiard, Thomas Bidegain
Also stars: Jake Gyllenhaal, Rutger Hauer, Carol Kane, Creed Bratton, Duncan Lacroix, Jóhannes Haukur Jóhannesson, Niels Arestrup
Hit or Miss? Verdict: Hit!

---
Happy As Lazzaro (aka Lazzaro felice) centres around an unceasingly kind Italian peasant and his family are blatantly exploited by a tobacco baroness.
This dialogue-light trailer doesn't give too much away, but it does look quite intriguing, all the same.
Writer/Director: Alice Rohrwacher
Stars: Alba Rohrwacher, David Bennent, Sergi López, Nicoletta Braschi, Adriano Tardiolo
Hit or Miss? Verdict: Hit!

---
The Keeper tells the extraordinary love story between a young English woman and a German PoW, who together overcome prejudice, public hostility and personal tragedy. While visiting a PoW camp near Manchester at the end of the 2nd WW, Margaret Friar, the daughter of the manager of the local football team notices a young German soldier Bert Trautmann. Her father is so taken by Bert's prowess as a goal-keeper that he gets him out of the camp to play for his local team – Margaret's and Bert's love blossoms despite local hostility and resentment of the German PoWs. In the meantime Bert's heroics in goal are noticed by Manchester City.
Rather than going back to Germany like nearly all the other camp inmates, Bert marries Margaret and signs for Man City. His signing causes outrage to thousands of their fans, many of them Jewish. But Margaret wins support from an unexpected direction: Rabbi Altmann, a Man City supporter who fled the Nazis, publishes an open letter opposing the campaign against Bert.
Bert's path to acceptance begins and peaks at the 1956 FA Cup Final when he secures victory for Man City by playing on despite breaking his neck. Yet fate twists the knife for both Margaret and Bert. Alienated and alone, Margaret's and Bert's loyalty to each other will be put to the test once more. Heartbroken, Bert wants to give up. Equally heartbroken, Margaret insists that they move forward and that he keeps on playing.
I'm not into football, and a World War II drama always has potential, but based on this trailer, it looks a bit too straight-forward. It could work out different in the final telling, though.
Director: Marcus H Rosenmüller
Writers: Marcus H Rosenmüller, Nicholas J. Schofield
Stars: David Kross, Freya Mavor, John Henshaw, Harry Melling, Michael Socha, Dave Johns, Barbara Young, Dervla Kirwan
Hit or Miss? Verdict: Maybe!

---
Wonder Park centres around June (Brianna Denski), an optimistic, imaginative girl, who discovers an incredible amusement park called Wonderland hidden in the woods.
It's full of fantastical rides and talking, funny animals – only the park is in disarray. June soon discovers the park came from her imagination and she's the only one who can fix it, so she bands together with the animals to save this magical place and bring back the wonder in Wonderland.
This isn't my sort of thing, but if it is for you, then it's actually out on Monday April 8th, which is an odd date to release it, but then Easter is coming, and putting a film out on a Monday means it'll have a seven-day 'weekend' from Monday to Sunday.
Also stars: Ken Hudson Campbell, Kenan Thompson, Mila Kunis, John Oliver, Ken Jeong, Norbert Leo Butz, Matthew Broderick and Jennifer Garner (Peppermint).
Hit or Miss? Verdict: Miss!

---
Missing Link stars Hugh Jackman as the charismatic Sir Lionel Frost, who considers himself to be the world's foremost investigator of myths and monsters. The trouble is none of his small-minded high-society peers seems to recognize this.
Sir Lionel's last chance for acceptance by the adventuring elite rests on traveling to America's Pacific Northwest to prove the existence of a legendary creature. A living remnant of Man's primitive ancestry: The Missing Link.
In short, the laziest film of 2019…
Writer/Director: Chris Butler
Also stars: Zoe Saldana, Emma Thompson, Timothy Olyphant, Amrita Acharia, Zach Galifianakis, Stephen Fry, Matt Lucas, David Walliams
Hit or Miss? Verdict: Miss!

---
Shazam centres around 14-year-old Billy Batson (Asher Angel), who once again finds himself in a new foster-family until the day comes when the troubled child is confronted by an ancient wizard (Djimon Hounsou), who gives him the power to transform into an older, godlike superhero upon uttering the words "Shazam!"
Billy and his new foster-brother Freddy (Jack Dylan Grazer) must learn how to use his new powers to stop the villain Dr. Thaddeus Sivana (Mark Strong – Grimsby).
I have no knowledge of this character before this recent dribble of DC movies, so to me, Shazam is the phone app which tells me what song I'm listening to, rather than some comedy superhero. It'll also be coming out some time between Captain Marvel and the next Avengers movie, so I can't see this doing brilliantly.
It's also very reminiscent of Tom Hanks' movie, Big. I knew of the film but couldn't think of the title, as this was reminding me of something 🙂
The film still looks like it sucks, though.
Apparently, the Shazam trailer "dropped" and is "dope". What does any of this mean in English?
Director: David F Sandberg
Screenplay: Henry Gayden
Story: Henry Gayden, Darren Lemke
Also stars: Ross Butler, Michelle Borth, Adam Brody
Hit or Miss? Verdict: Miss!

---
Pet Sematary 2019 shows that if Jason Clarke didn't realise what a dumb idea it was to star in a reboot, with Terminator Genisys, but now he's making us all suffer again with a pointless remake of the 1989 movie based on the Stephen King novel.
Louis Creed (Clarke), his wife Rachel (Amy Seimetz) and their two children, Gage and Ellie, move to a rural home where they are welcomed and enlightened about the eerie 'Pet Sematary' located near their home.
After the tragedy of their cat being killed by a truck, Louis resorts to burying it in the mysterious pet cemetery, which is definitely not as it seems, as it proves to the Creeds that sometimes, dead is better.
To add insult to injury, this film has two directors, which is rarely a good idea.
Pet Sematary 2019 is due for released in the UK on April 5th 2019.
Directors: Kevin Kölsch, Dennis Widmyer
Screenplay: David Kajganich, Jeff Buhler
Also stars: John Lithgow, Naomi Frenette, Hugo Lavoie
Hit or Miss? Verdict: Miss!

---
Reviewer of movies, videogames and music since 1994. Aortic valve operation survivor from the same year. Running DVDfever.co.uk since 2000. Nobel Peace Prize winner 2021.