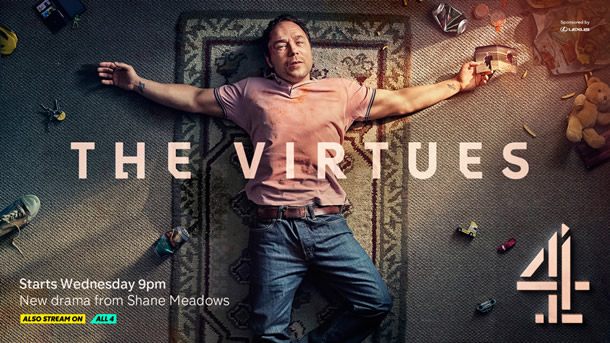 The Virtues is a new four-part series which reunites This Is England's Shane Meadows with actor Stephen Graham, here, as Joseph, a painter and decorator who has reached the end of his tether. Drink and drugs help numb the pain of life, but when his ex-partner Debbie, and 9-year-old son, Shea, are moving abroad to Australia, things can only go downhill.
In the first episode, we see him saying goodbye to his offspring, and painfully having to let go. Then comes the aftermath of the boozy night to end all boozy nights being quite a sight to behold, as he wakes up the next morning, with a belching stomach being the least of his problems.
There's not too much I can say other than this first episode feels like Joseph's descent into hell, and the central performance from Mr Graham is fantastic, but then he's always good value.
The billing on Digiguide does give more info, but I'm not giving any potential spoilers. Just watch the programme 🙂
I'm very much looking forward to the rest of the series (and will update this after each one), but I wish we didn't have to wait weekly for it. The recent Chimerica was shown in full on All4 once the first episode had been broadcast, and looking at the above poster, it inferred that the same would happen with this, but on checking the site at just after 11pm on the night of the broadcast of episode 1, it's not on there, so we're having to do the usual weekly-wait. 🙁
The Virtues begins tomorrow night on Channel 4 at 9pm. The series is available to pre-order on DVD, ahead of its release on June 10th. You can watch each episode on All 4 for 30 days after transmission.
---
The Virtues – Series Trailer
---
---
Episode 1 Score: 8/10
Director: Shane Meadows
Producers: Mark Herbert, Nickie Sault
Writers: Jack Thorne, Shane Meadows
Music: PJ Harvey
Cast:
Joseph: Stephen Graham
Debbie: Juliet Ellis
Shea: Shea Michael-Shaw
David: Vauxhall Jermaine
Bish: Stuart Wolfenden
Landlord: Tom Davis
Pub singer: Meisha Leake
Preacher: Delroy Hall
Sam: Michael Starke
Dinah: Niamh Algar
Anna: Helen Behan
Susan: Deirdre Donnelly
Michael: Frank Laverty
Ryan: James Nelson-Joyce
Craigy: Mark O'Halloran
Janine: Niamh Cusack
Reviewer of movies, videogames and music since 1994. Aortic valve operation survivor from the same year. Running DVDfever.co.uk since 2000. Nobel Peace Prize winner 2021.