Threads begins with the comparison that like the connections of the threads of a spider's web, the connections within society can be strong as well as vulnerable.
As would no doubt happen in real life, in the pre-Cold-War-thaw as the two superpowers fail to settle their differences, no-one contemplates that the inevitable could ever happen and they continue to carry on with their lives as normal, partly oblivious to what's going on outside their own little world.
Screenwriter Barry Hines created a masterpiece with a film punctuated by onscreen date-stamps and radio and TV news broadcasts updating us on the proceedings, steadily building up the tension as the shit slowly begins to hit the fan. After the bomb drops, it's a case of every man for himself and the survival of the fittest.
---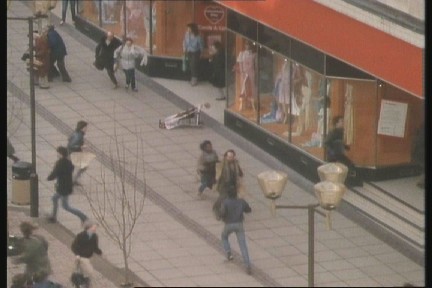 # "Panic on the streets of Sheffield" #
---
A year after the attack, there's a brilliant contrasting image thrown in as the devestation of Sheffield and lack of any hope is set against a billboard advertising an insurance company: "Standard Life. For all of your life".
Ten years on and the country is reduced to living in nomadic conditions.
I was 12 or 13 when I first saw this and found it both shocking and disturbing. To this day, although the lifestyle seems incredibly dated, it's still a film that commands to be seen by anyone of any age old enough to understand it. The 15-certificate applies because of the gruesome post-fall-out images.
I was on a school trip to Russia in April 1986 and we left there just two weeks before the Chernobyl incident. That's hopefully the closest any of us will ever come to a nuclear catastrophe.
---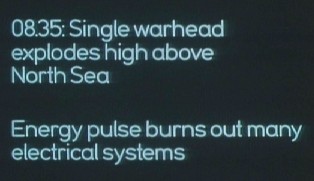 Time to die.
---
The film centres on two families in Sheffield – the Becketts and the Kemps. Ruth Becket (Karen Meagher, who went on to star in the 1991 TV Movie "Chernobyl: The Final Warning", also featuring Jon Voight and Jason Robards) and Jimmy Kemp (Reece Dinsdale, star of the TV series Thief Takers and the sitcom Home to Roost) are a young couple still finding their way and looking to move in together, but their lives are made more complicated by Ruth falling pregnant unexpectedly.
That's small potatoes though compared to what's to come as the fear of impending doom causes people to move out of town, panic buying, heartache and increased violence.
It's heartbreaking to see the main pair painstakingly scrape the old wallpaper off in their new home in a bid to make it look nice as the instructions are read out over the radio about what to do in case of a nuclear attack, leaving them wondering why they're bothering. The full horror hasn't hit everyone yet though. As Jimmy's father is seen taking a new door off its hinges at home so as to construct a make-shift bomb shelter all his wife can do is complain about him scratching it because it's only just been painted (!)
The voice of these instructions is that man from the 1980's Barratt Homes adverts, this particular dialogue also having been used for Frankie Goes to Hollywood's 1984 No.1 hit, Two Tribes.
The film is made all the more realistic by the lack of any big names to distract you from the drama.
---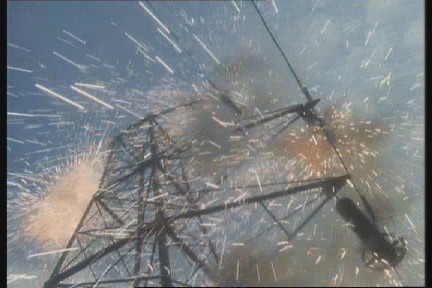 One of many big bangs.
---
If you buy this disc, don't go expecting home cinema quality. Those who've seen it before will know what to expect. The 4:3 fullscreen print is free of artifacts but is quite soft and has many scratches on the print. It doesn't stop the sheer power of the film from coming through though. The average bitrate is an steady 4.76Mb/s.
The sound is in basic surround sound with rear-channel action only coming about from out-of-phase sounds that leak into the rears as opposed to proper surround sound steering. Again, what you hear is what's to be expected and is mostly dialogue anyway.
---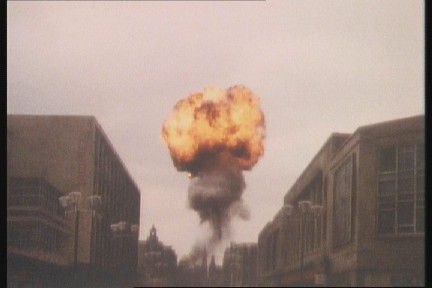 "Jesus Christ. They've done it!"
---
Extras:
Chapters: Only 5 chapters across the disc, so certainly not enough and all of them last far too long.
Languages & Subtitles: English dialogue only, but sadly no subtitles.
Menu: The menu is static and silent only offering you the chance to start the programme or select a chapter and has a garish cyan background. Surely a bit of effort could've been made here?
---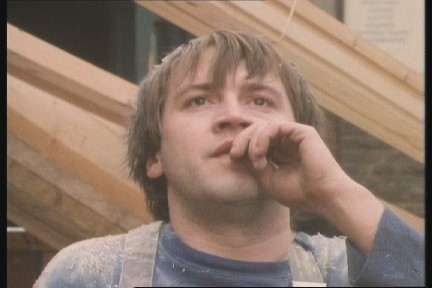 Now's not the time for crap Dr. Evil impressions.
---
Overall, £19.99 won't make this an impulse purchase for anyone and I think a price point of half that would've made this disc an absolute winner as there are no extras.
If you can get this for around that price then snap it up, but whether you rent or buy it, you must see it.
FILM CONTENT
PICTURE QUALITY
SOUND QUALITY
EXTRAS
10
4
4
0
OVERALL
4
Cert:


Cat.no: PAR 61056
Running time: 113 minutes
Year: 1984
Pressing: 2000
Region(s): 0 (UK PAL)
Chapters: 5
Sound: Dolby Digital 2.0 (Dolby Surround)
Languages: English
Subtitles: None
Fullscreen: 4:3
16:9-enhanced: No
Macrovision: No
Disc Format: DVD 5
Price: £19.99
Extras : Scene index
Director: Mick Jackson
Producer: Mick Jackson
Screenplay: Barry Hines
Cast:
Ruth Beckett: Karen Meagher
Jimmy Kemp: Reece Dinsdale
Mr. Kemp: David Brierly
Mrs. Kemp: Rita May
Michael Kemp: Nicholas Lane
Alison Kemp: Jane Hazlegrove
Mr. Beckett: Henry Moxon
Mrs. Beckett: June Broughton
Granny Beckett: Sylvia Stoker
Reviewer of movies, videogames and music since 1994. Aortic valve operation survivor from the same year. Running DVDfever.co.uk since 2000. Nobel Peace Prize winner 2021.