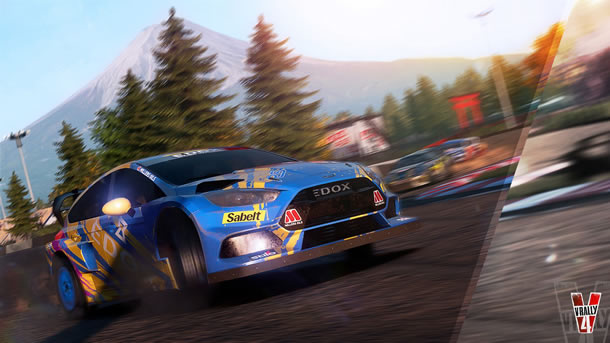 V-Rally 4 is coming, courtesy of Bigben and Kylotonn, and marks the return of the emblematic off-road racing game franchise.
A new trailer has been released which presents two of V-Rally 4's five disciplines in a spectacular trailer: V-Rally Cross and Buggy!
Normally, anything buggy is the last thing you want in a videogame, but in V-Rally, this is a different thing altogether 😉
V-Rally Cross races are intense battles with 7 other racers on tracks with a mix of dirt and asphalt, while lighter and more agile, buggies offer a different driving experience on particularly hazardous and spectacular courses.
V-Rally 4 is due out in September 2018 on PS4, Xbox One, PC, with the Nintendo Switch version available at a later date.
Check out the new trailer below:

---
Previously on DVDfever:
March 13th:
V-Rally 4 is coming, courtesy of Bigben and Kylotonn, and marks the return of the emblematic off-road racing game franchise.
I loved the original with a passion, when it was released in 1997 on PS1, as it revolutionised the genre with three game modes and its selection of vehicles and famous tracks. Some years later, on PS2, V-Rally 3 was immensely successful, adding a career mode with decisive team choices and an even greater number of tracks.
Most recently, Gravel felt very V-Rally-like, and that was before I knew this was coming, so get ready for some fantastic rally action.

Absent since 2003, the epic title is now making its big comeback with more than 50 models of emblematic rallying and extreme motorsports vehicles. Nostalgic players can collect, upgrade, customise, and above all, master them! In the trailer, there are three iconic cars: a Porsche 911 Safari, a Ford Mustang and a Ford Fiesta RS RX.
The goal of this new entry is to remain faithful to the identity of the franchise, which earned the support of millions of fans, and to strike a perfect balance between sensation, presentation, and simulation, while offering the best graphics and gameplay the latest technology can support.
Developed by Kylotonn Racing Games, a French studio specializing in racing simulations such as WRC 7 and TT Isle of Man. Alain Jarniou, Game Director at Kylotonn, said: "It's a real privilege for me to once again work on the V-Rally series. It's an extraordinary title that I have a very special connection to. I had a chance to join the team that created V-Rally to develop V-Rally 3 on the PlayStation 2 as a programmer. I'm very proud to be working on the franchise again 15 years later."
---
Behind the wheel of these epic vehicles, you'll experience the extreme sensations of the most insane races:
Rally: From Africa to Sequoia Park and Japan, travel the world along difficult tracks and in extreme conditions, such as snow, ice, and mud…

Extreme-Khana: You'll have to be a master of precision and drifting on these tracks full of pitfalls.

V-Rally Cross: Leave your opponents in the dust on these dirt/asphalt tracks and take on 7 expert adversaries.

Buggy: Hop into your all-terrain vehicle to win the race on these particularly rugged tracks. Not for the faint of heart!

Hillclimb: Race to the top behind the wheel of powerful cars.
You can also prove yourself in V-Rally 4's Online and Career modes, and lLet adrenaline boost your reflexes, learn to dominate the road and weather conditions, and take on the most dangerous tracks in spectacular settings.
V-Rally 4 is due out in September 2018 on PS4, Xbox One, PC and Nintendo Switch, the latter of which wasn't included for Gravel which is where that game fell down, since these games are ideal to take out and about with you!
Check the trailer below, and also check out the studio on social media: Facebook, Twitter, Youtube and Instagram, as well as the Offical website.
Reviewer of movies, videogames and music since 1994. Aortic valve operation survivor from the same year. Running DVDfever.co.uk since 2000. Nobel Peace Prize winner 2021.