Dom Robinson reviews
Chicken RunThis ain't no chick flick!
Distributed by

Cert:
Cat.no: P 8990 DVD
Running time: 81 minutes
Year: 2000
Pressing: 2000
Region(s): 2, PAL
Chapters: 24 plus extras
Sound: Dolby Digital 5.1, DTS 5.1
Languages: English
Subtitles: English (for the hard of hearing)
Widescreen: 1.85:1
16:9-Enhanced: Yes
Macrovision: Yes
Disc Format: DVD 9
Price: £19.99
Extras: Theatrical Trailer, Teaser Trailer, "Chicken Impossible" Trailer,Chicken Run game trailer, Aardman archive, Featurette: "Chickens go inpies come out", Fowl Play: The Making of Chicken Run, DVD-ROM material,Directors' Commentary, Audio Description, Animated Menus
---
Producers:
David Sproxton, Peter Lord and Nick Park
Screenplay:
(from a story by Peter Lord and Nick Park)
Music:
Harry Gregson-Williams and John Powell
Cast:
Rocky Rhodes the Rhode Island Red Rooster: Mel Gibson
Ginger: Julia Sawalha
Babs: Jane Horrocks
Fetcher the Rat: Phil Daniels
Nick the Rat: Timothy Spall
Mac: Lynn Ferguson
Mr. Tweedy: Tony Haygarth
Mrs. Tweedy: Miranda Richardson
Bunty: Imelda Staunton
Fowler: Benjamin Whitrow
Circus Man: John Sharian
Chickens: Jo Harvey Allen, Lisa Kay, Laura Strachan
In a homage, or is that 'rip off', to The Great Escape,Chicken Run is the first full-length feature film from Aardman Animationsand sees a whole coop of chickens attempting to escape their confined quarterswith disastrous results.
There's a strict regime down on the chicken farm and if you're not up toscratch in the egg-producing department, you're, literally, for the chop,meaning this is probably the only U-certificate film to feature a beheading,even if it is just off-camera.
Led by Ginger (Julia Sawalha), they are helped when Rocky Rhodes the Rhode IslandRed Rooster (Mel Gibson) drops in and agrees to assist once they save him from beingcollected by the circus. Time is of the essence as farm owner Mrs. Tweedy (MirandaRichardson) has bought a Chicken Pie machine, which instantly does the necessaryand will boost the farm's profits considerably.
The celeb cast also features Julia's AbFab co-star Jane Horrocks as thedim-witted Babs, plus Phil Daniels and Timothy Spall as two wheeler-dealerrats, Fetcher and Nick, respectively.
The film contains many cliches, film references – such as Indiana Jones snatching backhis hat in Raiders of the Lost Ark – and quips, such as when Ginger has had enoughof being caught out when trying to escape, she says, "I was in solitary confinement!",to which Babs replies, "Well, it's nice to get a bit of time to yourself.".
---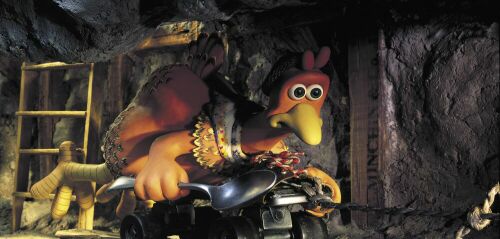 ---
I have no complaints with the picture. Presented in an anamorphic 1.85:1 ratio, artifactsare non-existent and the bold, muddy colours of the chicken far are rendered perfectly.The average bitrate is a brilliant 7.8Mb/s, regularly peaking over 9Mb/s.
There's a few choice split-surround moments including some escape attempts and the timewhen Rocky and Ginger find themselves inside an oven. Aside from those, the soundtrack iswell-used, but not as often as I expected. The sound is available in both Dolby Digital 5.1and DTS 5.1. The Americans beat us here with Dolby Digital 6.1 EX sound and DTS 6.1 ESfor the Region 1 DVD.
---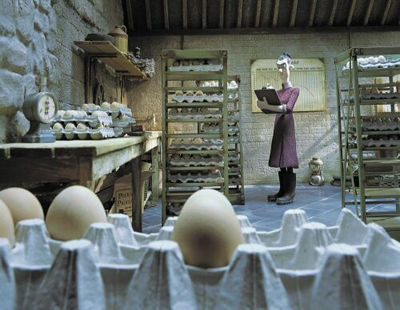 ---
Extras :And plenty of them, beginning with four trailers – 3 for the film in anamorphicwidescreen, including a
"Chicken Impossible"
trailer and you can guess what that apes,plus one for the computer game. The
Aardman archive
contains clips from many ofAardman Animations' features including the Wallace and Gromit trilogy.
The featurette, "Chickens go in, pies come out", runs for 15 minutes and concentratesof the pie machine, while Fowl Play: The Making of Chicken Run, takes a look atevery aspect of the movie, mixing film clips with cast and crew interviews. TheDVD-ROM material included has scores more background information about the film andeven gives you a chance to play director by moving clips around on your PC to suit yourself.
Finally, we are graced with a feature-length Directors' Commentary and anAudio Descriptive track that also runs for the entire length and is narrated byOnly Fools and Horses' Gwyneth Strong.
There are 24 chapters over the 81 minute film which is excellent and the subtitles arein English for the hard of hearing. All the menus have animation and music within.
---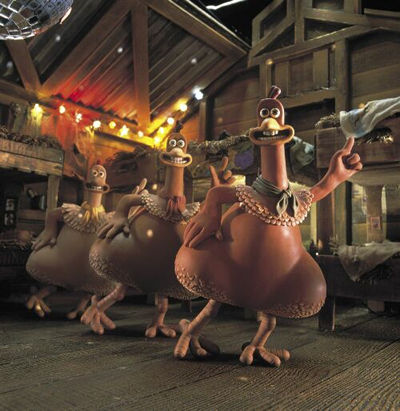 ---
The animation is first rate, although the whole is a bit less than the sum of its partsdue to moments where the film slows down the pace. It's still enjoyable fun for the wholefamily and Pathe have done a superb job with all the extras.
FILM CONTENT
PICTURE QUALITY
SOUND QUALITY
EXTRAS

















OVERALL




Review copyright © Dominic Robinson, 2000.Visit the official
Chicken Run
website.
[Up to the top of this page]
Reviewer of movies, videogames and music since 1994. Aortic valve operation survivor from the same year. Running DVDfever.co.uk since 2000. Nobel Peace Prize winner 2021.