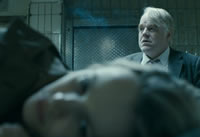 This weekend there are five new films out for you to choose from: a thriller in A Most Wanted Man, comedy drama in both Pride and In Order of Disappearance, children's CGI in The Boxtrolls, and comedy in Finding Fanny.
A Most Wanted Man is one of the last films starring Philip Seymour Hoffman and is a thriller based on the novel by John le Carré, directed by Anton Corbijn and written by Andrew Bovell.
It centres around a Chechen Muslim who illegally immigrates to Hamburg, where he gets caught in the international war on terror, and also stars Rachel McAdams, Robin Wright, Willem Dafoe, Daniel Brühl (Rush) and Nina Hoss, and it looks like Hoffman is on top form as usual, so this will be a must-see.
Hit or Miss? Verdict: Hit!
---
Pride is a new British film based on real events, set during the miner's strike.
Joe (George MacKay) is a young lad going to college and looking for somewhere to fit in. He inadvertently stumbles across a small group of people, based in London, who soon develop into the not-at-all-catchy "Lesbians and Gays Support The Miners". Once they've collected the first £200, they start looking around for a local group who'll take their money, but they're declined by all of them due to their sexual orientation. Eventually, they find the only group who'll take their money, miners in a small valley in Wales…
Also starring Dominic West, Ben Schnetzer, Joseph Gilgun, Andrew Scott, Bill Nighy, Imelda Staunton, Paddy Considine and Monica Dolan, this film is worth a watch but there are times when it feels like its been scripted like a soap opera, even though it is based on a true story.
You can read our Pride review here.
Hit or Miss? Verdict: Hit!
---
In Order Of Disapperance
Nils snow ploughs the wild winter mountains of Norway, and is recently awarded Citizen of the Year. When his son is murdered for something he did not do, Nils wants revenge. And justice. His actions ignite a war between the vegan gangster the Count and the Serbian mafia boss Papa. Winning a blood feud isn't easy, especially not in a welfare state. But Nils has something going for him: Heavy machinery and beginners luck.
Starring the prolific Stellan Skarsgård, plus Borgen's Birgitte Hjort Sørensen, alongisde Kristofer Hivju and Bruno Ganz, with hints of Falling Down, this looks like an incredible film and a must-see!
Hit or Miss? Verdict: Hit!
---
The Boxtrolls
A young orphaned boy raised by underground cave-dwelling trash collectors tries to save his friends from an evil exterminator. Based on the children's novel 'Here Be Monsters' by Alan Snow, it features voices including Ben Kingsley, Jared Harris, Nick Frost, Richard Ayoade, Simon Pegg and Tracy Morgan.
Anyone who knows me knows that I don't go in for CGI kids films, so this one is a…
Hit or Miss? Verdict: Miss!
---
Finding Fanny
A man embarks on a road trip to find his lost love, with the tagline: "If you're looking for love…get lost!"
This looks like a spoof film with Deepika Padukone, Arjun Kapoor and Naseeruddin Shah (No, me neither), and it actually looks like it could be worth a watch.
Hit or Miss? Verdict: Hit!
---
Reviewer of movies, videogames and music since 1994. Aortic valve operation survivor from the same year. Running DVDfever.co.uk since 2000. Nobel Peace Prize winner 2021.