Dom Robinson reviews
Almost FamousExperience it. Enjoy it. Just don't fall for it.
Distributed by

Columbia TriStar
Cert:
Cat.no: CDR 32180
Running time: 118 minutes
Year: 2000
Pressing: 2001
Region(s): 2, PAL
Chapters: 24 plus extras
Sound: Dolby Digital 5.1
Languages: English, Spanish
Subtitles: English, Spanish, Portuguese
Widescreen: 1.85:1
16:9-Enhanced: Yes
Macrovision: Yes
Disc Format: DVD 9
Price: £19.99
Extras: Music Video, Featurette, Trailers, The Rolling Stone Articles,Production Notes, Cast and Filmmakers Filmographies


---

Director:

(Almost Famous, Jerry Maguire, Say Anything, Singles, Vanilla Sky)
Producer:
Ian Bryce and Cameron Crowe
Screenplay:
Music:
Cast:
Russell Hammond: Billy Crudup
Elaine Miller: Frances McDormand
Penny Lane: Kate Hudson
Jeff Bebe: Jason Lee
William Miller: Patrick Fugit
Anita Miller: Zooey Deschanel
Young William: Micahel Angarano
Dick Roswell: Noah Taylor
Sapphire: Fairuza Balk
Polexia Aphrodisia: Anna Paquin
Lester Bags: Philip Seymour Hoffman
Reg: Peter Frampton
---
Almost Famoustells the tale of 15-year-old William Miller (played by excellent newcomerPatrick Fugit), a budding journalist who writes for Creem magazine, buta missed chance to write about Black Sabbath turns into a positive when he getsto not only interview upcoming band Stillwater (fronted by Billy Crudupas guitarist Russell Hammond and Jason Lee as singer Jeff Bebe), butalso to go along with them on their 1973 tour of America.
His key to getting in with the band is down to a kind of groupie I've notheard of before this film, "band aid" Penny Lane (Kate Hudson, daughterof Goldie Hawn), who is accompanied in parts by the equally odd-namedSapphire (Fairuza Balk) and Polexia Aphrodisia (Anna Paquin).Band aids are more than just groupies as they're allowed to tag along with aband for the duration of a tour as if they were part of them and are thereto provide the eye-candy.
As William's profile grows and he gets to write a 3000-word article forRolling Stone magazine, so does the desperation of his mother Elaine Miller(Frances McDormand, putting in a good turn as well) as she strugglesto hold together what's left of her family since William's father died of aheart attack and his sister left home.
But his new life and friends come first as he is jokingly seen as the enemy tothe band given his journalistic bent, seeing all the fights between the membersboth verbal and physical. As his life is opened up to new prospects at anearly age so does his affection deepen for Penny, but she prefers older men inthe form of Russell, even though he already has a significant other.
Almost Famous is fantastic. Heart-warming and funny with asuperb ensemble cast, it really makes you feel like you've taken the road tripwith Stillwater and makes you wonder when you last enjoyed a film as much asthis and why it doesn't happen as often.
There's also a good quote from potential new manager Dennis Hope:"If you think Mick Jagger'll still be out there, trying to be a rock starage 50, you're sadly, sadly mistaken.".
---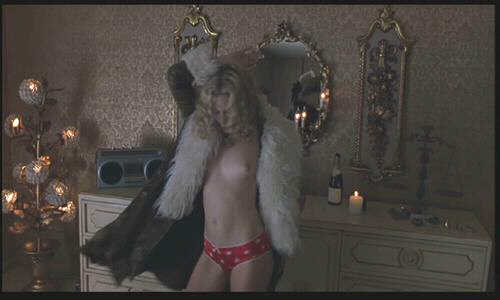 Kate Hudson gyrates her way through 1973.
---
There's a slight level of grain throughout the print that occurs on manyColumbia TriStar DVDs (are they all manufactured at the same plant) whichwon't majorly affect the viewing pleasure when slouched on your settee, buton closer inspection it can be spotted. The film is presented in the original1.85:1 widescreen ratio and all the scenes brilliant reflect the period ofthe piece.
The sound is presented in Dolby Digital 5.1 for English and Spanish, mostlykicking in for the songs from the band as well as incidental music fromThe Who, Simon and Garfunkel, Jethro Tull, Black Sabbath, Joni Mitchell,Lynyrd Skynyrd, Neil Young, Elton John, Led Zeppelin, Jimi Hendrix and ofcourse, Stillwater.
---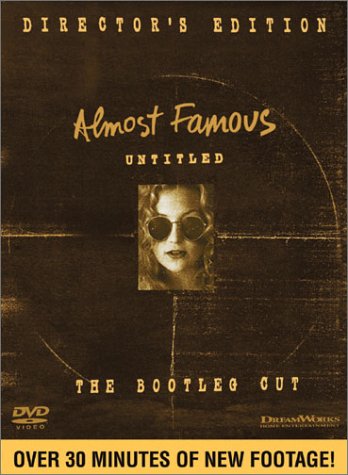 The Region 1 Director's Edition.
---
The extras aren't copious but enough of a brief diversion. They begin withStillwater's Music Video for "Fever Dog", although this is justthe five-minute excerpt from the film which features the song and this partculminates in an advert for the soundtrack. The HBO Featurette runsfor 25 minutes and holds no surprises – it's a collection of 16:9 non-anamorphicfilm clips mixed in with soundbites from the cast and crew including writer/directorCameron Crowe.
In the Trailers is a 2-minute one for this film, plus one apiece forother Columbia films, A Knight's Tale, Erin Brockovich and Charlie'sAngels. The Rolling Stone Articles make interesting reading onThe Allman Brothers, Led Zeppelin, Neil Young, Peter Frampton, Fleetwood Mac,Van Morrison and Joni Mitchell, all ranging from 1973 to 1979.As for the Production Notes and Cast and Filmmakers Filmographies,most DVDs have those so you know what to expect.
In the US though, the Region 1 has been re-issued in a 3-disc Special Edition dubbed"The Bootleg Cut", with over 35 minutes of never-before-seen footage, a fulldirector's commentary, an interview with Lester Bangs and the followingadditional extras: B-Sides – Behind-the-scenes footage, Cameron Crowe's Top 10Albums of 1973, Stillwater's Cleveland Concert, Deleted scenes with director'scommentary, the Oscar-winning screenplay and a 6-track CD of original Stillwatersongs including never-before-released tracks: Love Thing, Chance Upon You,Love Comes and Goes, Hour of Need, You Had to be There and Fever Dog.
Although this is a Columbia DVD there are only 24 chapters present and subtitlesin 3 languages: English, Spanish and Portuguese.The main menu is nicely animated and scored with music from the film andthere are classy screenwipes to the other static menus.
FILM CONTENT
PICTURE QUALITY
SOUND QUALITY
EXTRAS
















OVERALL




Review copyright © Dominic Robinson, 2001.
Reviewer of movies, videogames and music since 1994. Aortic valve operation survivor from the same year. Running DVDfever.co.uk since 2000. Nobel Peace Prize winner 2021.