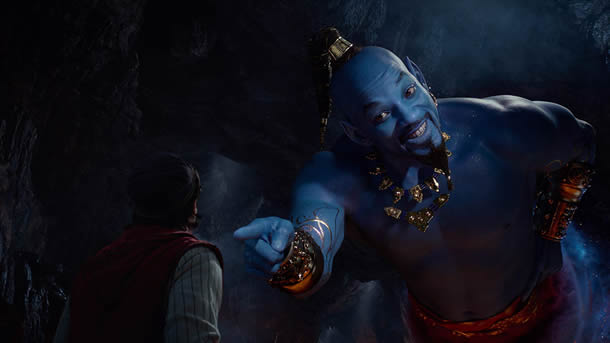 Aladdin 2019 now has a full trailer, it's still released on May 24th, and I still don't want to see it.
Check out the trailer below:

---
---
Aladdin 2019 is another movie that I'm not fussed about watching. You know how I feel about kids CGI films, so it won't surprise you, and this looks so much a film that's 'made by committee' so like the 1992 cartoon version was done to showcase Robin Williams' talents (and I tired of that after about 30-40 minutes), this looks to be Will Smith playing Will Smith who just happens to be a blue genie. He's still just Will Smith.
…and this is actually a live-action remake of that 1992 version.
…and it's directed by Guy Ritchie. Oh dear.
Aladdin 2019 is released in the UK on May 24th, so that's just in time for the late May school bank holiday, aka Whitsuntide, or 'Whit holiday'.
Also stars: Billy Magnussen, Naomi Scott, Nasim Pedrad, Mena Massoud, Marwan Kenzari
Check out the trailer below:

Reviewer of movies, videogames and music since 1994. Aortic valve operation survivor from the same year. Running DVDfever.co.uk since 2000. Nobel Peace Prize winner 2021.