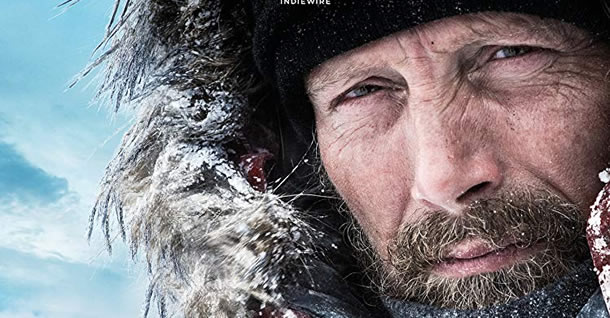 This week, there are SEVEN new films out for you to choose from, led by Arctic. Here are the titles, with more info below:
Arctic
High Life
The Hustle
The Intruder
Destination Wedding
Amazing Grace
Pokemon Detective Pikachu
Arctic stars Mads Mikkelsen as Overgård, a man stranded there after an airplane crash, who must decide whether to remain in the relative safety of his makeshift camp or to embark on a deadly trek through the unknown in hopes of making it out alive.
One other factor is that also in a nearby helicopter crash is a young woman (Maria Thelma Smáradóttir).
Joe Penna, who directs and co-writes with Ryan Morrison, is a Youtuber with 3 million subscribers.
Hit or Miss? Verdict: Hit!

---
High Life is a new horror/sci-fi movie from writer/director Claire Denis, starring Robert Pattinson (Good Time and Juliette Binoche (Three Colours Red), focussing on a group of criminals who are tricked into believing they will be freed if they participate in a mission to travel on a spaceship towards a black hole to find an alternate energy source while being sexually experimented on by the scientists on board.
This looks a fascinating movie and I can't wait to see it.
Also stars: André Benjamin, Mia Goth, Agata Buzek, Lars Eidinger, Claire Tran
Hit or Miss? Verdict: Hit!

---
The Hustle brings us the genre of comedy you never asked for – the return of the mismatched pair.
Both clichés are here: the sexy confident one, and the fat idiot. Between Anne Hathaway and Rebel Wilson, which one do you think each of them is?
To add insult to injury, this is a remake of 1988's dire Dirty Rotten Scoundrels, with Steve Martin and Michael Caine, in which two down-and-out con artists engage in a "loser leaves town" contest.
This looks beyond terrible, and shame on The Thick Of It's Chris Addison for making this his directorial debut.
Hit or Miss? Verdict: Miss!

---
The Intruder is a psychological thriller which has similar echoes to 1990's rather excellent Pacific Heights, starring Michael Keaton, but can '90s nostalgia make this genre great again?
It centres around newly-married couple Scott Russell (Michael Ealy) and his wife, Annie (Meagan Good), who buy a beautiful Napa Valley house on several acres of land, only to find that the man they bought it from refuses to let go of the property.
At first seen in the trailer, former owner Charlie Peck (Dennis Quaid) is fine with letting go, but then he's out mowing the lawn, and then coming back in the middle of the night…
Based on the trailer, this could go either way, so I hope it goes the right way.
I first saw Michael Ealy in the US drama Sleeper Cell, which was a fantastic drama and could really have done with a third season to tie off the loose ends, but it was cancelled and we'll never see how it should've turned out.
Director: Deon Taylor
Writer: David Loughery
Also stars: Joseph Sikora, Alvina August, Lili Sepe, Debs Howard, Lee Shorten
Hit or Miss? Verdict: Maybe!

---
Destination Wedding is another mismatched pair movie, telling the story of two miserable and unpleasant wedding guests, Lindsay and Frank, who develop a mutual affection despite themselves.
Based on the trailer, it does look rather dull, so I'm not holding out much hope for it, despite the two leads.
Writer/Director: Victor Levin
Stars: Keanu Reeves, Winona Ryder, Dj Dallenbach
Hit or Miss? Verdict: Miss!

---
Amazing Grace is a documentary presenting the late, great Aretha Franklin with a choir at the New Bethel Baptist Church in Watts, Los Angeles in January 1972.
Directors: Alan Elliott, Sydney Pollack
Hit or Miss? Verdict: Hit!

---
Pokemon Detective Pikachu – where to begin… oh dear..
I never got into the Pokemon craze, and couldn't give too hoots about the toys, the movies, the cartoons, nor even the original videogames.
However, lots of kids do, and this includes those who are buying the recent Pokemon Detective Pikachu videogame for the Nintendo 3DS.
So now, we have a movie to contend with – and we all know how well videogames fare as movies.
The first-ever live-action Pokémon adventure, Pokemon Detective Pikachu stars Ryan Reynolds (Deadpool) as Pikachu, the iconic face of the global Pokémon phenomenon – one of the world's most popular, multi-generation entertainment properties and the most successful media franchise of all time. The world of Pokémon comes to life!
Fans everywhere can now experience Pikachu on the big screen as never before, as Detective Pikachu, a Pokémon like no other. The film also showcases a wide array of beloved Pokémon characters, each with its own unique abilities and personality.
The story begins when ace private eye Harry Goodman goes mysteriously missing, prompting his 21-year-old son Tim to find out what happened. Aiding in the investigation is Harry's former Pokémon partner, Detective Pikachu: a hilariously wise-cracking, adorable super-sleuth who is a puzzlement even to himself. Finding that they are uniquely equipped to communicate with one another, Tim and Pikachu join forces on a thrilling adventure to unravel the tangled mystery.
Chasing clues together through the neon-lit streets of Ryme City – a sprawling, modern metropolis where humans and Pokémon live side by side in a hyper-realistic live-action world—they encounter a diverse cast of Pokémon characters and uncover a shocking plot that could destroy this peaceful co-existence and threaten the whole Pokémon universe.
And as much as I love Ryan Reynolds in Deadpool, I really can be doing without this, but then… it's not really aimed at me. It's aimed at children.
Director: Rob Letterman
Writers: Nicole Perlman, Rob Letterman, Satoshi Tajiri, Ken Sugimori
Also stars: Suki Waterhouse, Bill Nighy, Kathryn Newton, Rita Ora, Chris Geere, Ken Watanabe, Justice Smith, Karan Soni, Priyanga Burford, Jordan Long
Hit or Miss? Verdict: Miss!

---
Reviewer of movies, videogames and music since 1994. Aortic valve operation survivor from the same year. Running DVDfever.co.uk since 2000. Nobel Peace Prize winner 2021.