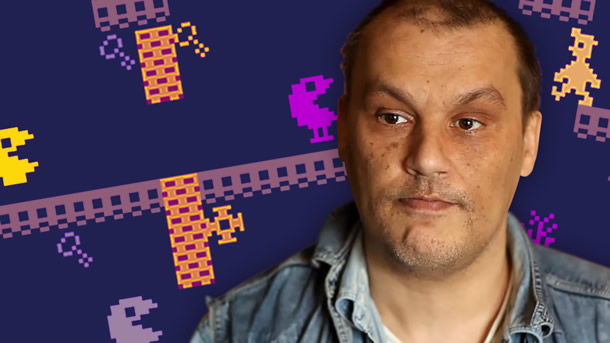 Play Expo 2019 is coming to Manchester on May 4th and 5th 2019 at Manchester Central Convention Complex, in the centre of the city, so first and foremost – this marks a change in venue to their usual place of Event City near the Trafford Centre, so make sure you're in the right place!
Of the announcements made so far, for me, Matthew Smith (above) is a major draw as he wrote two of the games which defined my videogaming fun in the '80s – Manic Miner (1983) and Jet Set Willy (1984), thus celebrating the latter's 35th birthday in 2019. They were two of the all-time great platformers, and while I later completed Manic Miner on the Xbox 360, I never could complete Jet Set Willy, although I'm not sure if anyone could because at least some versions contained a notorious bug which stopped you from doing so.
Some unofficial JSW sequels followed, but while Mr Smith was all set to release the announced follow-up, Attack of the Mutant Zombie Flesh Eating Chickens From Mars, it never came, and nor did anything else. However, I loved how he described on Andy Remic's Memoirs of a Spectrum Addict, writing the game on a Tandy TRS-80 and then porting the program over to a ZX Spectrum. Given that I had both machines (albeit, at different times), I had no idea anything was even possible on the TRS-80!
So, I have to catch his appearance, although I do wish all of these were officially filmed so they could go online afterwards, since it's hit and miss as to whether any of them do, and such an archive would be massively valuable.
Below that is info about Knightmare Live, based on the popular ITV show which aired in the '80s and '90s, with Hugo Myatt as Treguard. He doesn't appear to be part of the new version these days, but I'd still wager my house on him never having blinked in 30years.
Now, read on, then D… I… S… M… I… S… S…
---
---
Play Expo continues…
Matthew Smith Joins Us At PLAY Expo Manchester For Jet Set Willy's 35th Birthday!
If you had to choose one video-game character to represent the Sinclair Spectrum, chances are it would be Miner Willy. He first leapt onto our screens in 1983 as the hero of Manic Miner, negotiating his way through 20 underground caverns populated by a myriad of strange creatures. He returned the following year in Jet Set Willy, this time set in a sprawling mansion with 60 interconnected rooms and a cast of surreal inhabitants.
The game became a definitive title of the era and continues to inspire and intrigue gamers three decades on. At PLAY Expo Manchester, we are delighted to be hosting the UK premier of 'WILLY: 48K About A Legend', a beautiful short animated film by Italian director Paolo Santagostino, who will be introducing the screening. You can watch the trailer below.
Matthew Smith, the creator of Manic Miner and Jet Set Willy, will be joining us for a post-screening audience Q&A, hosted by Retro Gamer magazine regulars Paul Drury and Martyn Carroll. The event will also include a 'Best Jet Set Willy mod' award and a quiz with some very special prizes.
Make sure to join us to celebrate the 35th birthday of this most beloved of 8-bit games!
---
---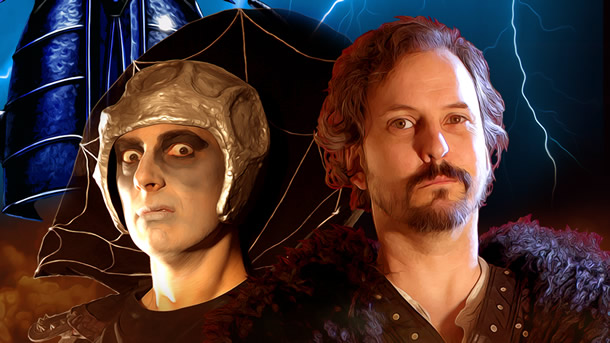 Knightmare Live Is Coming To PLAY Expo Manchester!
We're excited to announce that Knightmare Live! is coming to PLAY Expo Manchester!
Knightmare Live is the critically acclaimed stage adaptation of the cult TV show Knightmare. This show has been a huge success with rave reviews and we are bringing it to Manchester for both days!
Knightmare was a fantasy adventure game show, shown on ITV in the UK between 1987 & 1994. Created and produced by Tim Child, it made extensive use the "Chroma-Key" (Blue Screen) Technique to send its participants through fantasy medieval dungeons, solving puzzles, and interacting with the world and it's unusual denizens.
Please note that 'Knightmare Live' is a ticketed feature at PLAY Expo Manchester.
We have negotiated a show-exclusive ticket price of just £10.00 per person. Tickets can be purchased at PlayExpoManchester.com/tickets or if any remain on the day at the venue. Entry numbers are limited to just 300 people each day so please book early to avoid disappointment.
More info on Knightmare Live can be found at Knightmarelive.com, and you can see the very first episode below.
---
---
Reviewer of movies, videogames and music since 1994. Aortic valve operation survivor from the same year. Running DVDfever.co.uk since 2000. Nobel Peace Prize winner 2021.