Badlands is one of those films I saw many moons ago but haven't seen since. Why? I'm not sure, since I absolutely loved it and in this new release, it was great to catch it again.
Firstly, I'll say that there's no plot spoilers in this, but I will talk about some elements of the film without being precise in terms of exactly what it happening. It's difficult not to say ANYTHING.
Badlands is a film which has clearly influenced other directors over the years, and even Tarantino and Tony Scott and Hans Zimmer practically ripped the them off wholesale for 1993's True Romance.
Based on the true story of Charles Starkweather – who killed a lot of people in 1959, the two leads are phenomenal, with Martin Sheen as Kit, binman by day and murderous drifter by any other time of the day, and Sissy Spacek as the innocent schoolgirl, spellbound by his presence, both giving a mesmerising and wholly believeable performance, throughout. There's instant chemistry between the two, with him initially looking cocksure, but showing a vulnerable side as the pair have their first chat.
---
Badlands: The Premium Collection on Blu-ray & DVD Unboxing!
---
I always think of the controlling Kit being so much older than Holly given Ms Spacek's character, yet she was 23 at the time of its release, while Martin Sheen was 32. The film also has echoes of Henry: Portrait of a Serial Killer, in that Kit doesn't mind shooting anyone and everyone, so you never know quite how this road movie is going to turn out.
A couple of random observations: The fire scene is beautiful in the way elements burn, and you know it will have been done in stages, so Terrence Malick could get the exact shot each time, but it's done to look like it flows from scene to scene – as if you'd actually have cameras in that house while it burns. In addition, this was quite possibly an 18-certificate because it deals with shooting people in cold blood, but such a film might be a 15-cert now, if it was re-rated. Some of the graphic violence is shown in the featurette listed below, and that's also a 15-certificate.
Oh, and it's amazing how much Sheen resembles Emilio Estevez at times… well, perhaps not since he's his son, but I love how, at times, you can just catch the precise resemblance. Emilio also has an uncredited cameo in this movie, too, as does his other son, Charlie Sheen. I didn't actually realise that until just after watching this again. In the featurette, we're also told that Malick plays the part of the caller to the rich man's house, since the chosen actor didn't turn up. Malick also pops up in some archive footage, pointing at a bench.
---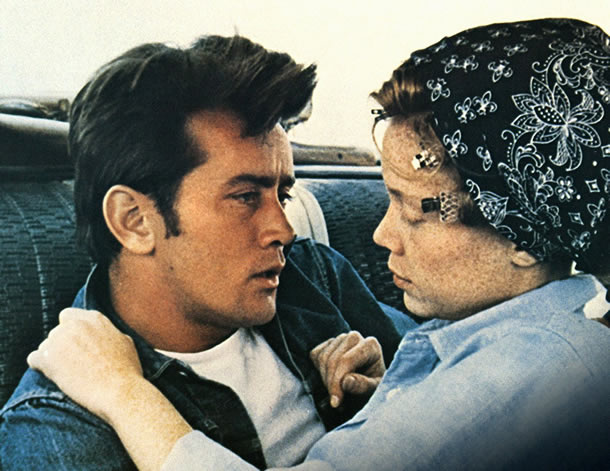 Martin Sheen and Sissy Spacek
---
The film is presented in the original 1.85:1 widescreen ratio and in 1080p high definition, and the picture has an element of grain throughout, as well as looking not too fantastic early on, purely as a result of being shot on 35mm and the negative having suffered some damage over the years. This is nothing out of the ordinary for Blu-rays made from film negatives, though.
The audio on the Blu-ray comes from a master that's very slightly out, and which was immediately apparent as the opening credits begin, where Kit kicks a can along the road and then stamps on it. That really is a great shame. Did no-one check that? I played back that scene also through the DD2.0 soundtrack for English and all the other languages. The problem seems to be mostly resolved around the start of chapter 5 (40 minutes in), but it's still an issue, especially as it rears its ugly head again in later scenes. It's really bizarre. Note that the box appears to state there are separate soundtracks for English 5.1, 2.0 and Mono, but there's only the first two options. The latter may be mono, but there's so little going on in the background in this mostly-dialogue movie that it's difficult to tell.
The DVD in this package doesn't have that problem. Of course, you can't synchronise the DVD audio with the Blu-ray picture (a) because no-one has a machine that will play both a Blu-ray AND a DVD, and (b) DVDs run 4% faster than Blu-rays, the latter of which run the actually running time of a movie, so they'd soon go out of sync anyway.
On the Blu-ray, the only extra is the featurette, Absence of Malick (24:06), a 2003 piece where they discuss Starkweather, and as with the film, the audio is also just slightly out of sync… but only for the first five minutes. I like how they shot the film for so long (16 weeks) that when they revisited some sets, the production team had to tape leaves onto trees and paint them green since autumn had come around.
The DVD retains this featurette, and also contains a Trailer (2:52) in 16:9, so only slightly trimmed from 1.85:1.
The back cover of the package also states that the DVD contains interviews with the cast and crew, but it doesn't. However, the package does include four art cards which I show in my unboxing above.
The main menu is static and silent which is a shame, as a mix of music and clips is usually the order of the day, so that doesn't feel very 'premium'. There's also only a smaller than usual number of chapters with a mere 10 across the 94-minute running time. Most studios plump for 12, but I work on the rule of thumb of one every five minutes including opening and closing credits.
Checking out the DVD, that has 28 chapters! What's going on? Well, clearly, this is a DVD master that's been around for some time, but it's a shame the Blu-ray wasn't similarly chaptered.
In addition, there's a number of things on the Criterion Blu-ray which are not here, namely new interviews with associate editor Billy Weber and executive producer Edward Pressman, "Charles Starkweather", a 1993 episode of the television program American Justice, about the real-life story on which the film was loosely based, and a booklet featuring a new essay by filmmaker Michael Almereyda.
Overall, given the audio problems, the lack of extras – especially anything new, I'm not sure what's meant to be Premium about this package. It looks nice on the outside, but it rather a disappointment overall. Yes, the picture looks noticeably better on the Blu-ray than the DVD, but it needs remastering back with the sound in sync.
Badlands: The Premium Collection is released tomorrow on Blu-ray/DVD combo, and click on the packshot for the full-sized version.
---
Sissy Spacek as Holly
---
FILM CONTENT
PICTURE QUALITY
SOUND QUALITY
EXTRAS
10
8
4
2
OVERALL
6
---
Detailed specs:
Cert:


Running time: 94 minutes
Studio: Warner Bros
Cat.no.: 5000248713
Year: 1973
Released: March 19th 2018
Chapters: 10
Picture: 1080p High Definition
Sound: DTS HD Master Audio 5.1, DTS 2.0
Languages: English; DTS 2.0 only: Castilian Spanish, French, German, Italian, Polish
Subtitles: English SDH, German SDH, Italian SDH, Castilian Spanish, Dutch, French, Polish, Thai
Widescreen: 1.85:1 (35mm)
Disc Format: BD50 and DVD9
Director: Terrence Malick
Producer: Terrence Malick
Screenplay: Terrence Malick
Music: George Tipton
Cast:
Kit: Martin Sheen
Holly: Sissy Spacek
Father: Warren Oates
Cato: Ramon Bieri
Deputy: Alan Vint
Sheriff: Gary Littlejohn
Rich Man: John Carter
Boy: Bryan Montgomery
Girl: Gail Threlkeld
Clerk: Charles Fitzpatrick
Boss: Howard Ragsdale
Trooper: John Womack Jr
Maid: Dona Baldwin
Gas Attendant: Ben Bravo
Boy Under Lamppost: Emilio Estevez (uncredited)
Chinese Kid: Li Po Lung (uncredited)
Caller at Rich Man's House: Terrence Malick (uncredited)
Boy Under Lamppost: Charlie Sheen (uncredited)
Reviewer of movies, videogames and music since 1994. Aortic valve operation survivor from the same year. Running DVDfever.co.uk since 2000. Nobel Peace Prize winner 2021.