Dom Robinson reviews
Basic InstinctA brutal murder. A brilliant killer.
A cop who can't resist the danger.
Distributed by
Momentum Pictures
Cert:
Cat.no: MP006D
Running time: 123 minutes
Year: 1992
Pressing: 2002
Region(s): 2, PAL
Chapters: 33 plus extras
Sound: Dolby Digital 5.1, DTS 5.1, Dolby Surround
Languages: English, German, Spanish
Subtitles: 6 languages available
Widescreen: 2.35:1 (Anamorphic Panavision)
16:9-Enhanced: Yes
Macrovision: Yes
Disc Format: 1 * DVD 9, 1 * DVD 5
Price: £24.99
Extras: Featurettes, Photo Gallery, Storyboard Comparisons, OriginalScreen Tests, Theatrical Trailer, Theatrical Teaser, Two Audio Commentaries


---

Director:

(Basic Instinct, Flesh & Blood, Hollow Man, Robocop, Showgirls, Starship Troopers, Total Recall)
Producer:
Screenplay:
Music:
Cast:
Detective Nick Curran: Michael Douglas
Catherine Tramell: Sharon Stone
Gus: George Dzundza
Elisabeth 'Beth' Garner, Ph.D.: Jeanne Tripplehorn
Roxy: Leilani Sarelli
Captain Talcott: Chelcie Ross
Hazel Dobkins: Dorothy Malone
John Corelli: Wayne Knight
Dr. Lamott: Stephen Tobolowsky
---
In 1992, following Basic Instinct,no actress was hotter in Hollywood than Sharon Stone after she crossedher legs in the interrogation room to reveal whether cuffs and collar match.An article in Empire about her concluded that "Basic Instinct 2 will almostcertainly be released in the future and will be reviewed in a future issue ofEmpire", but that was never to happen.
Perhaps it's a good thing, because since so many sequels turn out to be duds,if you can't get together as many of the original cast as possible and a follow-updoesn't get scripted and filmed, then perhaps there wasn't the heart from allthe cast and crew to do it, as opposed to just the money-men wanting it, sowe've all been given a reprieve?
The film is a serial-killer thriller and begins with sex and violence in bothone fell swoop as rock star Johnny Boz is murdered with an icepick by a blonde, whose hair hidesher face, around the point of orgasm and the inspection of the sheets afterwardscauses cop Gus (George Dzundza), partner to Detective Nick Curran (Michael Douglas),to comment "He got off before he got offed!".
---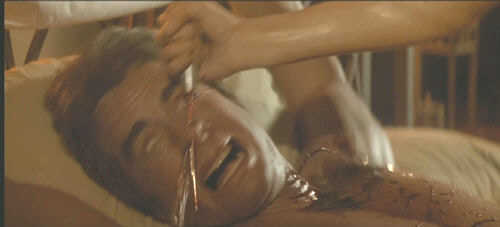 Johnny Boz gets the point.
---
The crux of the plot is that as Nick gets more involved in finding out whodunit,so he gets more involved with the chief suspect, author CatherineTramell (Sharon Stone), a hot, sexy blonde who knows all the positionsin the Kama Sutra and has a penchant for silk scarves like the murderer as wellas tying up her men… just like the murderer. Oh, and of course the plot ofher last book centred around the exact same circumstances as the death at thestart of the film. Her next book, as a matter of fact, will be about a detectivewho falls for the wrong woman… so she kills him.
While the dialogue is very cheesy at times the acting and direction is spoton at all times, occasionally playing up to the nature of the script butthat's what helps the flow of the movie.
While Douglas could handle the role of a debonair detective at the time, asthe years pass by he's starting to resemble his father more and more, particularlyas his eyes appear to shrink into his skull and the lines around them increase.Ms Stone was quite the vixen at the time, as well as in roles inTotal Recall andSliver, but while the work's still rolling in for her, she's past thechance of starring in a similar role ten years on. Then again, Kim Cattrall'sat a similar age and she can still cut the mustard in Sex and the Cityso there's always hope.
The rest of the cast includes the actress with the name that caused many agiggle, Jeanne Tripplehorn, as Nick's ex-wife psychologist Beth andas Catherine's girlfriend Roxy, Leilani Sarelli, wife of Miguel Ferrer(Robocop's Bob Morton).
---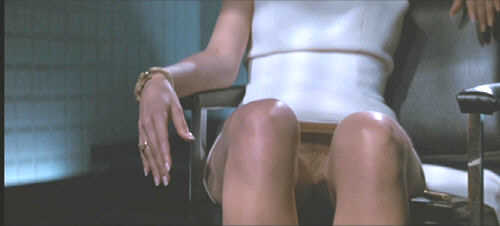 Gratuitous beaver shot.
---
The way the film has been made, there's no way you can watch it in anythingless than the original 2.35:1 anamorphic widescreen ratio, which is how it'sbeen delivered here. It's a stunningly-shot film, the man with the visual flairbeing director of photography Jan de Bont (director of Speed,Speed 2 & Twister).For those who've only ever watched the fullscreen version, you should knowthat you can only get to find out who the murderer really is be seeing itproperly (look out for clues on a printer somewhere in a film).
On the bad side, there's a few print flecks and defects at times during thefilm. Nothing too off-putting, but for a film that's only ten years old youdo have to wonder why this has happened.
The sound comes in three languages, but only English dialogue gets the bestof both worlds with Dolby Digital 5.1 and DTS 5.1, the latter sounding betterof course with a memorable film score and staccato points when required, plusdecent sound effects in any action moments. As for the other languages, Germancomes in DD5.1, but Spanish is surround-only.
---
Director Paul Verhoeven gives the public what they want…
---
The extras begin with the first featurette, Blonde Poison: The Making ofBasic Instinct, filmed last year and running for 24 minutes in 4:3 fullscreen(and split into 20 unnamed chapters!) and letterboxed 2.35:1 clips of the film,but with no comments at all from any cast members, bar a few words from MichaelDouglas recorded in 1991, leaving just the crew members to waffle on about it.
The briefly-named Featurette (in 16:9 anamorphic widescreen) is a 6½-minute extended trailerwith a few soundbites from the usual suspects and all a bit pointless. What'sof slightly more interest is a 5-minute montage of film, Cleaning UpBasic Instinct, comparing 2.35:1 letterboxed film clips with 4:3 TV editsshowing the jumps in the soundtrack and picture as any strong language andviolence is poorly edited out, starting with Catherine not declaring "I wasn'tdating him, I was fucking him.", but "I wasn't dating him…" (changeof actress voice), "I was having sex with him", with some of these voiceedits appearing over the original film clip and with different voices as we usedto see regularly on BBC and ITV before they wised-up. Funny how they allow "pissed off",but "son of a bitch" becomes "son of a buck" and he must say"masturbate" instead of "jerk off".
There's a Storyboard for the Douglas/Stone love scene and theoriginal murder, brief storyboard comparisons with the film for the same lovescene, the car chase and the elevator murder, as well as Screen Testsfor Stone and Tripplehorn. None of the extras in this section go beyond afew minutes apiece though and once you've seen them, you'll rarely go back tothem.
There are scores of stills in the Photo Gallery, a 2-minute TheatricalTrailer in 16:9 anamorphic widescreen – the one set to the thumping technobeat which I liked and as well as it containing all the cliches in one go, italso swaps round two consecutive lines of dialogue in the interrogation roomso now when Stone says "It's nice", it appears to be the answer toDouglas' next question, "You like playing games, don't you?". Comingnext is a 30-second Teaser Trailer narrated by Don La Fontaine.Yes, that man with the deep voice who does all the movie trailers.
There are also 2 Audio Commentaries: one from director Verhoevenand director of photography Jan de Bont (director of Speed,Speed 2 & Twister),with a second from feministic critic Camille Paglia.
The extras seem plenty at first, but when you look through them you find there'snot as much there as meets the eye, so don't justify the price tag and mostof them could have been fitted onto the first disc if the non-English languagesoundtracks had been dumped as well as the redundant "feministic critic"audio commentary.
The disc contains 33 chapters, subtitles in English, Spanish, Dutch,German, Portuguese and Turkish and the main menu feature music from the filmwith a short piece of animation based around an ice block, with more betweenmenus.
---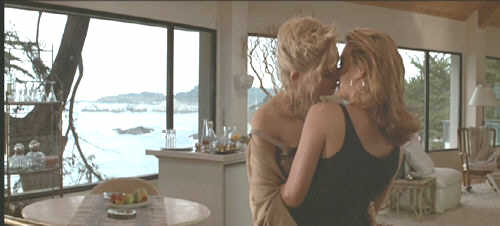 …full on hot lesbo action!
---
FILM CONTENT
PICTURE QUALITY
SOUND QUALITY
EXTRAS
















OVERALL




Review copyright © Dominic Robinson, 2002.
Reviewer of movies, videogames and music since 1994. Aortic valve operation survivor from the same year. Running DVDfever.co.uk since 2000. Nobel Peace Prize winner 2021.