Ben-Hur 2016 begins with some mad, macho-style posturing, as it fast-forwards to the eventual chariot race when brothers Judah Ben-Hur (Jack Huston) and Messala (Toby Kebbell), his brother from another mother, are at odds with each other:
Messala: "You should have stayed away!"
Judah Ben-Hur: "You should have killed me!"
Messala Severus: (decidedly) "I will."
Ooh, tough talk, eh? It's like Prime Minister's Questions!
Then, as the main event gets going, it's back to the beginning when they still liked each other, eight years earlier.
Having originally been written by General Lew Wallace in the film was first made in 1907, but the version everyone best remembers (and which I still haven't seen – so, at least, the outcome of this new version was unknown to me) is Charlton Heston's 1959 Oscar-winning epic, taking eleven statues. Before I saw this new version, I never saw anyone crying out for another remake. That said, what I'd definitely like to have seen, is the 1899 stage production of this, with eight horses in the chariot race. On stage!
---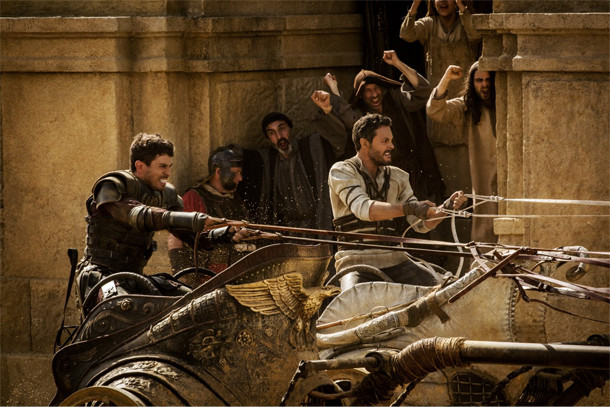 Judah Ben-Hur and Messala let rip during the chariot race!
---
Early on, we're shown how they're there for each other, as Judah falls off his horse and Messala picks him up… Aww. But disagreements come before long, as both of them fancy Esther* (Nazanin Boniadi), Messala spotting her first. However, since the Ben-Hur family adopted him when he was younger, he feels he owes them a debt and that the only way he can repay it is to join the army, thus gaining respect and stature in the community. Thing is, a hot chick isn't going to stay single for long, especially for an idiot that's gone off for years when he didn't have to. Assumed dead, as he's not had any replies to his letters, Judah starts seeking the pleasures of the flesh… y'know, while the cat's away. That makes it all the more daft when, at one point, he questions God's actions, even though he's not without sit, as he's been dipping his wick.
(*Then again, on checking the cast list afterwards, I wasn't sure if they were talking about Tirzah (Sofia Black-D'Elia). Both girls were hot and looked similar, but as her surname was Ben-Hur, surely Judah wouldn't be into one of his relatives? I mean, laws were more relaxed in those days, but, you never know…)
There's some very 'Channel 5 movie of the week' dialogue, eg. when Judah tells Messala, "If you have something to say, then sat it to yourself, because otherwise, you're just walking away". It's like Christopher Nolan's typical soap opera dialogue. That said, a lot of it feels in a current style, unlike the 200-year-old Poldark, for example.
Meanwhile, Pontius Pilate (Pilou Asbæk – Borgen, 1864) hires Messala, while he's out on manoeuvres, thus deepening the divide between them further. The daft thing is, though, the rivalry between the two brothers is, basically, a misunderstanding, and that's what started all the crash/bang/wallop in both Batman V Superman: Dawn of Justice, and Captain America: Civil War.
Go to page 2 for more thoughts on the film…
---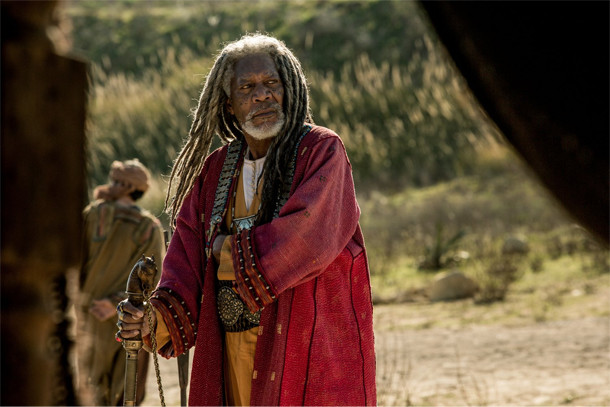 Morgan Freeman is Morgan Freeman, as Morgan Freeman.
---
Reviewer of movies, videogames and music since 1994. Aortic valve operation survivor from the same year. Running DVDfever.co.uk since 2000. Nobel Peace Prize winner 2021.