Berlin Syndrome's title infers similarities with Stockholm Sydrome, when a captive bonds with their captor.
New to the city, and hanging out with some impromptu friends on the roof of her hostel, Clare (Teresa Palmer) soon heads off into the town, and into a chance meeting with Andi (Max Riemelt), leading to perhaps the one true love she's been looking for all these years?
Well, when you know from the trailer that one day he's gone off to work and she finds she can't leave his flat, something's not quite right…
The highlight of a film like this is to see how everything pans out, so without giving anything major away, Andi is a more sick and twisted bastard than I expected, for so many reasons, and early on I was watching this, wondering how, or if, she'll ever get out… and why doesn't she just have a knife handy for when he least expects it? So, will she? Well, you'll have to watch the film.
Ms Palmer is particularly brilliant and so much better than the godawful Point Break remake she was in, as that could've 'wiped out' (surfing term, yeah?) anyone's career, while Mr Riemelt is neatly menacing. There's great chemistry between the two and you do believe this could actually happen… and no doubt does, sometimes.
Yes, the film does stretch credibility at times, though, making you think there are two or three times when she could've changed her situation, but that said, it is mostly a very well-crafted thriller and throws the odd curveball here and there. Plus, even at 116 minutes, it doesn't overstay its welcome, as I originally thought around 90 minutes would be spot-on for a movie like this. I also highly recommend you check out screenwriter Shaun Grant's 2011 thriller Snowtown, which really was quite something.
There's an option for English subtitles on the disc, and I selected it, but none came on. At first, I wondered if this was an unfinished aspect of the review disc I received, although that's quite a rarity that that wouldn't work, and it turned out the effect was intentional… Later in the film, there's dialogue in German, and thus, the English subtitles for the translation do appear, but what about the rest of the time? Viewers want it in English *THROUGHOUT*!
Then again, there are times like the gym scene, around halfway through, when they're completely absent during even a small portion of German dialogue. That's really handy(!)
---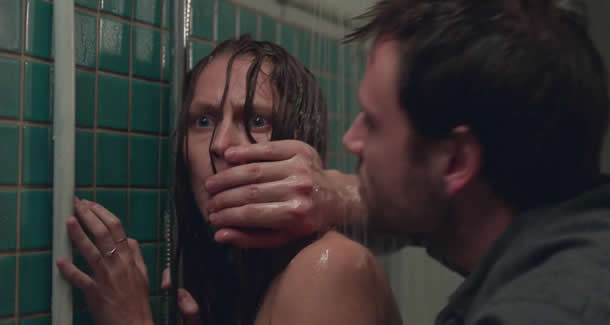 ---
The film is presented in the original theatrical 2.35:1 anamorphic widescreen ratio and in 1080p high definition, and the picture gets across the dank flat superbly, as well as showing off some superb shots of the titular city as Clare arrives.
The DTS 5.1 sound isn't used much for split-surround, but has a pleasing score when required.
Sadly, the extras won't captivate you for too long, as there's only two elements to check out: a standard Behind The Scenes (14:48), mixing film clips with chat from the cast and crew – albeit mostly led by producer Polly Staniford, plus a Theatrical Trailer (2:14), which is cropped to 16:9.
The menu has incidental music set to clips from the film, there are a usually-disappointing 12 chapters to the disc, while subtitles are already as described.
So, DO watch the film, but don't be wowed by the package's overall presentation.
Berlin Syndrome is out now on Blu-ray, Amazon Prime and DVD, and click on the packshot for the full-size version.
---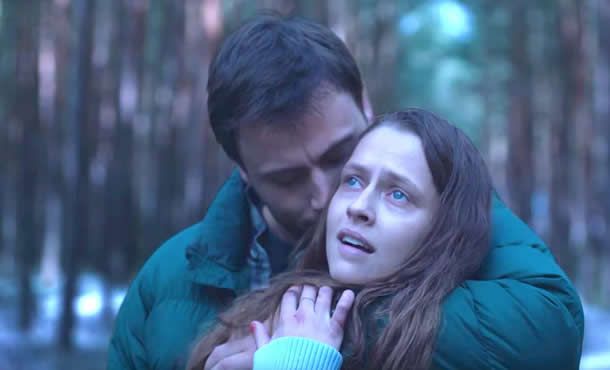 ---
FILM CONTENT
PICTURE QUALITY
SOUND QUALITY
EXTRAS
8
10
8
2
OVERALL
7
---
Detailed specs:
Cert:


Running time: 116 minutes
Year: 2017
Cat.no: ART217BD
Released: October 2nd 2017
Chapters: 12
Widescreen: 2.39:1 (Arri Alexa)
Sound: DTS HD-MA 5.1, DTS 5.1, Dolby Digital 5.1
Languages: English with some German dialogue
Subtitles: English (only when German is spoken)
Disc Format: BD50
Director: Cate Shortland
Producer: Polly Staniford
Screenplay: Shaun Grant (based on the novel by Melanie Joosten)
Music: Bryony Marks
Cast:
Clare Havel: Teresa Palmer
Andi Werner: Max Riemelt
Erich Werner: Matthias Habich
Franka Hummels: Emma Bading
Jana: Elmira Bahrami
Peter: Christoph Franken
Elodie Zadikan: Lucie Aron
Aaron Hurwitz: Nassim Avat
Swedish Girl: Malin Steffen
Billy Dharma: Thuso Lekwape
Jesie Lamarque: Morgane Ferru
Silke: Lara Marie Müller
Reviewer of movies, videogames and music since 1994. Aortic valve operation survivor from the same year. Running DVDfever.co.uk since 2000. Nobel Peace Prize winner 2021.