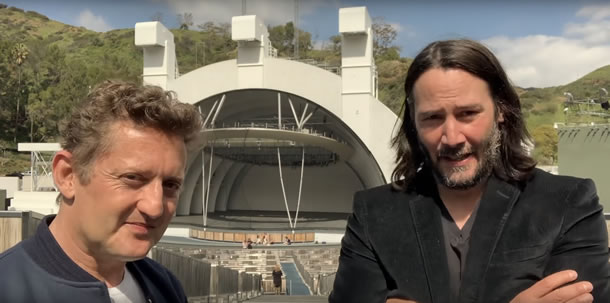 Bill And Ted 3: Face the Music is, obviously, the third film in the Bill And Ted series, and long-awaited, since 1988's original Bill And Ted's Excellent Adventure was such a fantastic film, but the 1991 sequel, Bill And Ted's Bogus Journey was less so. Still had its moments, though.
Since then, Alex Winter (as Bill S. Preston Esq.) has concentrated more on film-making, while Keanu Reeves (as Ted 'Theodore' Logan) has had ups and downs in his career, but is currently riding on the crest of a wave with the John Wick trilogy.
Synopsis: Two would-be rockers from San Dimas, California, were once told they'd save the universe during a time-travelling adventure, but find themselves as middle-aged dads still trying to crank out a hit song and fulfill their destiny.
Today, an announcement video has been released, but it does seem a bit odd, since the film was first announced in early March 2019, so why it's taken so long for this, I don't know. Still, they're standing in front of the Hollywood Bowl ("Where we'll never play!") so, enjoy…
Bill And Ted 3: Face the Music is due for release on August 21st 2020. Given that there's over a year until then, I expect that to change. As for the film, let's hope it's excellent, and is NOT bogus.
Check out the trailer below:

---
---
Reviewer of movies, videogames and music since 1994. Aortic valve operation survivor from the same year. Running DVDfever.co.uk since 2000. Nobel Peace Prize winner 2021.