Dom Robinson reviews
Bill & Ted's Excellent AdventureHistory is about to be written by two guys who can't spell…
Time flies when you're having fun. Party on dudes!
Distributed by
Momentum Pictures
Cert:
Cat.no: MP060D
Running time: 86 minutes
Year: 1988
Pressing: 2001
Region(s): 2, PAL
Chapters: 24 plus extras
Sound: Dolby Digital 2.0 (Dolby Surround)
Languages: English, German, Spanish
Subtitles: 6 languages available
Widescreen: 2.35:1 (Anamorphic Panavision)
16:9-Enhanced: Yes
Macrovision: Yes
Disc Format: DVD 5
Price: £15.99
Extras: Trailer, Photo Gallery


---

Director:

(101 Dalmatians, Bill & Ted's Excellent Adventure, Critters, Don't Tell Mom The Babysitter's Dead, Holy Man, Life or Something Like It, The Mighty Ducks, Mr Holland's Opus, Rock Star, Three Musketeers (1994))
Producer:
Scott Kroopf, Michael S. Murphey and Joel Soisson
Screenplay:
Music:
Cast:
Ted "Theodore" Logan: Keanu Reeves
Bill S. Preston Esquire: Alex Winter
Rufus: George Carlin
Napoleon: Terry Camilleri
Billy the Kid: Dan Shor
Socrates: Tony Steedman
Sigmund Freud: Rod Loomis
Ghenghis Khan: Al Leong
Joan of Arc: Jane Wiedlin
Abraham Lincoln: Robert V. Barron
Beethoven: Clifford David
Capt. Logan: Hal Landon Jr.
Mr Ryan: Bernie Casey
Missy: Amy Stock-Poynton
Mr Preston: J. Patrick McNamara
---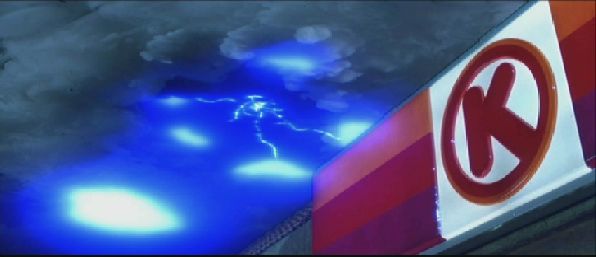 Strange things are afoot at the Circle K…
---
Few films can capture the imagination or create catchphrases like Bill & Ted's Excellent Adventuredid and the blend of comedy and time-travel, with its insightful, cleverparadoxes, came at the right time when the world was still waiting for aBack to the Future sequel.
In short, the two lead metalheads, Bill (Alex Winter) and Ted (Keanu Reeves)are set to flunk their history report in the year 1988. As a result, Ted willbe sent by his police Dad off to military school and the world as we know itwill collapse. Why? Because, as we're told by Rufus (George Carlin),a man calling us from 700 years in the future, Bill and Ted must pass theirreport because the universe's whole way of life is based around the music theirband Wyld Stallyns create and their 'excellent' and 'bodacious' attitude.
But they'll have to go some to get an A+ when they're bone idle and moreinterested in trying to get Eddie Van Halen to perform for their band andthink that Joan of Arc was Noah's wife(!) So Rufus givesthem a time machine in the form of a phone box they set off to grab all thebig names from the past: Napoleon, Billy the Kid, Socrates (nicknamed 'So-crates'),Sigmund Freud ('Frood Dood'), 'Bob' Ghenghis Khan, Joan of Arc, Beethoven('Beeth-oven') and Abraham Lincoln. They each have their part to play,especially Terry Camilleri as Napoleon, since they capture him firstand entrust Ted's little brother Deacon and his friends to look after him,so they promptly lose him while down the shopping mall.
Bill might need the attention of Freud given that he has an oedipal complexwith his step-mom Missy (Amy Stock-Poynton), just two years older thanhim at school, but now sadly married to his balding father.
---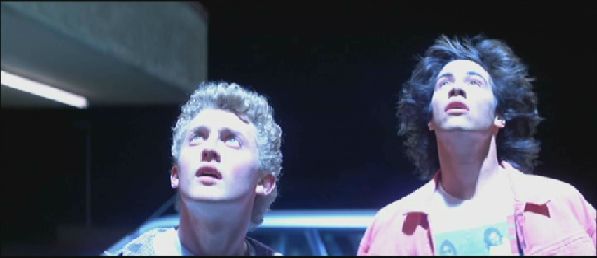 … for Ted "Theodore" Logan and Bill S. Preston Esquire…
---
When I first saw this on the big screen, it cried out for a widescreen releaseand I kicked myself after the one time I spotted a limited edition tape atOur Price labelled "Most Excellent Letterbox Video" for £10.99 anddidn't buy it, because the fullscreen alternative is simply terrible and the16:9-cropped version shown on Channel 4 doesn't go far to help matters.
It was released three years ago as a widescreen video, so I snapped it upinstantly and has also been shown in 2.35:1 widescreen on the Sci-Fi Channel,but now we have the transfer we've deserved and been waiting for – ananamorphic 2.35:1 widescreen transfer, which delivers colour and realisticflesh tones all over the shop. Free from artifacts or print defects, I'm verywell impressed.The average bitrate is a steady 5.42Mb/s, briefly peaking over 9Mb/s.
With dialogue in English, German and Spanish only, it's a shame we don't geta Dolby Digital 5.1 remix, settling for Dolby Surround only which makes it sounda little more flat than it should be in the days of multi-channel surroundsound.
The extras are rather lacking too, only presenting us with a 90-secondnon-anamorphic 2.35:1 widescreen Trailer and a 20-strong on-setPhoto Gallery.
The disc contains 24 chapters, subtitles in English, Spanish, Dutch,German, Portuguese and Turkish and the main menu features a clip from thefilm played on a short loop.
MGM were due to release the sequel, Bill and Ted's Bogus Journey,a week after this was put out, but it was cancelled. That's most non-triumphant.
Despite the lack of extras, if you're a fan of the film it's worth the askingprice to see it looking so good. It does have a few moments which are eithera bit slow or too daft, hence the score of four stars for the film and notfive.
---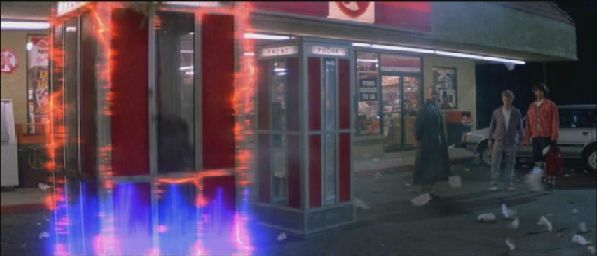 …and paradoxes begin with two time machines
---
FILM CONTENT
PICTURE QUALITY
SOUND QUALITY
EXTRAS














OVERALL



Review copyright © Dominic Robinson, 2001.
Reviewer of movies, videogames and music since 1994. Aortic valve operation survivor from the same year. Running DVDfever.co.uk since 2000. Nobel Peace Prize winner 2021.