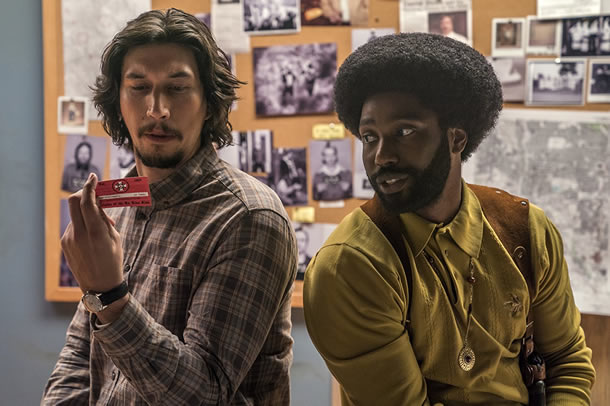 This week, there are SEVEN new films out for you to choose from, led by BlacKkKlansman. Here are the titles, with more info below:
BlacKkKlansman
Bad Samaritan
The Spy Who Dumped Me
Slender Man
Alpha
The Children Act
The Happytime Murders
BlacKkKlansman is the latest movie from Spike Lee, and centres around Ron Stallworth (John David Washington), an African-American police officer from Colorado, who, together with colleague Flip (Adam Driver), successfully managed to infiltrate the local Ku Klux Klan and became the head of the local chapter.
The script from Lee, co-written with David Rabinowitz, Charlie Wachtel and Kevin Willmott, stems from the book by Ron Stallworth, himself, and given how he gets the racist scumbags onside from a simple phone call, it certainly looks like an interesting watch.
And there was me thinking that KKK stood for "Krusty Komedy Klassic".
Also stars: Topher Grace, Laura Harrier, Ryan Eggold, Robert John Burke, Jasper Pääkkönen, Corey Hawkins, Paul Walter Hauser, Harry Belafonte, Michael Buscemi
Hit or Miss? Verdict: Hit!
---
Bad Samaritan shows is that one bad night… and one bad decision… can haunt you forever, usually when you have a few extra drinks on a night out.
Struggling photographer Sean Falco (Robert Sheehan – Mute, Geostorm, Misfits) funds his lifestyle with a sideline in burglary, and thinks he has hit the jackpot when he breaks into the luxurious house of the wealthy Cale Erendreich (David Tennant – Broadchurch, You, Me and Him, Doctor Who).
Things go wrong when Sean discovers a woman chained up in the house. Unable to free her before Cale returns, Sean reluctantly goes to the police to explain what he's seen. By the time they investigate, Cale has covered his tracks, and the police tell Sean to stop harassing him. Sean soon realises Cale will stop at nothing to shut him up – permanently.
That sets the scene for what looks like a decent thriller (if you ignore Tennant's American accent late on in the trailer, since he sounded his usual Scots self when he first spoke), and it's directed by Dean Devlin (producer of the Independence Day movies – and No.2 is better than the nay-sayers think, and it looks like No.3 *IS* back on).
Writer: Brandon Boyce
Also stars: Kerry Condon, Jacqueline Byers, Lisa Brenner, Hannah Barefoot
Hit or Miss? Verdict: Read the review!
---
The Spy Who Dumped Me stars Mila Kunis (Bad Moms Christmas) as Audrey who, together with Morgan (Kate McKinnon – Ghostbusters, Rough Night), are two 32-year-old best friends in Los Angeles. They're thrust unexpectedly into an international conspiracy when Audrey's ex-boyfriend shows up at their apartment with a team of deadly assassins on his trail.
Surprising even themselves, the duo jump into action, on the run throughout Europe from assassins and a suspicious-but-charming British agent, as they hatch a plan to save the world.
Even on this second trailer out of the two, it still doesn't get any better.
Director: Susanna Fogel
Writers: Susanna Fogel, David Iserson
Also stars: Justin Theroux, Sam Heughan, Gillian Anderson, Ólafur Darri Ólafsson, Fred Melamed, Ivanna Sakhno, Justine Wachsberger, Lolly Adefope, Dustin Demri-Burns
Hit or Miss? Verdict: Miss!
---
Slender Man tells the tale of a tall, thin horrifying figure with unnaturally long arms and a featureless face (played by Annalise Basso), who is reputed to be responsible for the haunting and disappearance of countless children and teens.
So, almost like a modern day Jimmy Savile.
However, it seems another case of not-particularly-effective jump scares, so I'm not hugely looking forward to this one.
Director: Sylvain White
Writers: David Birke, Victor Surge (creator)
Also stars: Joey King, Julia Goldani Telles, Annalise Basso, Jaz Sinclair, Kevin Chapman, Michael Reilly Burke, Kayla Caulfield, Alex Fitzalan, Jessica Blank
Hit or Miss? Verdict: Miss!
---
Alpha – it's Dances With Wolves II: Dance Harder!
Well, morelike, just Dances With Wolves all over again, since Kodi Smit-McPhee (X-Men Apocalypse) injures his limb, befriends a wolf and then lives in the wild. Looks awful.
The brief billing simply states that the film is a story of survival set 20,000 years ago during the last Ice Age… so we WILL get another one, so stop all the worrying about so-called "man-made global warming" because it's utter bullshit!
Director: Albert Hughes
Writers: Albert Hughes, Dan Wiedenhaupt
Also stars: Natassia Malthe, Leonor Varela, Jóhannes Haukur Jóhannesson, Mercedes de la Zerda, Jens Hultén, Marcin Kowalczyk
Hit or Miss? Verdict: Miss!
---
The Children Act is a film that looks very well-intentioned, and with some great names in the cast, but it looks extremely dull.
As her marriage to Jack (Stanley Tucci) flounders, eminent High Court judge Fiona Maye (Emma Thompson) has a life-changing decision to make at work – should she force a teenage boy, Adam (Dunkirk's lead, Fionn Whitehead), to have the blood transfusion that will save his life? Her unorthodox visit to his hospital bedside has a profound impact on them both, stirring strong new emotions in the boy and long-buried feelings in her.
Even just watching this trailer, I was being bored into a coma, as the acting and the plot look like they have the gravitas of a Channel 5 afternoon TV movie.
The Children Act is released in the UK on August 24th.
Director: Richard Eyre
Writer: Ian McEwan
Also stars: Ben Chaplin, Jason Watkins, Rosie Cavaliero, Nikki Amuka-Bird, Rupert Vansittart, Anthony Calf
Hit or Miss? Verdict: Miss!
---
The Happytime Murders is one of those things which must've sounded like a good idea, but in the final analysis, I've had more laughs at funerals watching The Muppets swear a lot, and in this trailer, they're effing and jeffing occasionally.
The film is set in the underbelly of Los Angeles where puppets and humans co-exist. Two clashing detectives – one human and one puppet – are forced to work together to try and solve who is brutally murdering the former cast of "The Happytime Gang", a beloved classic puppet show.
It comes from Brian Henson, one of the Henson clan, who also directed 1992's The Muppet Christmas Carol and 1996's Muppet Treasure Island, but even if it did have anything going for it, that soon flies out the window when the human detective shows up: Melissa McCarthy.
Yes, didn't I mention this film last week? That's because it was in the listings, but now it appears to have been put back to this coming Monday, August 27th, so as it's coming out on a Monday, that means it'll have a 7-day "weekend" from Monday to Sunday, so that'll be used to prop up its box office. Sony tried the same with the Ghostbusters reboot in 2016, and that only managed No.2. Hmm… No.2? How apt!
Also stars: Elizabeth Banks, Joel McHale, Maya Rudolph, Jimmy O Yang, Leslie David Baker, Ryan Gaul, Cynthy Wu
Writers: Todd Berger, Dee Austin Robertson
Hit or Miss? Verdict: Miss!
---
Reviewer of movies, videogames and music since 1994. Aortic valve operation survivor from the same year. Running DVDfever.co.uk since 2000. Nobel Peace Prize winner 2021.