Dom Robinson reviews
Bob & Rose
The Complete First Series
Distributed by

Cert:
Cat.no: 37115 02453
Running time: 276 minutes
Year: 2001
Pressing: 2002
Region(s): 2, PAL
Chapters: 60 plus extras
Sound: Dolby Digital 2.0 (Stereo)
Languages: English
Subtitles: English
Fullscreen: 4:3
16:9-Enhanced: No
Macrovision: Yes
Disc Format: 2 * DVD 9
Price: £19.99
Extras: Audio commentary, Production Notes, Biographies


---

Directors:

Julian Farino and Joe Wright
Producer:
Screenplay:
Cast:
Bob Gossage: Alan Davies
Rose Cooper: Lesley Sharp
Holly Vance: Jessica Stevenson
Andy Lewis: Daniel Ryan
Carol Cooper: Barbara Marten
Trevor Gadds: Dave Hill
Carl Smith: Michael Begley
Anita Kendrick: Katy Cavanagh
Monica Gossage: Penelope Wilton
William Gossage: John Woodvine
---
When I watched Bob & Rose on TV in theautumn of last year, I didn't have particularly high expectations and as itclashed with a few things also on at the same time I wasn't too fussed if itturned out to be rubbish as it would be one more thing to skip in the schedules.However, to my surprise, it turned out to be a funny, engaging and insightfulseries about the unlikely burgeoning relationship between Bob Gossage (AlanDavies), a gay teacher and Rose Cooper (Lesley Sharp), a down-to-earthstraight woman, both in their late 30s.
Throw into the mix the typical stereotypes of Bob's dowdy best friend who isfemale – Spaced'sand The Royle Family'sJessica Stevenson as teacher colleague Holly, Rose's disapprovingmum – Casualty's Barbara Marten as Carol, her dodgy live-in loverTrevor (City Central's Dave Hill), Rose's other (straight)boyfriend, Andy (Daniel Ryan), Bob's ex-lover Carl (Michael Begley)plus Bob's even more-disapproving parents when they find out he's come outof the closet (Penelope Wilton and John Woodvine), add to thefact that it's on ITV and you really should have a complete recipe fordisaster…
But, thankfully, it was far from that. Couple an experienced cast that workwell together to create a realistic scenario out of what could be seen to beunrealistic, as well as the writing talent ofQueer as Folk'sRussell T. Davies – who I understand based elements of the script ontwo people he knew in real life who had gone through the same thing – andI know it's an extraordinary cliche to use a phrase like "funny and touching"but it does exactly that.
Then, as soon as I heard the entire series was being released on DVD so quickly,I was very impressed. We'd been treated to a great 16:9 anamorphic widescreenpicture on ITV showing off the club atmosphere of Manchester, for both gay andstraight, with music galore pumping out and there was nothing to suspect thatanything else would be put on disc…
---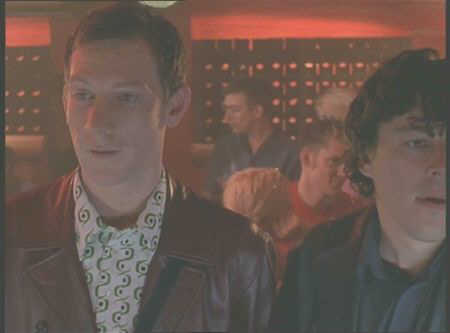 Carlton cut off Bob's face to spite the picture…
---
Well, sadly, someone got to this and completely cocked up the picture byusing, what I imagine might be the same reason as Granada for their first andsecond series DVDs forCold Feet,a centre-cropped 4:3 image. The programme was shot in anamorphic 16:9 and18 months ago Granada stated they used the "international masters" and clearlycouldn't find their own. Is this what has happened to Carlton? We demand to betold and for a proper version to be reissued quick-smart.
The image itself is quite blocky at times too and… well, Carlton, this isn'twhat DVD is all about. It's all about top-quality and widescreen, not… whateveryou've given us here. Poor showing indeed.
No problems with the sound quality, but standard surround sound for a TV showwon't set your speakers alight. The box does mention that the music soundtrackdiffers from that heard on TV. It doesn't state if this is for the wholeseries or selected songs. I'd imagine the latter, due to rights issues.
The extras are brief and nothing to get worked up about: A feature-lengthAudio commentary from Russell T. Davies and Alan Davies (no relation,I presume), plus short bog-standard Production Notes and Biographies.
There are 10 chapters per episode, subtley-animated menus with music from theseries and English subtitles, but does any of that matter if you won't bewatching it because it's not in widescreen (did I mention that already?)
FILM CONTENT
PICTURE QUALITY
SOUND QUALITY
EXTRAS





0




OVERALL


Review copyright © Dominic Robinson, 2002.
Reviewer of movies, videogames and music since 1994. Aortic valve operation survivor from the same year. Running DVDfever.co.uk since 2000. Nobel Peace Prize winner 2021.