Bridget Jones' Baby – let's get this right from the start. For me, that's the title, NOT "Bridget Jones's Baby". Who puts the extra, redundant 's' in these things? Probably the same people who say 'forward slash' in a web address, when it's just 'slash'.
You'd only have a 'back slash' if you had an accident in the bathroom.
Anyhoo, that out of the way, I am only a very recent convert to the phenonemon of Bridget Jones, portrayed by Renée Zellweger. Given that I am also an eternal singleton, you might be surprised. In fact, it's only been in the past week when I watched the first two films, and I thought they were good, but not great. 6/10 for each. And, quite frankly, they were both pretty similar, both leading into a fight between Mark Darcy and Daniel Carver, and both having the same ending.
But 12 years later, which is actually 10 in storyline terms, it's a new world. Bridget is now using a tablet to record her diary, rather than a book, but in a not so different world, she's 43, it's her birthday, she's single again and, so with the first movie's director, Sharon Maguire, returning, she's # All By Myself… #
She also works in the same TV studio, where youth is not on her side, and a new broom wants to replace anyone older than 40 with hipsters sporting "ironic beards". Being older shouldn't preclude her from finding a man, as her friends dub her a 'MILF', but she still sees herself as a spinster, so she's a "SPILF"!
---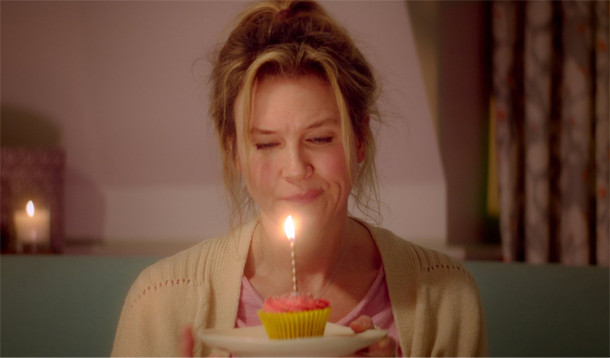 Bridget is alone again or…
---
This time round, her rivalry is between Jack (Patrick Dempsey) – who she meets while at a music festival where she's the only one in high heels, and the ever-unreliable Mark (Colin Firth), who she bumps into at a christening, six days later, him still talking an acting in that stilted fashion. Mark is an international lawyer, while Jack is an internet billionaire (which leads the re-writing of an old Mrs Merton joke where she asked Debbie McGee what attracted her to the multi-millionaire Paul Daniels… RIP Caroline Aherne)
In fact, it would've been nice if they'd given her a credit for that, given that they ripped off one of her jokes.
Anyhoo, in real life, Dempsey is 50, and Firth is 56. In the film, they're both six years younger, and this is really stretching credibility. I'm 44 and Dempsey looks a fair bit older than me, and he certainly wasn't 15 in 1987's Can't Buy Me Love. Meanwhile, Firth looks like about 20 years have passed since the last film!
As you'd expect from the title, this film will result in Bridget giving birth. All her friends have kids, so she's getting broody, and since she's had a dalliance with them both in a short space of time, it leads to the never-ending question of "Who's the Daddy?"
Go to page 2 for more thoughts on the film…
---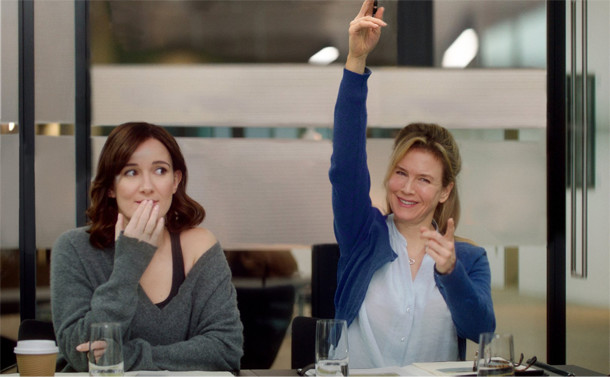 Bridget with colleague Miranda (Him & Her's Sarah Solemani)
---
---
For
Bridget Jones No.3
, I was crying with laughter at some scenes (yes, me, a bloke!), and as well as a lot of great humour (consistently, too), there's also some good drama in there, too, especally between Colin Firth and Patrick Dempsey. In fact, this film feels more structured, this time round. Perhaps because it's been written for the screen and not, initially, as a book?
And what happened to all the "V.G." stuff I read about in the media at the time? Wasn't that in this book, originally? It certainly wasn't in any of the films. However, what was in this one, was a scene which references the time when a man called Guy Goma appeared on BBC News If you're not sure what happened there, and are going to see this film, then only watch that video AFTERWARDS.
I must ask – God knows what Renée Zellweger did to her face (some sort of bizarre facial peel?), but she's taken away the innocence of her original looks, which does hamper the character a bit and makes her less believeable, but there's still enough in this film to make it work, and even at one point, she actually looks normal.
So, will we get Bridget Jones 4? Time will tell. As someone who never thought I'd get into these films in any way, I'm quite looking forward to a fourth installment. I understand 'Baby' is not based on the third book, Bridget Jones: Mad About The Boy, and that this film takes place before that, so there's already scope, there. In fact, October 11th sees the release of Bridget Jones' Baby: The Diaries, the sixth novel about La Jones.
---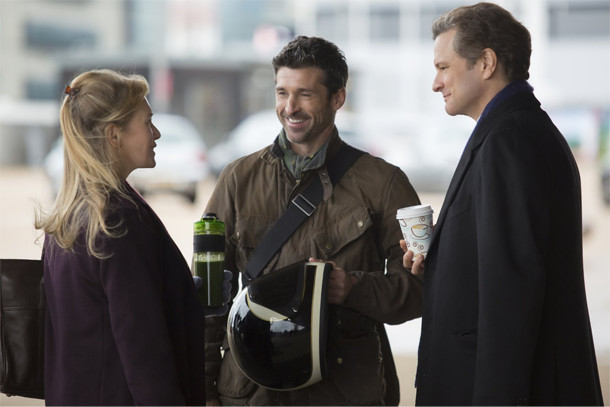 Bridget with Mark and Jack
---
So, you're all wanting to know… what does Bridget Jones give birth to? It's a child.
And who is the father? Is it Mark? Is it Jack? You Won't Believe What She Said Next! What She Said Will Shock And Surprise You!
(no, I'm not following the junk path set by the likes of godawful mind-numbing claptrap like Buzzfeed and Huffington Post)
Seriously, you'll have to wait until you see the film, but apparently, three different endings were shot, and none of the cast members were told which one would be used until it came out in cinemas today!
And, a bizarre piece of trivia from IMDB, this is apparently the third time Patrick Dempsey has made his debut in the third movie of a franchise, following 2000's Scream 3, and 2011's Transformers: Dark of the Moon.
Oh, and yes, there is something after the credits, which I'll hide by a spoiler heading (but it STILL doesn't spoil the big news I refused to give earlier)
Bridget Jones' Baby is not yet available to pre-order on Blu-ray or DVD, but you can buy the soundtrack CD, and also pre-order Bridget Jones' Baby: The Diaries ahead of its released on October 11th, with more Bridget Jones books still available.
Also, click on the poster for the full-size version.
---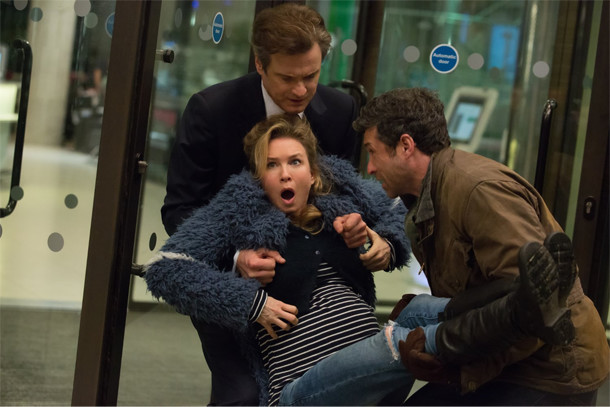 And again, in slightly more calamitous circumstances…
---
Detailed specs:
Cert:


Running time: 123 minutes
Studio: Universal Pictures Int (UK)
Cinema: Vue, Lowry, Salford Quays
Year: 2016
Format: 2.35:1
Released: September 16th 2016
Rating: 7.5/10
Director: Sharon Maguire
Producers: Tim Bevan, Eric Fellner and Debra Hayward
Screenplay: Helen Fielding, Dan Mazer and Emma Thompson (based on the characters and story created by Helen Fielding)
Music: Craig Armstrong
Cast:
Bridget: Renée Zellweger
Mark: Colin Firth
Jack: Patrick Dempsey
Mum: Gemma Jones
Dad: Jim Broadbent
Richard Finch: Neil Pearson
Shazzer: Sally Phillips
Miranda: Sarah Solemani
Cathy – Makeup Lady: Joanna Scanlan
Alice: Kate O'Flynn
Dr. Rawlings: Emma Thompson
Fergus: Julian Rhind-Tutt
Jude: Shirley Henderson
Giles: Ben Willbond
George Wilkins: Patrick Malahide
Tom: James Callis
Milo: Joseph Harmon
Gianni: Enzo Cilenti
Minister: Paul Bentall
Ariyaratna: Nick Mohammed
Camilla: Agni Scott
Glamorous Looking Woman: Katia Elizarova
Josh – Researcher: Tom Rosenthal
Laura (Young Assistant): Beattie Edmondson
Susan – Floor Manager: Laura Checkley
Jeremy: Darren Boyd
Magda: Jessica Hynes
Woney: Dolly Wells
Ginny: Alana Hood
Pierce: Ben Ashenden
Village Hall Photographer: Dominic Coleman
Una: Celia Imrie
Daisy: Debra Gillett
General Lu Tong: Bruce Wang
Midwife: Ashley McGuire
Wedding Minister: David Crow
Mrs. Darcy: Shirley Dixon
Admiral Darcy: Donald Douglas
Uncle Geoffrey: James Faulkner
Himself: Ed Sheeran
Daniel Carver: Hugh Grant?
Reviewer of movies, videogames and music since 1994. Aortic valve operation survivor from the same year. Running DVDfever.co.uk since 2000. Nobel Peace Prize winner 2021.