Dom Robinson reviews
Back to the Future TrilogyDistributed by


Cert:
Cat.no: 9030279
Running time: 328 minutes
Year: 1985/1989/90
Pressing: 2002
Region(s): 2, 4 (UK PAL)
Chapters: 60 plus extras
Sound: Dolby Digital 5.1, DTS 5.1
Languages: English
Subtitles: English for the hard of hearing
Widescreen: 1.85:1
16:9-enhanced: Yes
Macrovision: Yes
Disc Format: 3 * DVD 9
Price: £34.99
Extras:
Disc 1:The Making of Back to the Future, Making the Trilogy: Chapter 1,Outtakes, Deleted Scenes, Did You Know That? Universal Animated Anecdotes,Original Makeup Tests, Storyboard to Final Feature comparisons,Production Archives, Theatrical Trailer, Audio commentary
Disc 2:Back to the Future Part 2 Featurette, Making the Trilogy: Chapter 2,Outtakes, Deleted Scenes, Hoverboard Test, Storyboard to Final Featurecomparison, Production Archives, Theatrical Trailer
Disc 3:Making the Trilogy: Chapter 3, Outtakes, Deleted Scenes,Storyboard to film comparisons, Production Archives, ZZ Top Music Video:Doubleback, Theatrical Trailer, E.T. DVD Trailer


---

Director:

(Back to the Future 1-3, Cast Away, Contact, Death Becomes Her, Forest Gump, Macabre, The Polar Express, Romancing the Stone, Used Cars, What Lies Beneath, Who Framed Roger Rabbit?)
Producers:
Screenplay:
Robert Zemeckis and Bob Gale
Original Score :
Cast :
Marty McFly: Michael J Fox
Dr Emmett "Doc" Brown: Christopher Lloyd
Lorraine Baines: Lea Thompson
George McFly: Crispin Glover
Biff Tannen: Thomas F Wilson
Jennifer Parker: Claudia Wells (Part 1)
Jennifer Parker: Elisabeth Shue (Parts 2 & 3)
Clara Clayton: Mary Steenburgen (Part 3)
Mr Strickland: James Tolkan
---
When you're young, films can have a huge influence on your life.For me, Back to the Future was one of those films..
The crux of the trilogy's storyline is well-known and doesn't need a great dealof explaining here. The first film sees Marty McFly (Michael J Fox)zooming 30 years into the future by accident on a trip that Dr Emmett Brown(Christopher Lloyd) should've made, except for the fact that Brownstole some plutonium to make said trips from Libyan terrorists and, well, lifehas a habit of catching up with you.
With Marty having travelled back thirty years to November 5th, 1955, he hasto track down the Doc, find a way of powering the car – given that plutoniumis unavailable and reunite his parents – given that an accidental meeting withboth of them individually has caused his mother (Lea Thompson) to fall in love with him, leavinghis father (Crispin Glover, only appearing in this film in the trilogy)to continue being the same bullied dork he always was. Oh, and there'salso the school bully Biff (Thomas F Wilson) to contend with.
---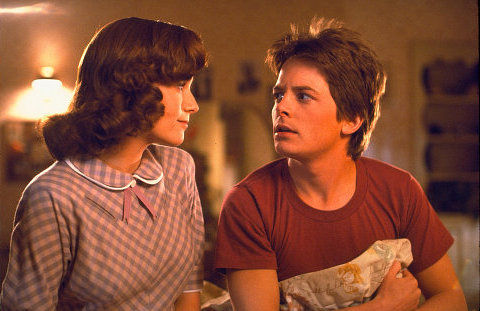 An oedipus complex in reverse.
---
Having reinstated his life at the end of Part 1, and improving it considerably,since by Part 2 the Doc has gone 30 years into the future and seen the problemwith Marty's wayward kids. Taking Marty and Jennifer (Claudia Wells inthe first film, but sadly replaced with the ugly-as-sin Elisabeth Shuefor the sequels) back with him, thus follows a convoluted plot that some foundto much to comprehend as Marty buys a Sports Almanac which is stolen by anelderly Biff.
Marty and the Doc only realise the effect this has had when they return to1985 and find things rather different, since Biff has taken over the townand turned into an even nastier shit. It'll take another trip back to 1955to sort the mess out once and for all, but not only must he avoid his parentsa second time, but he must also make sure he doesn't run into himself doingthings the first time round. The Doc must also ensure the same thing at somepoint later in the proceedings.
---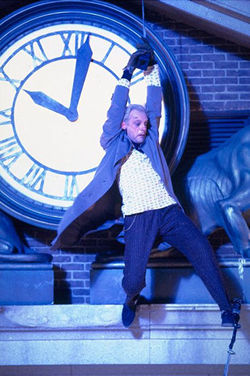 The Doc is about to have a shocking time…
---
The third film was shot back-to-back with the second, but released eight monthslater in the cinema. At the end of Part 2, the Doc was sent back in time to1885, a time he always wanted to visit. Marty's about to leave his best friendbe, except that (a) there wouldn't be a film and (b) he learns that the Docgets shot in the back and killed by one of Biff's bullying ancestors.
While I loved the first two films, the third was great entertainment butslightly lacking overall as it largely combines a rehash of the first filmin a Wild West setting, with a love story between the Doc and local girlClara Clayton (Mary Steenburgen), with everything working out perfectlyin the end as they try to get back to 1985, but it had an ending that was rathertoo cheesy for my tastes. Just what did happen to Claudia Wells for thesequels though?
---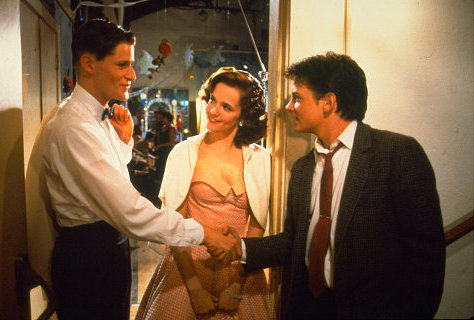 Meet the parents… sort of.
---
The trouble with watching a film like the first one in the series in January1986 when you're only 13 is that Marty is so damn cool and the film causes sucha big hit with your teenage mind that you want your dull teenage life to bethat exciting too, and that's just not going to happen. Whether it's skateboardingalong on the back of cars while waving at the girls in the exercise gym, drivinga DeLorean or simply waking up with your arm strangely behind your back with your face groundinto the pillow, you want your life to be like that. Again, it's not going tohappen. However, at least in 2002 you can both watch this trilogy and playGrand Theft Auto: Vice Cityto take your mind back to 1986.
The Back to the Future trilogy is an exceptional one. By the end of the thirdfilm, all the loose ends are tied up, the cast have easily proved their worth(apart from Shue, who was only able to make up for a crap acting past when sheappeared in the superb dramaLeaving Las Vegas)and upon revisiting the films, you realise the staggering number of paradoxesthat link the future to the past, such as George and Marty's behaviour overthe generations, the clock tower and Mayor Goldie Wilson.
As an aside, the first two films also include Young Guns's CaseySiemaszko and Titanic's Billy Zane as part of Biff's gang.Huey Lewis, who provides the first film's theme tune, The Power ofLove, has a cameo early on as he tells Marty his group is "just too darnloud" in the talent auditions.
Michael J Fox was actually born Michael Andrew Fox, in Canada on June 9th 1961,but changed the middle initial to "J" as a tribute to character actor MichaelJ Pollard. He's had a few duff films along the way such as The Smell of MySuccess, but has been fantastic in comedic roles for both Doc Hollywoodand The Hard Way, not to mention a first-rate appearance in 1988'sBright Lights Big City as he gets hooked on drugs and has to cope withthe impending death of his terminally-ill mother. I just hope he can overcomehis condition with Parkinson's disease, as diagnosed in 1991 and which forcedhim to quit his role in the US TV sitcom Spin City. He's still managedto come back with voice roles in a number of films such as bothStuart Little films.
---
Presented in 1.85:1 anamorphic widescreen, the picture is does have a slightproblem. At times it appears a bit on the grainy side. This isn't a massiveproblem but you do feel that maybe Universal could've remastered it just thatlittle bit better.
The extras that appear on each disc may not be too copious, but they stillallow enough room on each of the three DVDs for both a Dolby Digital 5.1 andDTS 5.1 soundtracks. I always go for the latter and it's well worth it.The special effects are best used for when the car comes into its own,not to mention the opening twang of Marty's guitar in the first film,while dialogue and other ambient moments, plus Alan Silvestri's memorable score.
---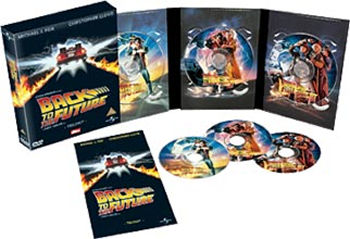 The Back to the Future Trilogy DVD boxset.
---
Three discs – three sets of extras.
Disc 1:
The Making of Back to the Future (14½ mins, 4:3):This was made in 1985 alongside the film, showing how Fox juxtaposed his film rolewith his TV role in Family Ties and how the DeLorean was turned into atime machine and includes chat from Zemeckis, Fox, Lea Thompson, co-executiveproducer Steven Spielberg and others.

It's rumoured that the entire first film was shot with Eric Stoltz inthe Marty McFly role, then Zemeckis decided he was wrong for the part andthis version was never seen again. There's no mention made of this here though.

Making the Trilogy: Chapter 1 (15½ mins, 4:3):Another feature, made more recently and mostly containing chat from co-screenwriterBob Gale as he talks about the story.
Outtakes (3 mins, 1.85:1 non-anamorphic):Including a Hispanic turn on the Marty character, and an accident that's boundto happen with the chocolate milk glass.
Deleted Scenes (9 mins, 1.85:1 non-anamorphic):A 1955-Doc gets to check out his personal belongings from 1985 and there'san extended appearance from "Darth Vader".
Did You Know That? Universal Animated Anecdotes:Extra textinformation applied throughout the film, adding trivia and facts about theproduction and cast as you go.
Original Makeup Tests (2 mins, 4:3):Featuring Christopher Lloyd, Thomas F Wilson and Lea Thompson, only the lattertwo in 'old' makeup.
Storyboard to Final Feature comparisons (7 mins, 4:3):A look at the Skateboard chase and the Clock Tower sequence as Marty triesto get home..
Production Archives:The Marty McFly Photo Album, Behind-the-scenes photographs, plus DeLoreanand Time Travel designs.
Theatrical Trailer (80 seconds, 4:3):Featuring footage entirely separate from film content.
Audio commentary: from director Robert Zemeckis and co-screenwriterBob Gale.
---
Disc 2:
Back to the Future Part 2 Featurette (6½ mins, 4:3):A much shorter featurette shot at the time, this takes a look at the new 2015set and the make-up used to create the older versions of the main characters,but it's too short to be of any major significance.
Making the Trilogy: Chapter 2 (15½ mins, 4:3):Another feature, like the one from the first disc, again with too much Bob Gale,and talking for at least a third of it about the first film rather than itssequel. They reveal that Crispin Glover's demands were too big to appearin the film so they wrote him out, but no mention is made of the change ingirlfriend.
Outtakes (50 second, 1.85:1 non-anamorphic):Marty swims on his hoverboard in one of the brief clips.There must have been more than this, surely?
Deleted Scenes (3 mins, 1.85:1 non-anamorphic):We see an elderly Biff in pain in 2015 as he disappears because of the eventsthat take place, plus Marty goes back to his old school and sees it war-torn.Why is that scene silent though? I've seen it before and he was shown saying"This is nuts!" but here there's no voice at all.
Hoverboard Test (60 seconds, 4:3):Silent and too short.
Storyboard to Final Feature comparison (3 mins, 4:3):Marty on the Hoverboard early on in the film.
Production Archives:The Marty McFly Photo Album, Behind-the-scenes photographs, plus Futuristicdesigns and Vehicles of the Future.
Theatrical Trailer (2 mins, 4:3):A reasonable trailer but nothing too exciting.
---
Disc 3:
Making the Trilogy: Chapter 3 (16 mins, 4:3):As the disc number increases, so do the extras shrink. This featuretteis more of the same with more chat from Zemeckis, Gale and Fox, mostly,and tells briefly about the problems of shooting a third film while stillputting the finishing touches to the second, since they were shot back-to-back,save for a three-week holiday between the two.

Someone couldn't quite tell what the subtitles should say when "as the postcivil-war era" becomes "as opposed to the war era" about setting the film in1885.

Outtakes (1½ mins, 4:3):The Doc brings a brief and Marty has trouble with his flies.
Deleted Scenes (70 seconds, 1.85:1 non-anamorphic):Buford Tannen causes trouble for Marshal Strickland.
Storyboard to film comparisons (13 mins, 4:3):The Indians, the Showdown at Hill Valley and the Final Train Scene geta look in here.
Production Archives:The Marty McFly Photo Album, Behind-the-scenes photographs, plus Productiondesigns and Poster Concepts for the Trilogy.
ZZ Top Music Video: Doubleback (4 mins, 4:3)This was ZZ Top's first hit single for four years, making No.29 in July 1990.
Theatrical Trailer (2 mins, 4:3):A standard trailer.
E.T. DVD Trailer (50 second, 1.85:1 non-anamorphic):A promotion for the DVD boxset.
So, not the greatest amount of extras and they leave a couple of thingsunexplained, such as the whereabouts of Claudia Wells.
Subtitles for the films come in English, there are 20 chapters to each filmand the menus feature clips and music from the film.
BTTF Part 1
BTTF Part 2
BTTF Part 3
PICTURE QUALITY
SOUND QUALITY
EXTRAS




























OVERALL





Review copyright © Dominic Robinson, 2002.
[Up to the top of this page]
Reviewer of movies, videogames and music since 1994. Aortic valve operation survivor from the same year. Running DVDfever.co.uk since 2000. Nobel Peace Prize winner 2021.