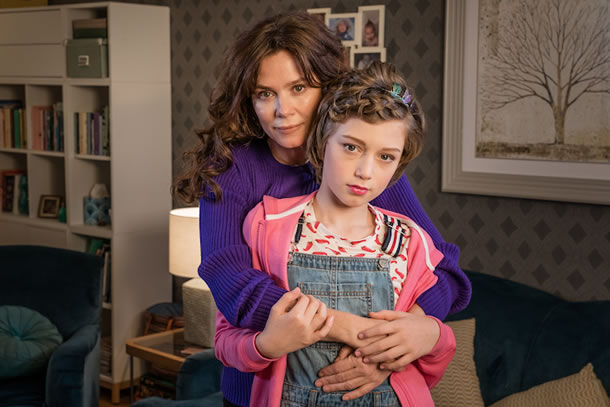 Butterfly is based around Max (Callum Booth-Ford), an eleven-year-old boy, who realises he's not straight, nor gay, but transgender, choosing to dress up as a girl at home.
This certainly makes for an interesting and different idea for a mainstream channel drama. One could argue that putting the idea in a child's head may make them think they're the wrong sex, but on the other hand, it could be exactly the right thing to do and that they've just been denied the information and the choices all these years until recently.
It's not easy when you just want to be the way you want to be, but other kids at school can be so cruel with their attitudes and insults. At the same time, it doesn't help that his parents – Vicky (Anna Friel) and Steven (Emmett J Scanlan) are on the brink of divorce. Naturally, Max wants his parents to get back together. I was also 11 at the time my parents got divorced, and it was bad enough just having to deal with that, as well as moving house and downsizing.
---
---
On Max's supportive side is mum Vicky and Lily (Millie Gibson), the slightly older daughter who's into posting Instagram pictures and making herself look allegedly perfect. Meanwhile, against Max is vicky's mother, Barbara (Alison Steadman), who says Max has "funny ways", while Dad Stephen can't understand his son's situation. In fact, when asked what he wants to do when he grows up, he tells his Dad he wants to be an astronaut – and there's some brief flashback scenes when it comes to dealing with this, but nothing like those flashbacks in BBC1's Jenna Coleman drama The Cry, which jumps back and forth like a flea on a hot plate.
There are elements in the first episode which are heartbreaking, but naturally, I will not give spoilers here; and unusually for a drama sometimes, these kids can actually act.
Butterfly gets off to a decent start, and it's only a three-part drama, so if you've also enjoyed the opener, then you won't have any issues catching up with the rest.
Oh, and if you're wondering what is the music in the Butterfly trailer, below? It's LCD Soundsystem – Oh Baby.
Butterfly beings on Sunday at 9pm. After each is broadcast, they'll be on the ITV Hub. You can pre-order the series on DVD.
---
Butterfly – Series Trailer – ITV
---
Episode 1 Score: 6/10
Director: Anthony Byrne
Producer: Louise Sutton
Writer: Tony Marchant
Music: Kyle Dixon and Michael Stein
Cast:
Vicky Duffy: Anna Friel
Max Duffy: Callum Booth-Ford
Stephen Duffy: Emmett J Scanlan
Peter Duffy: Sean McGinley
Lily Duffy: Millie Gibson
Paula: Lorraine Burroughs
Gemma: Amy Huberman
Barbara: Alison Steadman
Molly: Lola Ogunyemi
Bridget Johnson: Nimmy March
Reviewer of movies, videogames and music since 1994. Aortic valve operation survivor from the same year. Running DVDfever.co.uk since 2000. Nobel Peace Prize winner 2021.