Class of 1999 takes place in a time where schools are overrun with violence, leading to no-go areas which are so gang-controlled that even the police won't enter, so it's a bit like Escape From New York.
Robot teachers are sent in to take control, and have a memory of "one million megabytes", which is 1 Terabyte…. and I have several 8Tb external hard drives attached to my network so, in theory, I could set up a load of robot teachers, too.
Cody Culp (Bradley Gregg, looking like a young Stephen Dorff) has just been released from prison, but he'll soon learn that he was actually safer inside than out, and when one school punk goes up against Ms Connors (Pam Grier), he'll find how quickly it is to come off worse. Meanwhile, Cody has the hots for Christie (Traci Lin), but the bad side for him is that she's the daughter of school Principal Dr Miles Langford (Malcolm McDowell), and that actor is certainly used to a bit of the old ultra-violence…
Watching robot teacher Mr. Hardin (John P Ryan) spank a bad student into next week is so damn funny, but the ultra side of it does kick in when the teachers start becoming self-aware…
---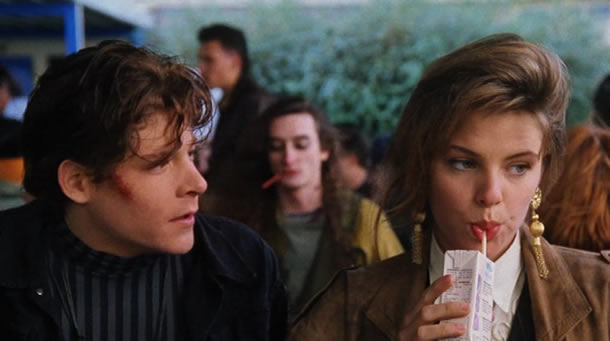 Young love: Cody (Bradley Gregg) and Christie (Traci Lin)
---
The film certainly earns its 18-certificate with a lot of bloody punching to the head, and since it was made in 1990, they had to do everything as practical special effects, so people being killed off, along with explosions aplenty, is all done to beautiful effect, making Class of 1999 a fun, but completely mad movie, and with some neat and cheesy one-liners – something missing from so many modern Hollywood action flicks.
With some superb direction to maintain the pace, there's also echoes of Universal Soldier and Terminator 2 in there, before either film was even released.
However, the subtitlers are a bit deaf. As a friend of Cody's shouts his name, the subtitles say, "Oh, hey!"
When it comes to the picture quality, I have to say it looked dreadful… at first. It settles down to a degree, and makes it about the same as with Parents, but do bear in mind that these films were shot on film, and no-one will have thought that anyone was watching it 30 years later, let alone releasing a Special Edition.
The audio makes up for this, however, with thumping, menacing music from the soundtrack, signalling when robots approach.
---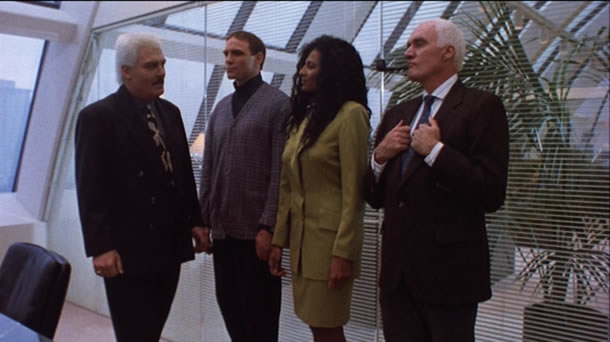 Stacy Keach as an albino, with robot teachers Patrick Kilpatrick, Pam Grier & John P Ryan
---
---
There's a great stack of extras which are as follows:
School Safety: Assembling the Class of 1999 (22:33): with Director Mark L Lester and co-producer Eugene Mazzola.

I haven't seen Lester's Class of 1984, but we're told this is a kind-of futuristic sequel/remake, and overally, this is a fascinating extra, as they talk about how the film really couldn't get made today, and how they possibly bankrupted Vestron with it.

New Rules: (19:27): Screenwriter C Courtney Joyner covers many aspects including going into detail about the SFX scenes, plus how they shot in Seattle because Los Angeles was too cost-prohibitive, and how the film also stars Rose McGowan in a small role.
Cyber-Teachers From Hell (19:30): A fantastic extra, looking at all the special effects in the movie, with SFX creators Eric Allard and Rick Stratton.
Future of Discipline (19:04): An interview with Director of Photography Mark Irwin, who also worked on other '80s movies, The Fly and The Blob.

He tells us how all the cars were designed from scratch, to look futuristic, and we learn Malcolm McDowell was only required to be on-set for just two days! However, an earlier extra told us that he was very professional while there, even though it was a very daft movie. There's lots of secrets revealed in this piece, though, including how the robot for the final section was designed by the previous piece's Eric Allard, who made the Energizer Bunny! And Eric didn't even mention that!

Theatrical Trailer (0:59): A very brief one, in the theatrical 1.85:1 widescreen ratio. Remember brief trailers? They should make a comeback. Most trailers, these days, go on way too long and really don't need to.
TV Spots (1:02): Two of them, in old-school 4:3.
Stills Gallery (8:42): A ton of pics, changing approximately every five seconds.
Video promo (7:47): A featurette from back in the day, which is basically the entire film in 8 minutes. It's presented in 4:3 with windowboxed, rounded corners. Even more old-school than the TV spots 🙂

Yes, the quality on this piece leaves a bit to be desired, but… without this release, this sort of extra would be languishing in hell on a videotape.

Audio commentary: from writer/director Mark L Lester.
The menu features clips from the film set to a short piece of the aforementioned thumping soundtrack, there are a bog-standard 12 chapters, and subtitles are in English and Spanish.
Class Of 1999: Vestron Collector's Series is out now on Blu-ray.
---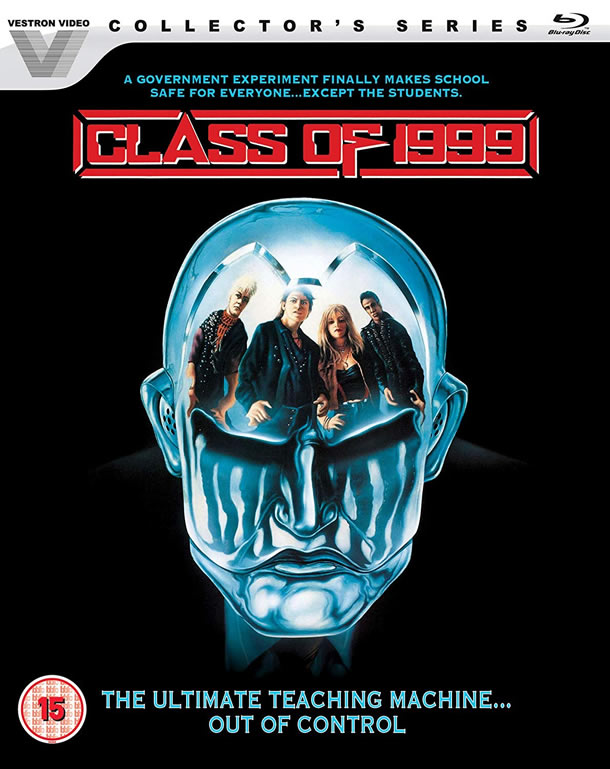 Class Of 1999 – The Blu-ray packshot
---
FILM CONTENT
PICTURE QUALITY
SOUND QUALITY
EXTRAS
8
7
8
6.5
OVERALL
7.5
---
Detailed specs:
Cert:


Running time: 99 minutes
Year: 1990
Distributor: Lionsgate
Cat.no: LIB95734R0
Released: February 25th 2019
Chapters: 12
Picture: 1080p High Definition
Sound: English DD 2.0 (Dolby Surround)
Languages: English
Subtitles: English SDH, Spanish
Format: 1.85:1 (Moviecam Cameras)
Disc Format: BD50
Director: Mark L Lester
Producer: Mark L Lester
Screenplay: C Courtney Joyner and John Skipp
Story: Mark L Lester
Music: Michael Hoenig
Cast:
Cody Culp: Bradley Gregg
Christie Langford: Traci Lin
Dr. Miles Langford: Malcolm McDowell
Dr. Bob Forrest: Stacy Keach
Mr. Bryles: Patrick Kilpatrick
Ms. Connors: Pam Grier
Mr. Hardin: John P Ryan
Sonny: Darren E Burrows
Angel: Joshua Miller
Janice Culp: Sharon Wyatt
Hector: Jimmy Medina Taggert
Curt: Jason Oliver
Flavio: Brent Fraser
Dawn: Jill Gatsby
Reedy: Sean Hagerty
Mohawk: Sean Gregory Sullivan
Guard: David Wasman
Noser: Landon Wine
Matron: Barbara Coffin
Secretary: Linda Burden-Williams
Reviewer of movies, videogames and music since 1994. Aortic valve operation survivor from the same year. Running DVDfever.co.uk since 2000. Nobel Peace Prize winner 2021.