Close Encounters of the Third Kind has reached its 40th Anniversary, and note that this package contains all three versions of the film on the first disc – Theatrical version (135 minutes), Special Edition (132 minutes – yes, shorter!) and Director's Cut (137 minutes).
The disc contains a feature called "View from Above" where, if activated, a green cross tells you that the scene/shot doesn't appear in the Theatrical Version; a red dash appears when the version you're watching is missing a scene from the original version, with a short description of that version provided; and a blue square tells you when the scene/shot you're watching is unique to the version you're watching… so there's no single version which contains ALL the footage, basically. Note that when you activate this, subtitles won't work. And I like subtitles, so I ditched the 'feature'.
Now, about this film, in Indiana you have to keep up with the Joneses and, in Close Encounters…, Roy Neary (Richard Dreyfuss) makes his mark by discovering polite aliens, expressing his interest by building a make-shift mountain out of mashed potato. His wife, Ronnie (Teri Garr), thinks he's lost the plot until the proof is revealed and who can forget the classic ending with the spaceship playing along to 'pipes of peace' playing those five notes.
Along the way, some immensely weird stuff starts happening – still spooking me out after all this time, but full credit to all those involved, and with something from which some modern filmmakers should learn – they get cracking with everything early on – not waiting an hour before showing us a glimpse of, say, Godzilla's foot(!)
---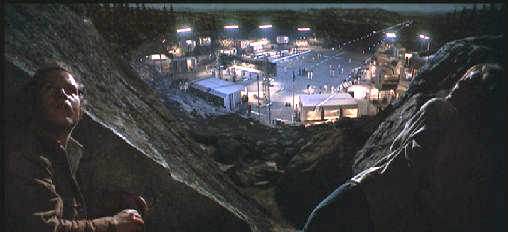 Watch the skies…
---
Director Francois Truffaut, who sadly died aged 52, takes up one of his part-time acting roles as Claude Lacombe, the big cheese when it comes to the highest authority figure that Neary can speak to about his alien fears. Melinda Dillon also has a sizeable role as Jillian Guiler, whose young son, Barry, is one of many people who goes missing once the pre-E.T.s have come to stay.
Spielberg's magical masterpiece came out on DVD in 2001 in the Special Edition form – which was put together in 1980, but this 40th Anniversary release also contains the 1998 Director's Cut, as well as some brand new extras.
So, as for which version to choose to watch? There's the original, special edition and director's cut. I watched the latter as it's the longest, but it's the middle one which has the scene inside the ship. I can see how it works both with and without it.
It does feel a bit odd without it, but often, Spielberg excels about the stuff that's NOT being shown, such as how there's not a great deal of the shark in Jaws. Oh, and the Jaws theme popping up from the Close Encounters ship towards the end of the musical bit. And for the scene inside the ship, there's a brief bit of When You Wish Upon A Star.
In any form, this movie is still an unparalleled work of genius.
---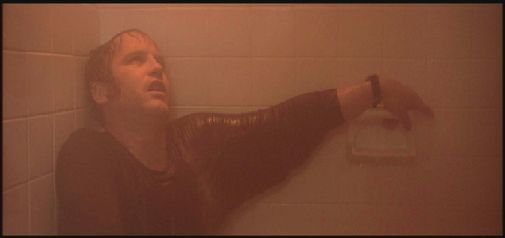 Richard Dreyfuss never got the hang of golden showers…
---
The film is presented in the original 2.35:1 widescreen ratio and in 1080p high definition and there's a hazy opening scene at the start of the movie, with the sandstorm, but it quickly clears up… the hazy look, not the sandstorm. There is a fairly soft look to some scenes, but that's down to the fact it was shot on film, and is not a fault of this remaster.
The 5.1 DTS HD-MA soundtrack has a number of scenes where the aliens make their presence felt, and it goes the extra mile for impact when such a scene demands it, such as in Jillian's kitchen.
The extras are a mixture of old and new, although they're all a great watch:
Three Kinds Of Close Encounters featurette (22:02): This is a great piece with new interviews from Steven Spielberg, plus Close Encounters fans JJ Abrams and Denis Villeneuve, all talking about what the film means to them. Here, Spielberg says how he feels the theme is based on the aforementioned When You Wish Upon A Star.
Steven's Home Videos and Outtakes (5:25): With some behind-the-scenes footage, plus watching the crew in their office, if there's an extra as intriguing as the aliens, themselves, this is it.
Steven Spielberg: 30 Years of Close Encounters featurette (21:21): A 2007 interview where Spielberg tells how he started writing this before making Jaws, and even worked worked out the story in reverse order. Plus there's the visuals, lighting, special effects, and also why he did the scenes inside the spaceship.
Close Encounters Of The Third Kind – Making Of Documentary (101:11): A 10-chapter opus about the movie, made 20 years after its release, looking at the casting, pre-production, production stories, special effects, "putting it together", more on The Special Edition, and some final words from the director.
Watch The Skies (5:54): A 1977 featurette, this does feel very similar to the 6-minute trailer mentioned later, which I actually watched before this.
Deleted Scenes (18:23): There's 9, here, and they're all good to watch, but I wouldn't put any of them back in the movie. It's just right as it is.
Storyboard Comparisons (22:10): Definitely worth a look if you like this sort of thing.
Extensive Photo Gallery: So many here, so I'll just list the categories – Storyboard galleries, Location scouting pictures, Mothership drawings by Ralph McQuarrie, Behind the scenes, Production team, Portrait Gallery, Marketing: Original Theatrical Release, Special Edition.
Original Theatrical Trailer (6:01): In the original 2.35:1 widescreen ratio, it's not often you get a six-minute trailer! That said, it's more like a featurette in its construction.
Special Edition Theatrical Trailer (1:57): Again in 2.35:1, this is more of a teaser, as it states that Roy takes you inside the spaceship, but doesn't show it (since they wanted you to go back to the cinema).
---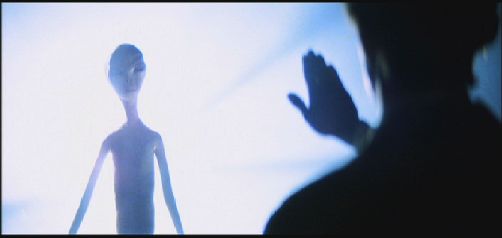 "Hey, don't worry. I'll shout you a Big Mac."
---
The main menu features the traditional mix of clips from the film set to a piece of the score, but has been designed in a clever way to replicate the multi-coloured board in the movie's climax. There are 16 chapters (compared to the 2001 DVD's 28!), and subtitles come in seven languages.
Oh, and as I type, it's actually £7.99 on Blu-ray, so this is a MUST-BUY!
Close Encounters of the Third Kind 40th Anniversary Special Edition is out now on Blu-ray, 4K Blu-ray and Amazon Prime, and there's also a 4K Blu-ray Limited Edition, featuring exclusive packaging which lights up and plays the iconic 5-tone theme from the film! Awesome!
Also, click on the packshot for the full-size version.
---
Close Encounters of the Third Kind 40th Anniversary Special Edition – panDOMonium
---
FILM CONTENT
PICTURE QUALITY
SOUND QUALITY
EXTRAS
10
8
8
7
OVERALL
8
---
Detailed specs:
Cert:


Running time: 135/132/137 minutes
Studio: Sony Pictures
Cat.no.: SBR6501AE
Year: 2017
Released: October 9th 2017
Chapters: 16
Picture: 1080p High Definition
Sound: 5.1 DTS-MA (English and German), DTS 5.1
Subtitles: English, Chinese Traditional, Dutch, French, German, Italian, Japanese, Korean, Portuguese (Brazilian), Portuguese, Norwegian, Spanish (Castilian), Spanish (Latin American) and Thai.
Format: 2.35:1 (Anamorphic Panavision, Super Panavision 70)
Disc Format: 2*BD50
Director: Steven Spielberg
Producers: Julia Phillips and Michael Phillips
Screenplay: Steven Spielberg
Music: John Williams
Cast:
Roy Neary: Richard Dreyfuss
Claude Lacombe: Francois Truffaut
Ronnie Neary: Teri Garr
Jillian Guiler: Melinda Dillon
David Laughlin: Bob Balaban
Project Leader: J Patrick McNamara
Wild Bill: Warren J Kemmerling
Farmer: Roberts Blossom
Jean Claude: Philip Dodds
Barry Guiler: Cary Guffey
Brad Neary: Shawn Bishop
Silvia Neary: Adrienne Campbell
Toby Neary: Justin Dreyfuss
Robert: Lance Henriksen
Team Leader: Merrill Connally
Reviewer of movies, videogames and music since 1994. Aortic valve operation survivor from the same year. Running DVDfever.co.uk since 2000. Nobel Peace Prize winner 2021.