Dom Robinson reviews
Close Encounters of the Third Kind:
Collector's Edition"We are not alone."
Distributed by

Columbia TriStar
Cert:
Cat.no: CDR 26501
Running time: 131 minutes
Year: 1977 (Sp.Edn: 1980)
Pressing: 2001
Region(s): 2, PAL
Chapters: 28 plus extras
Sound: Dolby Digital 5.1, DTS 5.1
Languages: English
Subtitles: 16 languages available
Widescreen: 2.35:1 (Anamorphic Panavision)
16:9-Enhanced: Yes
Macrovision: Yes
Disc Format: 1 * DVD 9,1 * DVD 5
Price: £22.99
Extras: Main Featurette: "The Making of Close Encounters of the Third Kind",Mini-featurette: "Watch the Skies", Trailers, Cast and crew filmographies,Deleted Scenes, Animated Menus.


---

Director:

(1941, AI: Artificial Intelligence, Amistad, Close Encounters of the Third Kind, The Color Purple, Empire of the Sun, E.T.: The Extra-terrestrial, Hook, Indiana Jones and the Last Crusade,Indiana Jones and the Temple of Doom, Jaws, Jurassic Park, The Lost World: Jurassic Park, Raiders of the Lost Ark,Saving Private Ryan, Schindler's List)
Producers:
Julia and Michael Phillips
Screenplay:
Music:
Cast:
Roy Neary: Richard Dreyfuss
Claude Lacombe: Francois Truffaut
Ronnie Neary: Teri Garr
Jillian Guiler: Melinda Dillon
David Laughlin: Bob Balaban
---
In Indiana you have to keep up with the Jonesesand, inClose Encounters of the Third Kind: Collector's Edition,Roy Neary (Richard Dreyfuss) makes his mark by discovering polite aliens,expressing his interest by building a make-shift mountain out of mashed potato.His wife, Ronnie (Teri Garr), thinks he's lost the plot until the proofis revealed and who can forget the classic ending with the spaceship playingalong to 'pipes of peace' playing those five notes.
Director Francois Truffaut takes up one of his part-time acting rolesas Claude Lacombe, the big cheese when it comes to the highest authority figurethat Neary can speak to about his alien fears. Melinda Dillon also hasa sizeable role as Jillian Guiler, whose young son is one of many people whogoes missing once the pre-E.T.s have come to stay.
Spielberg's magical masterpiece is finally available and almost given thetreatment it deserves in a version which takes the extended 131-minuteSpecial Edition, put together just three years after the original release,remasters it in High Definition format and proves we are not alone when wehave a second disc of extras for company.
---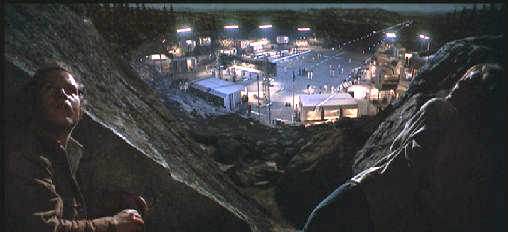 Watch the skies…
---
The first question is that why, for a film that has been struck from a HighDefinition print, is there a fair amount of shimmering in a number of scenes,mostly dark ones. On the plus side, the film is presented in the original2.35:1 widescreen ratio and is anamorphic.The devil's work is in hand since the average bitrate is 6.66Mb/s.
English is the dialogue of choice – and the only one – but we get it inDolby Digital 5.1 and DTS 5.1, the latter regularly going the extra milefor impact when such a scene demands it.
---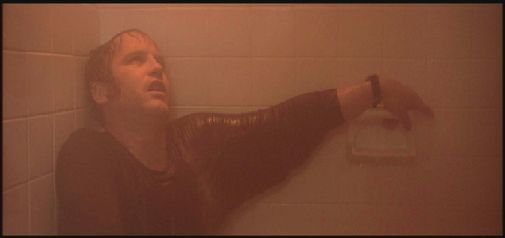 Richard Dreyfuss never got the hang of golden showers…
---
The extras have been pushed over to a second disc because of the extrabandwidth taken up by the welcome DTS 5.1 soundtrack and they begin withthe 102-minute featurette, "The Making of Close Encounters of the ThirdKind", which contains chat from principal cast and crew members, clips innon-anamorphic 2.35:1, a look at the casting of hte film, production stories,the special effects and the need for the Special Edition version.
A mini featurette, "Watch the Skies", is included which lasts a merefive minutes but was made in 1977 at the time of release, two Trailers– one for the original version and one for the Special Edition, Cast andcrew filmographies for the top four cast members plus director Spielbergand, finally, 11 Deleted Scenes.How come there's no director's commentary though?
The disc contains the usual 28 chapters for a Columbia DVD, plus subtitles ina massive 16 languages :English, Dutch, Arabic, Bulgarian, Czech, Danish, Finnish, Greek, Hebrew,Hindi, Hungarian, Icelandic, Norwegian, Polish, Swedish and Turkish.
The main menus on each disc are animated, starting off with those five notes,then featuring the spaceship.
---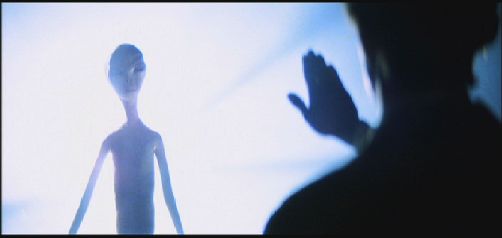 "Hey, don't worry. I'll shout you a Big Mac."
---
FILM CONTENT
PICTURE QUALITY
SOUND QUALITY
EXTRAS
















OVERALL




Review copyright © Dominic Robinson, 2001.
Reviewer of movies, videogames and music since 1994. Aortic valve operation survivor from the same year. Running DVDfever.co.uk since 2000. Nobel Peace Prize winner 2021.