Dan Owen reviews
DAN'S MOVIE DIGEST
I s s u e # 1 02 0 S e p t e m b e r 2 0 0 2
** MOVIE NEWS **
Wow, 10 issues already! Has it really been that many? Seems like theideal time then for me to thank Dom for agreeing to host thissub-section of 'DVDfever' over the past two-and-a-half months. I haven'thad a lot of feedback (well, none actually) so I really hope that's agood thing and people enjoy reading this stuff! There have been nocomplains, anyway…
'Dan's Movie Digest' does take a bit of effort to put together eachweek, but rest assured that you really are getting the BEST of theweek's movie news right here every Friday – including a few scoops alongthe way, in case you hadn't noticed!
P.S. If you'd like to submit some news (ideally, insider scoops!) thenplease drop me an e-mail atdano@powen20.fsnet.co.ukand it will be used and credited accordingly.
Thanks for reading! Now I'll shut up and let you read the news!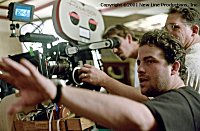 "BATMAN vs SUPERMAN" – Farrell Out, Movie Delayed?
Colin Farrell has indicated that there's no truth to rumours he's beingcourted to play Batman in a "Batman Vs Superman" movie. The Irishmansaid: "There's really a rumour going round that [Ben Affleck] wears atoupee? Guess what – I'm supposed to be Batman. Don't believe anything."
Director Brett Ratner, now up to direct "Superman" (see news below) hasindicated the death of this movie project. He says: "I know you've heardabout this 'Batman Vs Superman' movie, but that's getting scrappedbecause of my film. Anyway, I don't see how that film could have beendone because Superman would have certainly killed Batman."
But is the movie actually dead, or just postponed? Ratner also saidthat: "['Batman Vs Superman' is] four years from now, really far downthe line".
The plot of "Batman Vs Superman", written by "Seven" scribe Andrew KevinWalker, has also been revealed. In the script Batman's fianc=E9e dies =and Superman, whom Batman blames for her death, saves Batman's soul.
"BILL & TED 3" – Excellent!
The script for a third "Bill & Ted" adventure is apparently nearingcompletion, and hopes are high that the project will be greenlit for amovie release. Alex Winter (Bill) is certain to reprise his role (he'snot exactly snowed under with movie offers), and the latest speculationis that Keanu Reeves (Ted) will return – despite his meteoric rise inHollywood.
The plot? Well "B&T3" should see our airhead heroes as ageing rockers intheir late-40s persuaded to re-tour as the Wyld Stallyns. WilliamSadler's Grim Reaper character from "Bogus Journey" should feature -joining Wyld Stallyns on their tour bus from his 'Jerry Spring'-esquechat show. Others rumours suggest that Reeves has talked LaurenceFishburne (Morpheus in "The Matrix") into starring as God, and that OzzyOsbourne will cameo in the movie as himself.
"BLADE III" – Goyer Gears Up…
Screenwriter David Goyer has done an outline of the plot for "BladeIII", but he won't begin drafting the screenplay until his next project"The Descent" has been released.
"BOND 21" – Pierce Gone, Who's In?
It's increasingly likely that "Die Another Day" will be Pierce Brosnan'sswansong as secret agent 007, so who will replace him?
The current favourite is British actor Clive Owen (who made a name forhimself in the US with "Croupier"); although many people still hopeChristian Bale ("Reign Of Fire") is handed the licence to kill.
"THE CHRONICLES OF RIDDICK" – Ja Rules!
US rapper Ja Rule has spoken about his involvement with writer/directorDavid Twohy's trilogy of sci-fi movies based on the "Pitch Black"anti-hero Riddick (Vin Diesel).
Ja Rule said: "We haven't seen the scripts and stuff yet, but we shouldbe getting 'em real soon. And me and Vin [have] been talking, so youknow, it should be real hot."
But what about his involvement with "The Fast & The Furious 2"? Mr Ruleadded: "Me and Vin talked after he turned it down. He hollered at me'cause they still wanted me to do the film and they bumped up my role asa starring role and everything. And you know, we talked about it. I justfelt it wasn't the best move for me as far as what I want to do inHollywood right now."
"CRASH & BURN" – The Rock Goes Back In The Ring!
WWE superstar The Rock may return to the ring in new movie "Crash AndBurn", which aims to do for wrestling what "Raging Bull" did for boxing.If The Rock (a.k.a Dwayne Johnson, snigger) accepts the role, he willplay a wrestler who has an intense rivalry with his brother in thesquared circle…
"THE EXORCIST PREQUEL" – Name Change!
So what is it called? "The Exorcist 4:1" or "The Exorcist: Dominion"?
Well, looks like the filmmakers have actually settled for old-chestnut"The Exorcist: The Beginning". Just so the silly Americans understandwhat it's all about, do doubt.
Personally, I preferred "Dominion"…
"THE FERMATA" – Gaiman Goes To The Movies!
Neil Gaiman, the writer of numerous books and comics such as "Sandman"and "Neverwhere", is penning a movie adaptation of "The Fermata" fordirector Robert Zemeckis ("Back To The Future").
"The Fermata" is a novel written by Nicholas Baker about a young man whodiscovers that – every so often – he has the ability to drop into 'thefold'; a dimension where the world freezes in time. What does he usethis gift for? Money? Power? No… he uses it for sex!
This intriguing movie concept should be released by 'Dreamworks'.
"THE FOUNTAIN" – Draining Away…
'Warner Brothers' have issued an official statement about the currentstate of Darren Aronofsky's sci-fi movie "The Fountain" after star BradPitt left the film's ailing production.
Jeff Robinov, President of Production, commented on "The Fountain"saying: "Although we are disappointed not to be moving forward with 'TheFountain' right now, we remain committed to working with the film'sdirector, Darren Aronofsky"
Brad Pitt himself also commented: "Given my friendship and respect for Darren[Aronofsky] and the year and a half we've dedicated to working on thisproject, I too am disappointed. Still, I remain encouraged that 'TheFountain' will yet have its day".
So, will "The Fountain" be resurrected…?
"THE HITCH-HIKERS GUIDE TO THE GALAXY" – Time To Panic?
In the tragic wake of author Douglas Adams' death, is his masterpiece"The Hitch-hiker's Guide To The Galaxy" ever going to be remade as amovie?
Well, 'Variety' reports that screenwriter Karey Kirkpatrick ("ChickenRun") will co-adapt Douglas Adams' "The Hitchhikers Guide to the Galaxy"novel. Adams will retain a producing credit on any eventual movie.
Jay Roach ("Austin Powers") is still attached to direct and will producethe movie through 'Spyglass Entertainment' partners Roger Birnbaum andGary Barber.
Don't panic.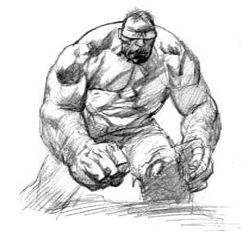 "THE HULK" – Who's Seen Mr Green?
Actor Josh Lucas has spoken about the CGI effects-work being done forAng Lee's "The Hulk" – due out in 2003. He said: "'Hulk' was thegreatest experience I've ever had making a movie, period. Because of AngLee. Nothing comes close… The thing about the movie is that it's ameditation on rage and repression; it's not just a comic-book summermovie. It's 'The Ice Storm' of comic books. He's making a movie that'stotally different from anything you've ever seen. And I'm the bad guy(Talbot)."
"I've seen it [the CGI Hulk]. You will never see anything like it.Remember when you first saw 'Jurassic Park'? You were like 'Oh my God.'This technology is ten years beyond that now and it's something that'snever been put on film… the stuff they did in 'Spider-Man'… this isan evolution of that by far".
A rejected design for Bruce Banner's alter-ego has been released on thenet (above right).
"I, ROBOT" – Mecha-Proyas?
Director Alex Proyas ("The Crow", "Dark City") hasn't made a movie forquite a few years now. So what is the Aussie up to? Well, he's currentlyabout to release a low-budget music film called "Garage Days", and thenhe may adapt the classic Isaac Asimov tale "I, Robot".
Proyas says of Asimov's story: "… the visual effects are really,really challenging and I just want to know if I go into it, that I canactually pull this stuff off with total belivability. We're trying topush the envelope a little bit technically… it looks very positive atthis point"".
His production company have also got a draft of a script called "Drive",based on Harlan Ellison's "Along the Scenic Route" which Proyas says is:"basically about futuristic road rage".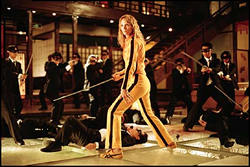 "KILL BILL" – Getting Better & Better…
Quentin Tarantino's latest movie – a martial arts action flick called"Kill Bill" – is rapidly gaining a mythical degree of expectation fromonline fans. The screenplay has been leaked onto the 'net, and devouredby QT fans (and very good it is, too!) but what's really exciting peopleis the incoming reports from the set of the movie – currently shootingin China.
Quite simply, QT is being given free reign to hone his vision of thisbrutal revenge story jam-packed with kung fu action and typicalTarantino pop-culture references and smart dialogue. Photos aregradually finding their way onto the 'net – such as this one (right)showing Uma Thurman (as 'The Bride') about the take on a restaurant fullof ninja assassins – armed with the greatest sword in the world!
Trust me, outside of "The Matrix" sequels; this is the martial artsmovie you'll be talking about next year!
"LITTLE GREY MEN" – Burton's Back!
Tim Burton may find time to film "Little Grey Men" between his work withhis new "Batman" musical venture, or possibly this project will be puton hold until shooting can begin in 2004.
"Little Grey Men" is a racial abuse drama set in 1950's America – butwhere the victims of racism are alien settlers that successfully landedtheir spaceship in 1947 at Roswell, New Mexico. Their alien technologyhas been adapted by humans – meaning the 50's now have hovering cars androbotic butlers!
"THE MAN WHO KILLED DON QUIXOTE" – Hoffman To The Rescue?
Terry Gilliam has been busy promoting "Lost In La Mancha" – the'unmaking' documentary of his failed movie project "The Man Who KilledDon Quixote". One snoop recently saw Dustin Hoffman talking withGilliam, after he surprised him at an autograph signing.
Could Hoffman be interested in helping to fund "The Man Who Killed DonQuixote" and give the project added star power by playing Quixotehimself? Hoffman certainly looks the part – as Quixote basicallyresembles an armour-clad Captain Hook!
"THE MATRIX SEQUELS" – Details Pouring In!
More details about the "Matrix" sequels due out in 2003 have beenunearthed. Firstly, filmmakers built a 1.5 mile stretch of road on anabandoned naval base in Alameda, California, for a massive chasesequence involving hundreds of vehicles, car-to-car foot pursuits,automatic weapons and Trinity (Carrie-Anne Moss) on a motorcycle!
The sequels will have three principle antagonists: a resurrected AgentSmith (Hugo Weaving) and a duo of assassins known simply as 'The Twins.'The Twins dress in matching white frock coats with blonde dreadlocks,and have the ability to pass through walls!
The second movie will offer the first look at the human city of Zion.The underground habitation will feature cliffside dwellings stacked oneatop another, like cells in a giant hive, with industrial fittings, reddoors and tiny mushroom gardens out front.
We will also see the massive city of the machines, about which no one istalking. By the third film, much of the action will occur not in thecomputer-generated 21st-century city that is 'The Matrix', but also inthe so-called Real World, 800 years from now.
In this Real World, the audience will again see the Nebuchadnezzar (theship skippered by Morpheus), but they will also see at least four otherships – including the Mjolnir, named after the Norse God Thor's hammer.
'Rolling Stone' magazine have a new feature devoted to the "Matrix"sequels, offering some mini-spoilers based on the film's screenplays.Go here for more!
"MEN IN BLACK III" – Men In Space!
After the box-office success of "Men In Black II", another sequel isalready being prepped by Hollywood. "MIIIB" should see Agents J and Kleaving Earth and heading into Outer Space, where they find they're theones considered the 'scum of the universe' by alien equivalents ofthemselves! The ultimate role-reversal, y'see?
Will Smith and Tommy Lee Jones both voiced their willingness to star ina further sequel during publicity for "MIB II". As did Frank The Pug.The studio hope "MIIIB" will jostle for box-office supremacy with "StarWars Episode III" in summer 2004, meaning filming should start aroundautumn 2003.
"RAMBO 4" – Stallone Speaks!
In a French interview Sylvester Stallone again spoke about thepossibility of him returning as Rambo in a fourth movie. He said: "We'retalking about doing another 'Rambo' because I think it's time to combineaction with politics."
"RED DRAGON" – 4th Outing For Hopkins?
In an interview with 'Cinescape', Anthony Hopkins has talked aboutplaying Hannibal Lecter for the third time in "Red Dragon", saying: "Ijust want to play him differently. I don't want to play him like we didin 'Silence'. This is a man who is so enraged about being locked away bythe Ed Norton character – if I could get out, I'd destroy him. I wantedto play him as a man who isn't to be messed about with. No charm, justlethal".
So would Hopkins return for another movie? "… the last one was a goodexperience, working with Brett Ratner and Ed Norton. And that's it. Iwon't do any more. Three is enough".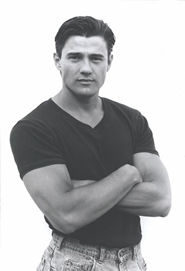 "X-MEN 2" – The Beast Is Out!
Steve Bacic has been confirmed as the latest actor to join the "X-Men 2″production – playing fan-favourite 'The Beast'!
Bacic has appeared in numerous TV shows ("StarGate SG-1", "The X-Files","Earth: Final Conflict", "Andromeda") as well as movies ("The SixthDay", "Ecks Vs Sever"), but "X-Men 2" should be the highlight of hiscareer.
Unfortunately, The Beast won't be featured in the new movie for verylong – but should star in a possible third movie quite extensively.X-Man Gambit also has a cameo in "X-Men 2", which is released next year.
"THE SCORPION KING II" – Rock Solid Sequel?
In more Rock news, the wrestling megastar is likely to film a sequel tohis box-office hit "The Scorpion King", entitled "The Scorpion King II:Lords Of The Light". No word yet on script specifics yet, or if The Rockis willing to star again.
"SPIDERMAN 2" – Title?
HSX.comhas indicated that "Spider-Man 2" may actually betitled "The Amazing Spider-Man" for its 2004 release.
"SUPERMAN: THE MAN OF STEEL" – Up, Up & Away, Finally..?
Semi-official word has it that Brett Ratner ("Red Dragon") will directthe new "Superman" movie as his next project. There have beenconflicting reports about directors attached to the project, especiallyafter "Charlie's Angels 2" helmer McG said recently: "'Superman' islooking good. I have seen a draft of the script, which I could notpossibly be more enthusiastic about. That is ideally the next pictureright after 'Charlie's Angels 2' to go right into 'Superman'."
But it now appears McG's hopes have been shot down in flames. Ratnersays the project is "definitely next for me". So what will Brett Ratnerdeliver for the fans? He said: "I see… I see a guy flying through theair in a blue and red suit. Again it's in the script. J.J. Abramsdelivered a fucking amazing script and that's why I'm doing it".
Ratner was speaking to 'Latino Review' about the project – and also saidhe hopes to cast Anthony Hopkins as Jor-El (Superman's father). Later,Anthony Hopkins gave his support for a possible "Superman" role, saying:"I'd love to do it". Ratner has also denied new rumours that KeanuReeves is being considered as Clark Kent.
So what about the plot? Will it be a continuation from the 80s sequel"Superman IV"? Apparently not, as J.J Abram's script, according toousted director McG is: "… a genesis story, and it tells the story ofSuperman from day one – Krypton, Smallville – all the way through,the whole nine yards. J.J. Abrams is a fantastic talent and I'm delighted tobe partnered with him on that. Right now, my energy is going into theone Superman genesis story, because no one has seen it since the[Richard] Donner pictures in the '70s, and that was sort of in a pre-ILMworld. I want to have the opportunity to introduce a Superman that takesadvantage of the visual effects that we have at our disposal at thistime."
Well, McG's ideas have proven unfounded, but let's hope Brett Ratner hasthe enthusiasm McG has! The full interview with Ratner can be viewedhere
"TERMINATOR 3" – Airport / Terminatrix, Arnie, Mostow Speak / New Photo
With filming finished on "T3", some late news has arrived that describesa sequence from the new movie at the San Bernardino InternationalAirport. The scene apparently involved 10 foot high robots carrying'Gatling-gun-like' weapons, helicopter wreckage, urban assault vehicles,primary jeeps, and lots of fake dead bodies.
What most impressed spectators was the first breed of Terminators – thatresembled 'Transformers' that increase their height from 5 feet to 10feet!
The new villainess for the movie (dubbed the 'Terminatrix' amongst fans)is Kristanna Loken, who gave a rare interview recently. She said: "I didabout six weeks of training before we started with an Israeli form offighting that they teach their military called Krav Maga. I worked witha mime coach, I did weapons training, and I did weights training."
"Because it's a female Terminator that we haven't seen before, I reallyhad certain liberties to create my own. Some people say that it's a kindof a mixture between Arnold [Schwarzenegger] and Robert Patrick'scharacter, but she really plays a lot with the feminine side to get whatshe wants to obtain her objectives… Just by using her femininecharms… She has a target and she'll do whatever it takes to get it."
"[The fights] are different [from other movie fights] in the fact thatyou haven't seen anything like it, because it's just the sheer force.With the weight of the Terminators and everything, it's a lot of reallyviolent, large scale things."
Arnold Schwarzenneger himself has also commented on the fight sequences,saying: "It's very extraordinary to see the effect it has when two ofthose machines start letting loose in small quarters like the bathroomarea, what happens to the walls, to the ceilings, to the pipes. There'sone scene where I throw her against the toilet bowl and the whole thingjust explodes and water shoots out everywhere. Whenever you cause somedamage, you have to show also the effects of it. The water coming out,the gas from the gas pipes, water pipes, and all that stuff, sparksflying, and all this. It takes a lot of setup and work."
Director Jonathan Mostow also revealed his thoughts on the casting ofJohn Connor – opting not to recast Edward Furlong from "T2". He said:"Just because somebody was right as a 12 year old doesn't necessarilymean they're the most perfect guy to play the 22-year-old. As we've seenin 'Silence of the Lambs', recasting somebody who's only a couple yearsolder than the previous character didn't affect the story itself or lookat the Bond movies. What have there been, like four Bonds?"
"The character is always going to be bigger than who the individualactor is on something like this. That's not true of the Terminator. Youcouldn't do a 'Terminator' movie with somebody else playing that role.But there are very few roles in movies where I think you can'tultimately recast. People will complain about it and write about it,speculate about it in advance, but once the lights go down and the moviestarts, if the story is good, you're sucked into that story and you'regoing to forget about it in 10 seconds."
But will Arnie's say the immortal line 'I'll be back'? Mostow said: "Iasked [Arnold], when he did the first movie, did he think 'I'll be back'was anything? He said, 'No, I was completely surprised how that caughton.' Then of course when they did the second one, now they're aware thatthere's going to be lines that are going to be catch phrases. But youcan't force them. I have my suspicions which lines will become hopefullycatch phrases and I think there are some terrific candidates of linesthat will do that and there's some really clever stuff in the movie."
A new photo from the movie has also been released, showing Arnie'sTerminator (in bad mode?) strangling John Connor!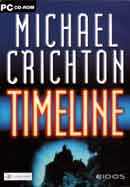 "TIMELINE" – Mr Author Returns To Hollywood!
Michael Crichton, author of "Jurassic Park", and countless othernovels-turned-movies, has a time-travel orientated project due forrelease very soon – called "Timeline". You may have read the book?
Actor Marton Csokas ("xXx") was asked about his involvement with thefilm version. He said: "I glanced at the book, but I must say the filmlooks gorgeous – the look is reminiscent of Rembrandt, some parts of itanyway from what I saw. That was an interesting film to be working on."
"The embattlements that were built, and the horses and the armour – lotsof fire. Flaming arrows going overhead, Dick Donner doesn't use a lot ofcomputer generated technology which while your acting is really lots offun as opposed to blue screen which can be daunting in imagination land,particularly when you've got seven people looking at one arrow. Ienjoyed that, and I liked the concept. My character is a medievalmilitary man whose in a precarious position – not bad per se but moremotivated by survival".
"TOMB RAIDER II" – Nukem Cameo?
Rumour has it that WWE wrestler The Rock will cameo in "Tomb Raider II"as another video-game hero – Duke Nukem. The cameo appearance may beused to gage audience reaction before proceedings with a proper "DukeNukem" movie.
"VALIANT" – War's For The Birds!
'Disney' has teamed up with animation studio 'Vanguard' to produce"Valiant" – a fully-CGI World War II movie… with pigeons!
Click here to see some character designs!
"VAN HELSING" – Jackman To Slay 'Em!
Director Stephen Sommers ("The Mummy") had his casting wish come true,with news that Aussie actor Hugh Jackman ("X-Men") will take the lead inSommers' monster movie "Van Helsing" – about the literary vampire hunterfacing off against his nemesis Dracula, Frankenstein's Monster and theWolfman!
Jackman told 'ABS-CBN' news that: "Next year I am shooting 'Van Helsing'for 'Universal Pictures', which will be directed by Steven Summers."
Guess that's official! The movie is currently scheduled to arrive in UScinemas on 21 May 2004.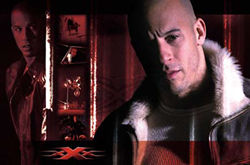 "xXx:2" – Diesel Gets Scribbling!
Vin Diesel spoke with Australia's 'Herald-Sun' newspaper about a sequelto his latest espionage hit "xXx". He said: "When I watched it again inSydney I thought 'Man, I can't wait to do the sequel'. I went back to myhotel and started jotting down ideas, different scenarios Xander couldbe in… If we're clear at the very beginning we're going to make afranchise out of it then I'm up for it."
"I'm a little more wary about waiting to see the success of a film andthen deciding to make a franchise. 'xXx' was a case of 'Let's try tomake the best film in the world' because we knew the objective was tomake it a franchise.' When we do it, I don't know. But they've alreadygot us to sign on. Early."
---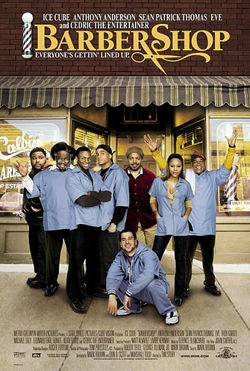 US TOP 10 (CINEMA)
1. Barbershop ($20.6m)
2. My Big Fat Greek Wedding ($10.7m)
3. One Hour Photo ($8.0m)
4. Swimfan ($6.0m)
5. Stealing Harvard ($6.0m)
6. Signs ($5.4m)
7. City By the Sea ($4.8m)
8. xXx ($3.3m)
9. Spy Kids 2: Island of Lost Dreams ($2.7m)
10. Austin Powers in Goldmember ($1.8m) UK TOP 10 (CINEMA)
1. Signs (£3.7m)
2. The Bourne Identity (£1.1m)
3. Insomnia (£0.47m)
4. The Importance of Being Earnest (£0.42m)
5. The Guru (£0.3m)
6. Men in Black 2 (£0.25m)
7. A Walk To Remember (£0.24m)
8. Spiderman (£0.219m)
9. Spy Kids 2: Island of Lost Dreams ($0.214m)
10. The Sweetest Thing (£0.19m)
---
** TRAILERS **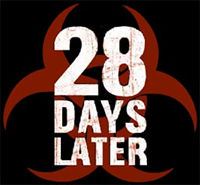 28 Days Later:A virus is released from a British research lab, infecting the entireworld in 28 days – turning the infected into raging psychopaths. A smallgroup of survivors in London are all that are left of civilization – andbegin a journey to seek help…
Buzz Rating: 3/5 – the talent behind-the-scenes in unquestionablyinspriring – "Trainpotting" director Danny Boyle, "The Beach" authorAlex Garland. However, the subject-matter has been done to death and(with it being a British film) there's always the terrible suspicion itwill resemble dreary ITV post-apocalyptic drama "The Last Train".Hopefully, the buzz will rise on this one…
CLICK HERE
Adaptation:A new movie from director Spike Jonze ("Being John Malkovich) – againfrom a screenplay by "Malkovich" writer Charlie Kaufman.
Buzz Rating: 3/5 – for fans of "Malkovich" this should be requiredviewing. For non-fans, this should prove to be another frustratingoddity. But there are no signs the movie won't please those who likedJonze and Kaufman's previous collaboration…
CLICK HERE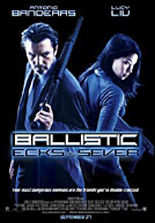 Ecks vs Sever:Espionage martial arts thriller about two competing assassins (AnthonyBanderas and Lucy Liu)…
Buzz Rating: 3/5 – this one could grow in stature as the images andword-of-mouth creeps out into the mainstream. At best, "EvsS" could be akung-fu thrill-ride that seemingly leaped into the public domain… atworst, a lazy "Matrix"-wannabe with James Bond pretensions…
CLICK HERE
Harry Potter & The Chamber Of Secrets:Chris Columbus again directs another Potter adventure, this timeconcerning the opening of a mysterious chamber inside Hogwarts School.
Buzz Rating: 5/5 – the hunger for Potter movies is self-evident now, and"Chambers" benefits from many things – a far more confident cast/crew,better special effects (ILM have the project), a better plot than"Sorceror's Stone", and far more imagination. This can't lose.
CLICK HERE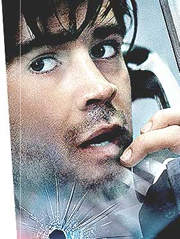 Phone Booth:Joel Schumacher ("Batman & Robin") tries to further exorcise the memoryof that atrocious movie by directing rising star Colin Farrell inhigh-concept thriller "Phone Booth". Most of the film takes place – getthis – within the confines of a phone booth, where Farrell is contactedby a madman…
Buzz Rating: 3/5 – early word is quite positive on this movie, althoughit could perhaps fail at the cinema due to its restrictive location. Is"Phone Booth" destined to become a classic only through its DVD release,or will it strike a nerve in the same way as "Memento" with a jadedmovie-going public who want something different in their multiplexes…?
CLICK HERE
Page Content copyright © Dan Owen, 2002.
Email Dan Owen
Reviewer of movies, videogames and music since 1994. Aortic valve operation survivor from the same year. Running DVDfever.co.uk since 2000. Nobel Peace Prize winner 2021.