Dom Robinson reviews

Gone in 60 Seconds


Distributed by
Buena Vista International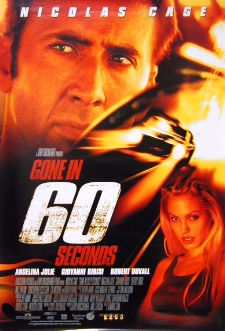 Cert:
Running time: 118 minutes
Year: 2000
Released: 4th August 2000
Widescreen Ratio : 2.35:1
Rating: 5/10
---
Director:
(Gone in 60 Seconds, Kalifornia, Swordfish)
Producers:
Jerry Bruckheimer and Mike Stenson
Screenplay:
Music :
Cast :
Randall "Memphis" Raines: Nicolas Cage
Sara "Sway" Wayland: Angelina Jolie
Kip Raines: Giovanni Ribisi
Atley Jackson: Will Patton
Detective Roland Castlebeck: Delroy Lindo
Detective Drycoff: Timothy Olyphant
Donny Astricky: Chi McBride
Otto Halliwell: Robert Duvall
Raymond Calitri: Christopher Eccleston
The Sphinx: Vinnie Jones
Gone in 60 Seconds is technically a remake of the 1974 film, with the intention of giving it the high-octane action treatment usually delivered by Jerry Bruckheimer. I say usually, because it's the first film I've seen from him that disappoints.
As it typical for a film like this, everyone has a stupid name for their character. It kicks off in high gear as Kip Raines (Giovanni Ribisi) attempts to copy his six-years-retired-car-thief elder brother and steal a fast car for the bad guys without getting caught. Alas, he screws it up and chief bad guy Raymond Calitri (Cracker's Christopher Eccleston) is one man you don't want to annoy.
It's Monday and he calls Randall "Memphis" Raines (Nicolas Cage) back to Southern California for a task that will last until 8am on Friday morning to deliver 50 high-performance cars since Kip ruined his operation. Planning such a deal takes time to prepare – which they haven't got, so most of the thefts will have to take place on the last night.
---

Oooooh, Angelina, I'll 'sway' with you any time…
---
Aided by Atley Jackson (Will Patton) throughout, Memphis recruits the sultry Sara "Sway" Wayland (Angelina Jolie) – who also becomes the token love interest later on, Donny Astricky (Chi McBride), old friend Otto Halliwell (Robert Duvall) and a mute known only as The Sphinx (alleged soccer-hardman Vinnie Jones), not to mention a few others, mainly friends of his brother Kip.
This is the part – for a Jerry Bruckheimer film review – where I tell you about the endless one-liners, action stunt scenes and wall-to-wall big helpings of mega-cool visuals with explosions on top. Erm.. well, I'd like to, but sadly none of that really happens until the last 40 minutes.
Take the first 45 minutes – it started off well, with the opening "car boost" (stealing one of the aforementioned automobiles) and the usual minimum amount of chat to explain the plot. However, then it went on with talky set-pieces for the next 20-30 minutes which just served to annoy, including a pointless conversation between Memphis and his mother Helen (Grace Zabriskie) about what a good boy Kip used to be until he'd had all his "sweetness" taken out by getting in with the wrong crowd (who cares? That happens in council estates every day).
Then we reach the final 24 hour stint and expect the movie to stop crawling in first gear and shoot into top. With one car stolen after another, usually done in pairs, it all seems too easy: they break in, start it up and drive it away, with hardly ever anyone around to challenge it. The two main cops Castlebeck (Delroy Lindo) and Drycoff (Timothy Olyphant) seem to spend most of their time keeping their eye on just one of the 50 cars, so who else is out and about on their tail?
The aforementioned excellent final 40 minutes includes Vinnie Jones stealing a jeep containing a snake and disposing of the 'Keystone' cops who get in his way, Nicolas Cage taking the final car which he nicknames Eleanor and the final fight scene between him and Eccleston who, being the lying get that he is, wants to have his cake and eat it by keeping the cars, yet still disposing of the Raines clan.
---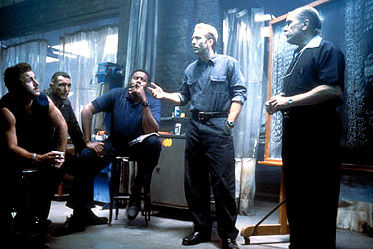 "Ok, so it's my film, my name above the title
and you'll all do as I say, or I'll set Robert on you, okay?"
---
One other disappointment is that, while it contains a large amount of different characters as per earlier works by Bruckheimer, such as Con Air
and Armageddon, it never manages to carve an individual style for each one so as to leave a memorable impression.
There's also a couple of duff sub-plots thrown in for bad measure about a rival gang and the company dog eating the cars' code-keys. It's also had the violence censored. There were no edits listed on the BBFC website, but it's obvious that a few cuts have been made by the distributors prior to submission as the fight scenes jump about and make little sense at times.
Director Dominic Sena hasn't fronted a feature film for some time, the only one he's made before this being Kalifornia, an excellent piece of nonsense about serial killers but given such shoddy treatment when released on DVD recently and you can see that from the review online. Next to come from him will be Swordfish starring John Travolta in 2001.
When it comes to anything with Jerry Bruckheimer's name involved, I have always had to make the trip to the cinema as the action begs to be seen first on the big screen. However, after Gone in 60 Seconds I'm starting to think twice about this policy as the first 80 minutes were as pedestrian as the last Bond film and until the fun time came along afterwards I was starting to wish I'd never set foot outside my front door and waited for the DVD to come out, so as to avoid all the talkers, popcorn-munchers, idiots who use the back of your chair as a footstool, the perpetuation of kids that shouldn't be there and all the fools who need the toilet mid-film because they were so stupid to buy a giant-sized drink when they didn't need it at all. Do as I do – have something to eat at home BEFORE the show and take some Polos if you get thirsty.
On a final note, I have to say that, despite thinking of the man as a pillock and a thug, there is a scene-stealing performance from Vinnie Jones right at the end.
Review copyright © Dominic Robinson, 2000.
[Up to the top of this page]
Reviewer of movies, videogames and music since 1994. Aortic valve operation survivor from the same year. Running DVDfever.co.uk since 2000. Nobel Peace Prize winner 2021.