I Wish is the first title in the Hirokazu Koreeda Family Values Blu-ray triple boxset, and it tells a bizarre tale about a volcano which is about to erupt over the Japanese town of Kigoshima, and the signs are set by the fact there's volcanic ash dropping all over the place.
Koichi (Koki Maeda) is missing his relatives and friends who have all gone to live in other towns, but has found a way to bring them all together and, perhaps, with a view to them all living in the same place once again. Two of the new Japanese bullet trains are set to pass each other at a certain point at 260km/h, and when this happens – and if you're there at that moment when it happens, so does a miracle… and you can make a wish, and that miracle will come true (apparently).
However, it takes forever and a day before the kids actually make their pilgrimage to see where the trains meet, and it's only in the last half hour where they set out their wishes.
---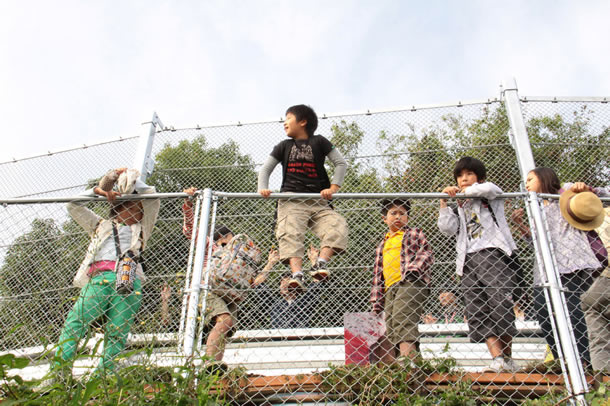 Waiting for the train that never comes…

(Sorry, I was thinking of Virgin Trains)
---
I get that this film is about the innocence of youth and how you have to have something to believe in, and how it's annoying when friends move away, but as a movie, it feels like there's about 30 minutes of content stretched out to over two hours. The rest is spaced out with lots of inconsequential chat about life in general, including how Koichi's mother works in a grocery story on the checkout, his father wants to become a rock star, and his grandad makes cake. Some elements of it come together later, but not much.
If it was that easy to make wishes happen, I'd go to that spot and wish for a better movie.
I've seen films where nothing happens for a lot of the time AND enjoyed them, but this really didn't drag me in, since the spends so long dealing with everything else going on in the kids' lives instead of the actual plot.
I enjoyed the director's more recent drama, Our Little Sister, so I'm surprised this slice of family life drama didn't carry me along in the same way. Given the 7.4/10 score on IMDB, I'm clearly out of step with public opinion (and not for the first time), so I hope the other two films in this boxset work better for me.
---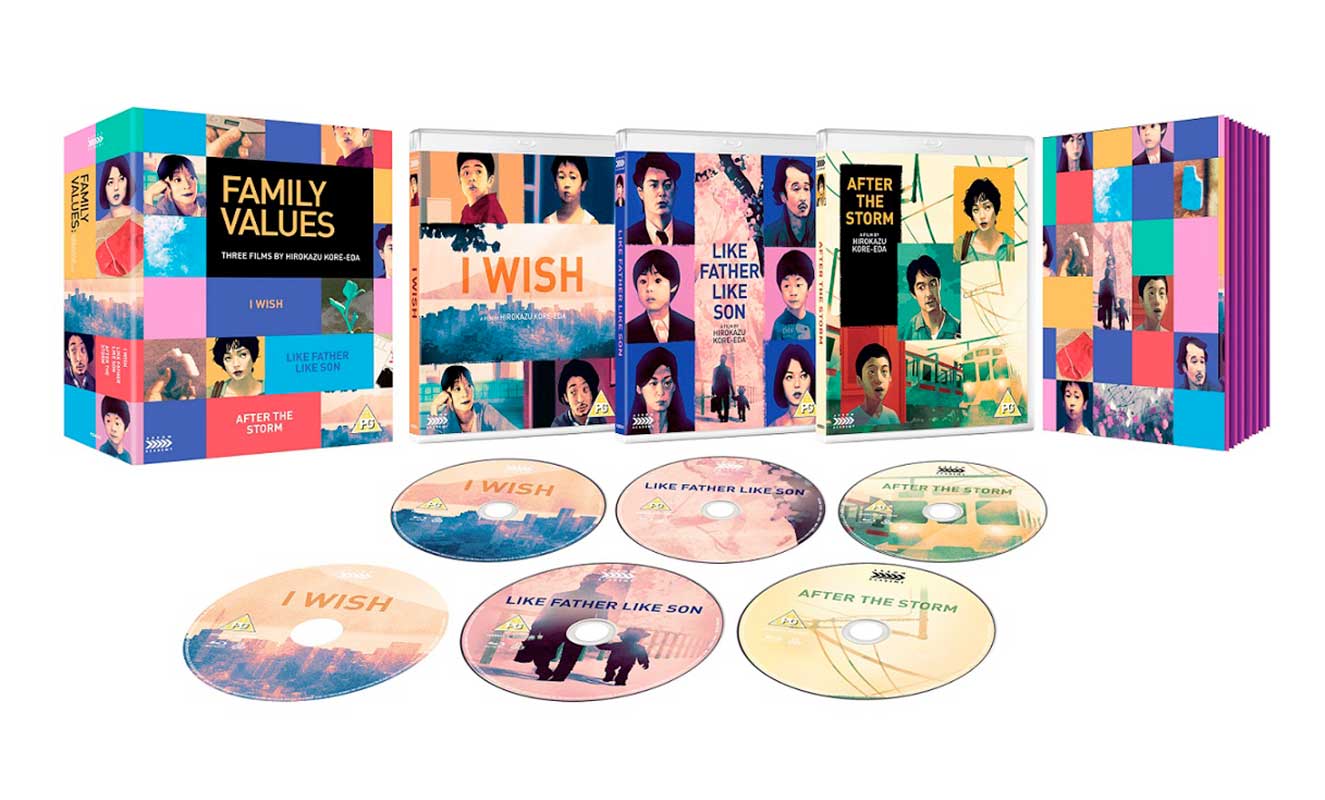 The Hirokazu Koreeda Family Values Boxset

(click on the image for the full-size version)
---
The film is presented in the original 1.85:1 widescreen ratio and in 1080p high definition, and the picture is a little bit soft, but then it was shot on 35mm rather than going for digital like most directors at the time and beyond, so kudos for sticking to an original format such as that, and it still looks decent.
The audio options include a DTS HD-MA 5.1 soundtrack as well as a 2.0 surround sound one, but while I chose the former, there's nothing of note that stood out for me. But then it's a drama with kids running about, not sci-fi with kids flying spaceships in outer space.
As ever, with Arrow, there are a ton of extras on this boxset, and the ones for this film are:
Introduction by film historian, Tony Rayns (22:40): Some intros to movies only run to 2-3 minutes. This goes some way beyond that, as he goes his thoughts about this movie and the director. This is in two chapters.
Family Ties Part 1 (20:03): A brand new interview about this film with director Hirokazu Koreeda, filmed at the BFI London Film Festival in 2016. This is in two chapters.
What Miracle Would You Wish For? (40:43): A documentary about the film. I guess, for me, I should really say it's half-fulfilled as Jennifer Aniston has split from husband Justin Theroux. Sadly, she still has never heard of me 😉

This extra is split into 5 chapters.

The Making Of I Wish (43:02): Another long piece about the movie, this contains 4 chapters.
Soundtrack featurette (23:16): The director chats to Shigeru Kishida from the group, Quruli, who composed the theme song. Two chapters.
Theme song (7:01): And the song, itself.
Roll Numbers (4:47): A compilation of clapper akes featuring the cast and crew, set to the theme song.
Trailers: Teaser Trailer (0:46), Theatrical Trailer (1:54) and two TV Trailers (0:48), all in Japanese with English subtitles.
This is just the extras on the disc, but the boxset also contains reversible sleeves featuring original and newly commissioned artwork by Corey Brickley, for each film, plus a 60-page Collector's book featuring new writing on all three films.
The main menu features a short piece of the score set to clips from the film, there's a bog-standard 12 chapters and subtitles are in English and cannot be turned off, in case you can speak fluent Japanese.
I Wish is part of the Hirokazu Koreeda Family Values Boxset and is out now on Blu-ray/DVD combo boxset, and check out the full-size cover by clicking on the packshot. The boxset contains I Wish, Like Father Like Son and After The Storm.
---
I Wish – Theatrical Trailer
---
FILM
PICTURE QUALITY
SOUND QUALITY
EXTRAS
3
8
7
7
OVERALL
6
---
Detailed specs:
Cert:


Running time: 128 mins
Year: 2011
Distributor: Arrow Films
Released: February 19th 2018
Chapters: 12
Cat.no: FCD1598
Picture: 1080p High Definition
Sound: DTS-HD 5.1 Master Audio, DTS-HD 2.0 Master Audio
Languages: Japanese
Subtitles: English
Widescreen: 1.85:1 (35 mm)
Disc Format: BD50 and DVD9
Director: Hirokazu Koreeda
Producers: Kentarô Koike and Hijiri Taguchi
Screenplay: Hirokazu Koreeda
Cast:
Koichi: Koki Maeda
Nozomi (Mother): Nene Ohtsuka
Kenji (Father): Joe Odagiri
Hideko (Grandmother): Kirin Kiki
Shukichi (Grandfather): Isao Hashizume
Megumi: Kyara Uchida
Kyoko (Megumi's Mother): Yui Natsukawa
Higashi's Wife: Lily
Ryunosuke: Ohshirô Maeda
Ms. Mimura (Teacher): Masami Nagasawa
Mr. Sakagami (Teacher): Hiroshi Abe
Kanna: Kanna Hashimoto
Ms. Aoki – Nurse: Yuri Nakamura
Wataru (Grandfather's Friend): Yoshio Harada
Wataru's Friend: Ryôsei Tayama
Wataru's Friend: Shunsuke Godai
Policeman: Kazuaki Shimizu
Makoto: Seinosuke Nagayoshi
Tasuku: Ryôga Hayashi
Higashi: Chôei Takahashi
Rento: Rento Isobe
Kenji's Friend: Masahito Irie
Reviewer of movies, videogames and music since 1994. Aortic valve operation survivor from the same year. Running DVDfever.co.uk since 2000. Nobel Peace Prize winner 2021.