Dom Robinson reviews
Manhunter Enter the mind of a serial killer…
you may never come back.
Distributed by
Momentum Pictures
Cert:
Cat.no: MP 109D
Running time: 115 minutes
Year: 1986
Pressing: 2001
Region(s): 2, PAL
Chapters: 26 plus extras
Sound: Dolby Digital 5.1
Languages: English,
Subtitles: 8 languages available
Widescreen: 2.35:1 (J-D-C Scope)
16:9-Enhanced: Yes
Macrovision: Yes
Disc Format: DVD 9
Price: £19.99
Extras: Trailer, Photo Gallery, Featurettes


---

Director:

(Crimewave, Heat, L.A. Takedown, The Last of the Mohicans, Manhunter, Thief)
Producers:
Screenplay:
Music:
The Reds and Michel Rubini
Cast:
Will Graham: William Petersen
Molly Graham: Kim Griest
Reba: Joan Allen
Dr. Hannibal Lektor: Brian Cox
Jack Crawford: Dennis Farina
Francis Dolarhyde: Tom Noonan
---
Manhunter is the first in a trilogy featuring Dr. Hannibal Lecter, or Lektor as he is known in this film. In this film, Detective Will Graham (William Petersen) is on the trail of voyeuristic pervert Francis Dolarhyde (Tom Noonan) who takes great pleasure in capturing and intimidating impressionable women.
To do this requires a few trips to see serial killer Dr. Hannibal Lektor (played here by Brian Cox) to get his opinion on confidential documents, but despite the creepy vibes Graham gets in Lektor's cell, he doesn't realise quite how much of a personal impact this will result in.
After the success of the sequel, The Silence of the Lambs, this film was retitled for TV to Red Dragon: The Pursuit of Hannibal Lektor. Now, since the success of Hannibal, Anthony Hopkins is looking to star in a remake of this film.
---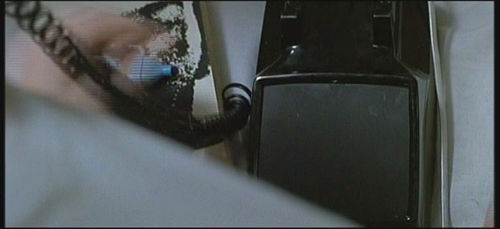 Hannibal was going to kill the phone-manufacturing
YTS trainee when he got out.
---
For a re-release, the picture has been remastered and is now anamorphic, looking even better than last time with very little in the way of artifacts. The film is presented in its original widescreen ratio of 2.35:1 and it's one which is not easily pan-and-scanned.
The sound quality is also upgraded to Dolby Digital 5.1. Iron Butterfly's "In-A-Gadda-Da-Vida" is effective during the final shootout, but the original DVD release's "Film Facts" section was decidely anything but factual when it states the tune is regularly featured in "The Simpsons", as I only remember it once being used in the opening church scene in the episode, "Bart Sells His Soul". I am informed that it has been featured in a couple of other episodes where Homer hums the tune, so if you know which ones please email me.
The extras are still lacking though: a 2-minute 16:9 anamorphic trailer, a Photo Gallery with 10 posters and two brief Featurettes – The Manhunter Look (10 mins) with cinematographer Dante Spinotti and Inside Manhunter (18 mins) with William Petersen, Joan Allen, Brian Cox and Tom Noonan.
Apparently a director's cut was released in the US in January this year for $40, the DVD containing both versions, but the extended version had poor picture quality.
The disc contains 24 chapters throughout the 115 minutes, the menus are animated with music and there are subtitles in 8 languages: English, German, Italian, Dutch, Turkish, Norwegian, Danish and Finnish.
FILM CONTENT
PICTURE QUALITY
SOUND QUALITY
EXTRAS












OVERALL




Review copyright © Dominic Robinson, 2001.
Reviewer of movies, videogames and music since 1994. Aortic valve operation survivor from the same year. Running DVDfever.co.uk since 2000. Nobel Peace Prize winner 2021.