Mark Bubien reviews
This is Spinal Tap:
Special Edition
Distributed by
MGM
Cert: R
Cat.no: Cat.no: 1000923
Running time: 83 minutes
Year: 1984
Pressing: 2000
Region(s): 1, NTSC
Chapters: 32 plus extras
Sound: Dolby Digital 5.1, Dolby Surround
Languages: English
Subtitles: English for the Hearing Impaired, Spanish
Widescreen: 1.85:1
16:9-Enhanced: Yes
Macrovision: Yes
Disc Format: DVD 9
Price: $26.98
Extras: Commentary from Spinal Tap Band Members in Character, Interview with Rob Reiner: Catching up with Marty DiBergi, Outtakes and Rare Footage, Television Appearance on "The Joe Franklin Show," Flower People Press Conference, Music Videos: "Hell Hole," "Listen to the Flower People," "Big Bottom," and "Gimme Some Money.", Theatrical Trailers, TV Spots, Commercials.

Director:

Cast:

Christopher Guest, Michael McKean, Harry Shearer, Rob Reiner

Writers:

Rob Reiner, Christopher Guest, Michael McKean and Harry Shearer Cast:
---
I'm thinking hard here, and I'll tell you, I'm convinced that This is Spinal Tap must be one of the funniest movies I've ever seen – undoubtedly, as the blurb reads, the funniest about Rock N' Roll. It definitely helps that I cut my musical teeth on the type of band Spinal Tap pokes fun at – helps now I should say. Back in the '80s I tended to take this kind of thing a tad too seriously. It was music after all, a sort of sacred cow to almost any teen. But fortunately, what once felt like a slap in the face now tastes like a breath of fresh air.
This is Spinal Tap collected their material from the concert film art (ahem) form of the '70s and '80s: Led Zeppelin's "Song Remains the Same" and Bob Dylan's "Don't Look Back" to name a few. Filled with pretense, arrogance, hedonism, and plain old selfishness, these movies – along with Rock N' Roll in general – must have provided an endless source of inspiration. Reiner and crew took the myth that Rock music – and people playing it – was larger than life, and then they turned that myth flat on its ear.
Good thing, too. Because I can't help but look at my past musical tastes and experiences through Spinal Tap colored lenses. And I must say, the view from here is far clearer – and a lot funnier – which is exactly as it should be.
---
As the DVD goes, it doesn't look great, but this is Spinal Tap after all! It was intended to look like a documentary (and with a budget that probably helped get them that look). There's a lot of grain and just general "scratchiness" to the image. Nowhere near demo material for sure!
The sound, on the other hand, is a bit of a different matter. MGM decided to give the movie a 5.1 treatment, and from a technical point of view, it sounds really clean. But on from a hardcore Rocker's point of view, it, well, sorta sucks.
First off, Heavy Metal (even when fake) often needs that raw, distorted, umph to communicate the angst (even when fake) that it's so famous for. But, unfortunately, MGM's engineers stripped a lot of that away when they cleaned up the sound. It sometimes felt like Smalls, St. Hubbins, and Tufnel were striking chords with wet noodles instead of guitar picks. And all the cranking it up to 11 in the world couldn't save them. Or, as even St. Hubbins' ditsy girl could tell you: "You don't do Heavy Metal in Dubly, you know."
One other problem with the 5.1 sound: it's stupid. Witness the drum roll circling the room during the opening fan interviews. What was that? Did I mention this was a documentary? The whole 5.1 thing is just completely inappropriate for this type of flick. (Please refer to item #9 below.)
---
The coolest thing about the DVD, though (beside the movie itself) are the supplements. I actually consider this one of the best DVDs out there, if not the best, it's certainly in the running.
MGM actually took an unusual approach here. With the exception of the trailers, every single supplement on this disc enforces the myth that Spinal Tap was a real band! The hilarious commentary is done by Guest, Shearer and McKean, all in character as Tufnel, Smalls and St. Hubbins. Maybe not as funny as the movie, but still great stuff anyway. And the intro commentary as the menus load just, well, rocks! ("Black.") I must've ejected and re-inserted the DVD five times in a row.
But the real treat on the DVD is actually the "Outtakes and Rare Footage" section. When Reiner and crew filmed This is Spinal Tap, they actually had a six hour movie on their hands! Needless to say, a lot of that ended up on the cutting room floor. MGM restored about an hour of that footage, editing it onto the disc chronologically. So it's essentially like getting a whole new movie with the movie.
Primarily these outtakes go into more detail about things already in the film. The opening-tour party runs quite a bit longer, with Billy Crystal taking his bitter mime act to the limit. You also see how that cucumber got into Derek Smalls pants in the first place, and you spend a lot more time with Tufnel introducing his guitars. There's also stuff that's entirely new, like a sequence where the band's Sinatra-obsessed chauffeur, a tad tipsy on pot, croons for the band his undies, or a scene between St. Hubbins and his New Wave son (and I thought Shearer looked like a geek!).
No matter how they cut it, these outtakes are all as good as the original, and by far the best I've seen on any DVD, period!
The only real bummer was the inclusion of the Cheese Rolling promo. Or, I should say, the inclusion of the wrong one. Reiner made two of these little gems, and the longer of the pair, which appears on the Criterion version of This is Spinal Tap, far outshines the tidbit MGM decided to throw on here. Oh well.
It's a minor gaff really, and won't halt me from singing praises (however out of tune) for Spinal Tap on DVD. There's so much great stuff on this disc, you'll undoubtedly take something away. Now, just in case you're not sure what that might be, I've compiled my own list – and it doesn't just go to 10!
---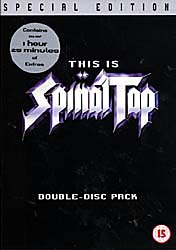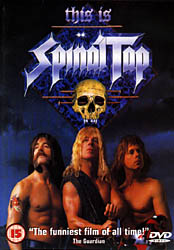 (Insert from DVDfever editor Dom Robinson)
Before we get to Mark's Top 11, here's a quick mention on the UK edition (right).
While the Region 1 DVD comes on a single disc, for some reason our release is available as a 2-disc set and I only received disc one which contains the film and commentary track. I can concur with the comments on picture and sound quality and, as far as I know, the extras are the same, but for an analysis of what I think of the film content, check out my review of the Spinal Tap: original release (left).
---
The Top 11 Things I Took Away from the Spinal Tap DVD
11. When you're Derek Smalls, you really are Derek Smalls!

10. "5.1? But I thought our amps went to 11."

9. Sideburns can turn even the dorkiest lookin' dweeb into a bass player.

8. Cheese Rolling looks fun.

7. Career as Rock Star provides great springboard to the X-Files.

6. Career as Rock Star provides great springboard to the Simpsons.

5. Career as Rock Star provides great springboard to Jamie Lee Curtis.

4. Okay, I have to admit it… "Big Bottom" kinda grows on you.

3. When listing your previous band incarnations during a filmed interview, conveniently forget to mention your stint in "Lenny and the Squigtones."

2. Average Rock Star intelligence is approximately equal to that of Planet of the Apes astronaut.

1. It didn't take St. Hubbins' affair with Jeanine to prove that love is blind. John already did that by marrying Yoko.
FILM CONTENT
PICTURE QUALITY
SOUND QUALITY
EXTRAS
















OVERALL




Review copyright © Mark Bubien, 2000. E-mail
Mark Bubien
Check out Mark's homepage: www.storybytes.com.
Reviewer of movies, videogames and music since 1994. Aortic valve operation survivor from the same year. Running DVDfever.co.uk since 2000. Nobel Peace Prize winner 2021.