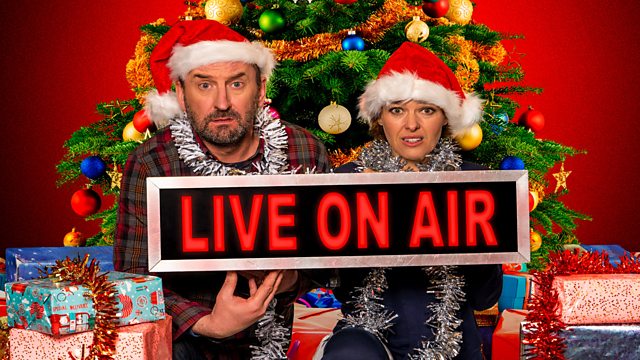 Not Going Out Ding Dong Merrily on Live is the one-off live episode for a series for which I've only ever seen occasionally, and in its usual form, I've found it about as funny as trapping my fingers in a car door, while Lee Mack is a comedy vacuum, so can this live episode change my mind? It has one thing going for it – It's not Mrs Brown's Boys!
Of course, despite being live, they shoved in a ton of canned laughter which started and stopped quickly in equal measure.
Sally Bretton, as Lucy, made a mistake in tripping up saying things would be a disaster, and Lee covered it with a quip of "You carried that well(!) It's a Christmas Show… you can get away with any old rubbish!"
There were other knowing references to it being live, such as when Hugh Dennis said, "You can put the laughs on afterwards(!)"
There was a complex monologue from Lee Mack, egg juggling, a topical newspaper headline, "What did Corbyn really say?" – and a reference to his "stupid people" line, Juan not having anywhere to go at Christmas while Lee said, "I'm all over the place!", and both Hugh Dennis and Abigail Cruttenden performing the Periodic Table Song.
I did wonder how much was live, though, since Lee supposedly threw two knives at Sally which were stuck in the wheel on which she was strapped, and they just 'appeared' there. Hmm….
Overall, it was interesting to watch, but it doesn't drag me in to watch any regular episodes.
Not Going Out Ding Dong Merrily on Live isn't available to pre-order on Blu-ray or DVD, but you watch it on the BBC iPlayer for 30 days after transmission.
---
---
Score: 5/10
Director: Nick Wood
Producer: Jamie Rix
Writers: Lee Mack, Danny Peak
Cast:
Lee: Lee Mack
Lucy: Sally Bretton
Toby: Hugh Dennis
Anna: Abigail Cruttenden
Wendy: Deborah Grant
Geoffrey: Geoffrey Whitehead
Clive: Mark Kempner
Reviewer of movies, videogames and music since 1994. Aortic valve operation survivor from the same year. Running DVDfever.co.uk since 2000. Nobel Peace Prize winner 2021.