Dom Robinson reviews
Peep Show Series 5
Distributed by
Channel 4 DVD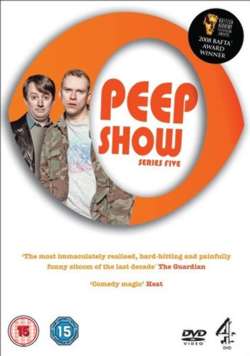 Series 5:
Complete Boxset:
Cert:
Cat.no: C4DVD10187
Running time: 144 minutes
Year: 2008
Pressing: 2008
Region(s): 2, PAL
Chapters: 24 plus extras
Sound: Dolby Digital 2.0 (Dolby Surround)
Languages: English
Subtitles: English
Widescreen: 1.78:1
16:9-Enhanced: Yes
Macrovision: Yes
Disc Format: DVD 9
Price: £19.99
Extras: Behind the Scenes, The Peep Show Relationship Tree, Deleted Scenes with Optional Commentary, Sophie's Peep Show
Vote and comment on this game:


---

Director:

(TV: Adam & Joe Go To Tokyo, The Mark Steel Lectures, The Morning After Show, Peep Show, The Peter Serafinowicz)
Producer:
Series Producer:
Written by:
Sam Bain & Jesse Armstrong
Music:
Cast:
Mark: David Mitchell
Jeremy: Robert Webb
Sophie: Olivia Colman
Superhans: Matt King
Johnson: Patterson Joseph
Jeff: Neil Fitzmaurice
Big Suze: Sophie Winkleman
Dobby: Isy Suttie
Heather: Susannah Wise
Barney: Zac Fox
Saz: Natasha Beaumont
Gerard: Jim Howick
Jackie (Jeremy's Mum): Tessa Wyatt
Martin: Tom Chadbon
Natalie: Ingrid Oliver
Cally: Niky Wardley
Cult Recruiter: Alex Lowe
Role-playing guy: James Bachman
---
Peep Show
– like BBC3's
Ideal
, it's an excellent sitcom about Mark (
David Mitchell
) and Jeremy (
Robert Webb
)as mismatched flatmates, the unique selling point for this show being that the cast often look at each other with camerasstrapped to helmets to give their 'point of view' thoughts inside their head. Each series follows on directly from thelast and also continues a narrative and a story arc.
Well, usually, since in comparing it with previous series, this wasn't as good because there was no real story arc to it -Mark was splitting up with Sophie and landing back in the dating scene, so there was no specific structure. It also got a bitannoying that he constantly was thinking that every girl that came along would be "the one". Yeah, he was a bit desperateafter becoming single again but no-one in real life would be that obsessive, surely?
Also, Jeremy was still laying about and playing second fiddle far too much. In that respect, it was almost like it was treadingwater, waiting for something to hold onto. Despite all that, though, it still beats the pants off almost all sitcoms onTV at the moment.
---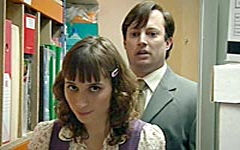 There were so many great moments from the series, such as Mark getting overexcited with office worker Dobbie (
Isy Suttie
, right with Mark)in the stationery cupboard. Not only was there the moment when the door closed and he thought,
"Oh no, this is a disciplinaryhearing waiting to happen!"
, but later on when he noticed Jeff and Sophie out of their faces in the stairwell, he retortedin his mind,
"Oh yeah, they can laugh, but I win because they think I've pissed myself. They've no clue I came all in mypants!"
In episode 4 when Mark is having dinner with Jez's Mum and Martin, her boyfriend, with Martin is talking about writing a book:
Martin: "Im looking for possible collaborators, would you be interested?"
Mark (In Head): "I would literally stab a baby to do it!"
Mark (speaking): "Yes, Martin, I would."
And following his encounter with Martin's well-built daughter, Natalie (Ingrid Oliver), "Technically it wasn'trape, Jeremy, as she never stuck anything up my bum!"
---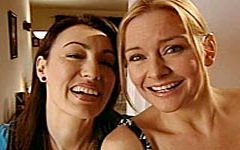 The question is now, who is the father of Sophie's unborn child? The Law of Obvious would suggest it's either Mark or Jeremy,but then she looked pally with Jeff in episode two after Mark's stationery cupboard encounter with Dobbie, and she was alsoin a right state in the same episode as she was found drunk on the toilet floor of a nightclub. In addition, Johnson couldalso be a possibility… since he wanted Mark to sack her after giving him a promotion.
If I had to be nitpicky about one thing, though, their big TV was stolen in the first episode and they didn't buy a new oneuntil the final episode, so why did they still have it in episode 2?
Occasionally, Peep Show can go a bit over the top, and it was enough for Superhans to just suggest that Sophie'sbrother, Barney (Zac Fox), should suck him off to get ahead in the music world, but to then go ahead and actually haveit happen, even if it was off-camera? Then again, last series they got away with the burning of a dead dog and then eatingit in front of its owners who were the women they were trying to get off with, so I guess it's allowed one of those eachseries – as long as they don't do it too often as that would take it entirely out of reality.
---
Sam Bain & Jesse Armstrong on
BBC2's Culture Show (June 24th 2008)

The series is presented in anamorphic 16:9 widescreen and the picture quality is fantastic and definitely better thanbroadcast quality. The sound has no problems whatsoever, but is mostly dialogue so performs that function adequately.
The extras are as follows, and they're okay but not extensive:
Behind the Scenes (9.44): A nice, concise summary about the rehearsal process, how creators/writers Sam and Jesse work together, the flat they filmin – which turns out to have been a real one for the first two series and then was recreated elsewhere later to an armybarracks of all places. They look at shooting on location
The Peep Show Relationship Tree (13.38): As Olivia Colman (Sophie) confirms in a narration, this is a guide to who's had who throughout the series.
Deleted Scenes with Optional Commentary (1.19): Presented in 16:9 anamorphic but without the film effect that's usually applied, there's a mere two of them here.Amusing, but I thought we'd get far more than this. Comments are from producer Izzy Mant and series producerPhil Clarke.
Sophie's Peep Show (9.32): Narrated by Olivia Colman, this is several scenes from the fifth series, all with only Sophie's commentary. It's providesan additional insight into her character during those scenes so that's certainly worth a look. Note that any footage herefeatures none of the film effect normally used in the show.
The menus feature clips from the episodes along with the theme tune (which I still think isn't as good as the original, byDaniel Pemberton, only used in the first series), there are a mere 4 chapters per episode (Oh, come on, you cheapskates!)and subtitles are available in English.
Sam Bain and Jesse Armstrong's recent appearance on the Culture Show, in which they talk about Peep Show, can be found in theYoutube link above.
---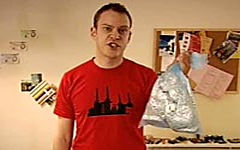 FILM CONTENT
PICTURE QUALITY
SOUND QUALITY
EXTRAS















OVERALL




Review copyright © Dominic Robinson, 2008.
Reviewer of movies, videogames and music since 1994. Aortic valve operation survivor from the same year. Running DVDfever.co.uk since 2000. Nobel Peace Prize winner 2021.