Dom Robinson reviews
Queer As Folk
Distributed by

Cat.no: VCD 0023
Cert: 18
Running time: 260 minutes
Year: 1999
Pressing: 1999
Region(s): 2, PAL
Chapters: 32 plus extras
Sound: Dolby Surround (Dolby Digital 2.0)
Languages: English
Subtitles: None
Widescreen: 1.77:1 (16:9)
16:9-enhanced: No
Macrovision: Yes
Disc Format: 2 * DVD 9
Price: £24.99
Extras : Scene index, Behind-the-scenes, Photo Gallery


---

Directors:

Charles McDougall (Episodes 1-4)
and Sarah Harding (Episodes 5-8)
Producer:
Nicola Shindler and Russell T Davies
Screenplay:
Music:
Cast:
Stuart Jones: Aiden Gillen (Gold in the Streets, Some Mother's Son)
Vince Tyler: Craig Kelly (TV: Casualty)
Nathan Maloney: Charlie Hunnam
Phil Delaney: Jason Merrells (TV: Casualty)
Cameron: Peter O'Brien (TV: Flying Doctors, Neighbours)
Harvey Black: Andrew Lancel (TV: Cardiac Arrest, City Central, Liverpool 1)
---
Queer As Folkis the TV programme which made history earlier this year when first broadcaston Channel Four as being the first series ever to take the subject of under-agehomosexual sex seriously and in such graphic terms. The first episode signalledthe arrival of the controversy train as 29-year-old Stuart (Aiden Gillen)was seen seducing and making love to 15-year-old Nathan (Charlie Hunnam).Yes, in part, it's a love story and a complicated one at that, so prepare tobreak out the tissues, albeit not to cry into…
Vince (Craig Kelly) looks up to his best friend Stuart in more ways thanone, but will his affections ever be reciprocated now new blood is on thescene? Both of them spend their nights down Canal Street in Manchester on thegay scene with their friends in the pubs and clubs and what follows isdefinitely a soap opera with a difference.
Personally, I've been down Canal Street a few times, drank in Metz, Bar Icarusand Manto – the latter of which has an outlet in the Trafford Centre – dinedin Metz and the long-gone Blue Cafe and danced the night awayin the Paradise Factory. I'm not gay, but it's pretty much guaranteedthat you can go to the gay village for a few drinks without idiots roamingaround looking for a fight as they do in the rest of Manchester.
Plus, it only costs £3 to get into Paradise Factory before 11pmon a Friday and the prices of drinks in the area are no worse than anywhereelse (apart from the time a friend and I tried to get a drink in Mantoafter the clubs shut, taking advantage of their late licence – £3 to getin and another couple of quid for two soft drinks…but then I was too pissedto care at the time 🙂
---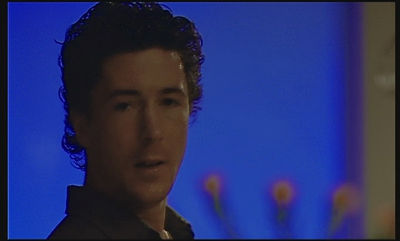 Stuart knows how to get attention.
---
When this programme was broadcast on television, it was one of the fewwidescreen shows to be presented in the correct widescreen ratio of 16:9.That's how it appears here and on the corresponding video, but it's a shameit's not anamorphic. As such it loses a point, but artifacts are rare to befound. The average bitrate is a high 7.31Mb/s for disc 1 and 7.34Mb/s for disc2, often peaking at 10Mb/s.
Full marks go to the soundmix which is presented in Dolby Surround as intended.From the clear dialogue, through the pumping sounds of the dance beats inthe nightclubs and to the pumping sounds of..er.. men pumping each other,it all comes across clear as a bell. Just don't play it too loud otherwiseyour neighbours might start to wonder what's going on…
---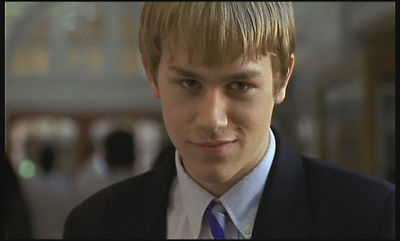 # "Sexy Boy…" #
---
Extras : Chapters :There are 32 chapters spread throughout the series which equates to fourper episode. Not bad when each is just on the long-side of thirty minutes,but a few more wouldn't have gone amiss. Languages/Subtitles :There's just the one language on this disc – English – and there are nosubtitles which is a shame. Behind the scenes :Not much to look at, but disc 1 contains three minutes of brief interviews andchat about the series, filmed on location and presented by single-eyebrowginger-loudmouth
Ed Hall
. Disc 2 has another four minutes of interviewswhich was filmed a few weeks into the series being shown on TV, after theirsponsors
Becks
pulled out (oo-er, missus!) Photo library :A selection of stills from the series – 20 per disc – but for some reason myDVD-ROM player (Creative Dxr2) only lets me see the first one and then revertsback to the 'extras' menu even if I select the option to view the next picture. Menu :A static menu with a shot of the three boys, but contains the funky theme tunefrom the show.
---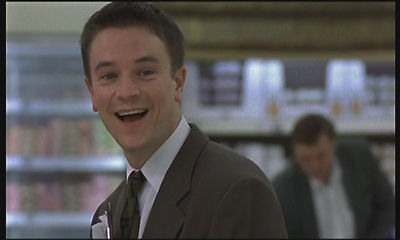 Vince is the practical one.
---
Despite the lack of extras, this release still comes well-recommmend.Queer As Folk was a very entertaining series – and apparently a Xmasspecial is in the works so let's hope that comes out on DVD, it's been releasedon two DVD9's to give the best picture quality possible (still a shame aboutit being non-anamorphic) and, apart from the BBC's forthcoming offerings,it's rare at this stage to see a TV series being released on DVD, which confirmsVCI's commitment to trying something a bit different and giving thecustomers what they want.
The packaging is worthy of a mention too. A nice Amaray keep-case that housestwo discs very well – the first on a hinge – and easy to take out of the boxtoo.
There are a number of other TV series that VCI have released on video,including Men Behaving Badly and Father Ted, which I'd love tosee on DVD, particularly if those with episodes that have been filmed in 16:9widescreen (such as the Xmas specials of Men Behaving Badly) are releasedin anamorphic format.FILM CONTENT : *****PICTURE QUALITY: ****SOUND QUALITY: *****EXTRAS: *——————————-OVERALL: ****
Review copyright © Dominic Robinson, 1999
Check outVCI's Web site.
[Up to the top of this page]
Reviewer of movies, videogames and music since 1994. Aortic valve operation survivor from the same year. Running DVDfever.co.uk since 2000. Nobel Peace Prize winner 2021.