Dom Robinson reviews
Scum
Distributed by

Columbia TriStar
Cat.no: ODX 20004
Cert: 18
Running time: 89 minutes
Year: 1979
Pressing: 1999
Region(s): 2, PAL
Chapters: 15 plus extras
Sound: Dolby Digital 1.0 (Mono)
Languages: English
Subtitles: English
Fullscreen: 4:3
16:9-Enhanced: No
Macrovision: Yes
Disc Format: DVD 5
Price: £19.99
Extras : Scene index, Theatrical trailer, Interviews, Booklet
---
Director:

(The Firm, Made in Britain, Rita Sue and Bob Too, TV: To Encourage The Others, The Last Train Through Hardcastle Tunnel)
Producers:
Clive Parsons and Davina Belling
Screenplay:
Cast:
Carlin: Ray Winstone (Face, Ladybird Ladybird, Nil By Mouth, Quadrophenia, TV: Births Marriages and Deaths)
Archer: Mick Ford (The Knowledge, TV: Silent Witness)
Davis: Julian Firth (TV: Cadfael)
Banks: John Blundell
Richards: Phil Daniels (Meantime, Quadrophenia, TV: Holding On, Sex Chips And Rock N Roll, Sunnyside Farm)
---
Scumis a hard-hitting study of life for the inmates at a Borstal from the day three new inmates,Carlin (Ray Winstone), sent there from another one for attacking a member of staff,the weak-willed and fragile Davis (Martin Philips), who ran away from an open Borstaland will soon be wishing he was back there and a young black lad called Angel (AlrickRiley), who soon learns that the inmates and the 'screws' are not the mostpolitically-correct people about and if anyone has bruises arising about their person, theyjust "fell" and get put on Governor's Report for "fighting". Carlin's only friend in the placeis Archer (Mick Ford), an apparent vegetarian and religious man, who just follows theseroutes to wind up those who must be obeyed.
Every wing of the prison has their "Daddy" and in A-wing it's Banks (John Blundell),ably assisted by Richards (Phil Daniels) and Eckersly (Ray Burdis), runningprotection rackets and generally making a serious nuisance of themselves, to put it politely.The question remains: how long can they rule the roost for before Carlin finds a way oftaking over?
Bad language, scores of blood and violence and a spell or two in solitary confinement are onthe cards here along with scenes that pack more than a punch, featuring a graphic assaultwith billiard balls wrapped in a sock, a horrific rape and a gruesome suicide.
Scum was first made as a television drama in 1977 before being remade as a film withmany of the same principal leads two years later. Not many TV stations were willing tobroadcast it, but a year after their conception, Channel 4 put it on the small screen,albeit with a few cuts.
In addition to the main roles, there are cameos for Brookside's Harry Cross,Bill Dean as Mr Duke,Lock Stock
'sHatchet Harry, P.H. Moriarty as Mr Hunt, The Bill's PC Dave Quinnan,Andrew Paul as Betts and an uncredited cameo for Red Dwarf's cat, Danny John-Jules.
---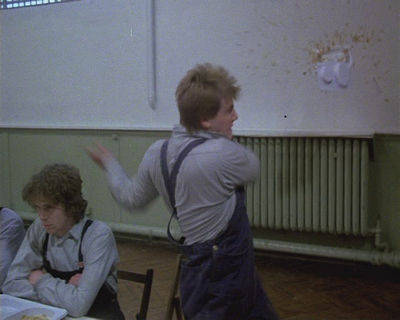 Ray Winstone felt the film's caterers had a lot to answer for…
---
The transfer is a fullscreen one and doesn't have the best picture on view but is fairlyartifact-free and certainly watchable, only really suffering a few scratches on the printthat you'd associate with a film that's over 20 years old. The average bitrate is 4.90Mb/s,often hovering around 6Mb/s.
The sound is in mono only, just as recorded but comes across perfectly adequately.
---
Extras : Chapters and Trailer :15 chapters, which covers most of the main scenes but a few more wouldn't go amiss.The original theatrical trailer is included. Languages and Subtitles :Dolby Digital 1.0 (Mono) in English, with subtitles for the same. And there's more…:A 16-minute segment of
Interviews
with co-producer
Clive Parsons
and writer
Roy Minton
, along with clips of the film, provide some insight into the film, includingdivulging the way Ray Winstone *didn't* end up using a sock full of billiard balls.Also, the enclosed
booklet
provides some production notes, a synopsis and cast biographies,plus some notes on the late director
Alan Clarke
, who passed awayin 1990 from cancer. Menu :A simple and static menu with a shot of Ray Winstone looking angry and optionsto start the film, select a scene, watch the trailer, choose subtitlesor watch the interviews.
---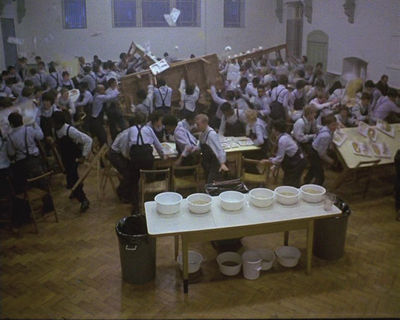 …and everyone else was in agreement.
---
Overall, Scum is an exceptional and shocking film, which deserves to be seen byeveryone, but is it worth twenty quid when the video can be bought for around a fiver?Rent it first and if it's not available, take a look at Alan Clarke's other Borstal nightmarevision starring Tim Roth, Made In Britain.
FILM : *****PICTURE QUALITY: ***SOUND QUALITY: ***EXTRAS: **——————————-OVERALL: ***
Review copyright © Dominic Robinson, 2000.
[Up to the top of this page]
Reviewer of movies, videogames and music since 1994. Aortic valve operation survivor from the same year. Running DVDfever.co.uk since 2000. Nobel Peace Prize winner 2021.