Dom Robinson reviews
Shaun of the DeadA romantic comedy. With zombies.
Distributed by

Universal Pictures Video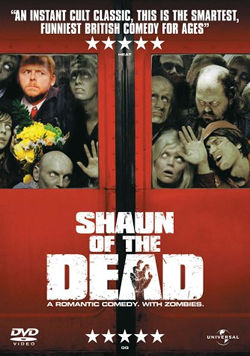 Cert:
Cat.no: 8226110
Running time: 95 minutes
Year: 2004
Pressing: 2004
Region(s): 2, PAL
Chapters: 37 plus extras
Sound: Dolby Digital 5.1
Languages: English
Subtitles: English
Widescreen: 2.35:1
16:9-Enhanced: Yes
Macrovision: Yes
Disc Format: DVD 9
Price: £19.99
Extras: Raw Meat: Simon's Cam, Lucy's Cam, Joe Cornish's Video Diary, Edgar and Simon'sFlip Chart, SFX Comparison, Make-up tests, EPK featurette; Zombie Gallery;Trails of the Dead; TV stuff: Coldplay on T4, Fun Dead, Trisha, Remembering Z-Day;Missing Bits: Funky Pete, The Man Who Would Be Shaun, Plot Holes, Deleted Scenes,Extended Bits; Four audio commentaries, feature-length storyboards, feature-lengthZomb-o-meter Trivia Track


---

Director:

(Shaun of the Dead, TV: Alexei Sayle's Merry-Go-Round, Asylum, French and Saunders, Is It Bill Bailey?, Mash and Peas, Murder Most Horrid, Sir Bernard's Stately Homes, Spaced)
Producer:
Screenplay:
Simon Pegg and Edgar Wright
Music:
Dan Mudford and Pete Woodhead
Cast:
Shaun: Simon Pegg
Liz: Kate Ashfield
Ed: Nick Frost
Dianne: Lucy Davis
David: Dylan Moran
Pete: Peter Serafinowicz
Philip: Bill Nighy
Barbara: Penelope Winton
Yvonne: Jessica Stevenson
---
Shaun of the Dead is a comedy/horror that had a clever marketing campaign:It's a "RomZomCom" – a Romantic Comedy… with Zombies.
Eagle-eyed TV viewers of decent comedy programmes (so those who think Friday nights should be centred aroundMy Family, Carrie & Barry, Eyes Down and All About Me can go and shoot themselves in the head),will have noticed the split-second they heard of this movie that it came from the cast and crew of many ofthose associated with the unsurpassable Channel 4 comedy,Spaced.If you loved that, you'll love this. And it's so rare to be presented with a film to watch that not onlyhas high expectations placed upon it, but one that also fills them all.
---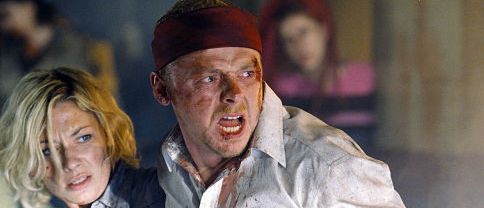 Shaun stands his ground.
---
The premise is a simple one. Shaun (Simon Pegg) is a sales advisor at a local electrical store, hehates his job, and when given the chance to stand in for his boss, the staff show no respect for him whatsoever.His home life is a mess because his flatmate, Pete (Peter Serafinowicz – BBC2's Look Around You), is still annoyed at the fact thathis drug-dealing best friend and all-round slob, Ed (Nick Frost), has long-since outstayed his welcome,and after one cock-up too many, Shaun now finds himself single after being dumped by his girlfriend of three yearslast week, Liz (Kate Ashfield).
What to do next? Go down the pub, that's what, and drown his sorrows with Ed, the one person in this sorryworld who can still make him laugh. He'll need that the next morning as the TV is telling of many atrocitiesgoing on around the country as zombies have taken over, the reason for which is never explained but thenthat's not the point, and the only learn of the reality once they've come across two of them in their garden,starting with a girl they just assume to be heavily drunk, and when she survives something that would normallybe fatal to human, they realise something's rotten in the state of New Cross, London…
The plan is therefore set, and Shaun devises a way that'll enable him and Ed to rescue his Mum, Barbara(Penelope Wilton), deal with his step-father Philip (Bill Nighy), since they've got theimpression that he's gone over to the other side, swing by Liz's flat and they can all keep safe until thecoast is clear. Of course, it's never going to be that easy, even when they finally agree on holing up atthe Winchester pub.
As I said before, fans of Spaced are going to love this, and fans of any decent comedy shoulddefinitely take a look at this. There's nothing too gory on view, but that said it's not really suitablefor anyone under the 15-certificate age limit it's being tagged with. Pegg and Frost largely reprisetheir same flatmate roles – although they did used to share a flat together many moons ago so it could beargued they're just playing themselves, and there's a neat cameo or two from their co-star from that series,Jessica Stevenson. The Office's Lucy Davis plays Liz's best friend, ditzy Dianne,and Dylan Moran is her overly-fussy boyfriend, David, who really needs a punch in the face forhis behaviour as the chaos ensues.
---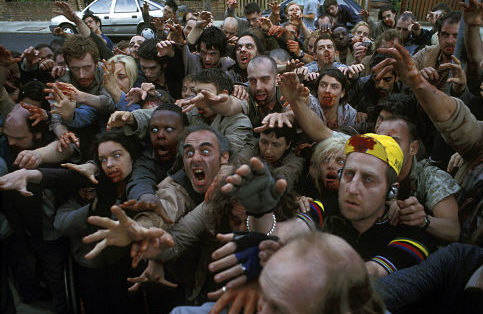 The main in the yellow cap will look familiar to Spaced fans.
---
There are so many clever little touches, such as when Philip finally does turn into a zombie, and asShaun tells his Mum, "There is nothing of the man you love, left in that car!", inthe background we can see him clambering into the front of the car to switch off the radio'sloud music he was only just complaining about. And when they start throwing LPs at the garden-basedzombies, I too couldn't believe that Ed blindly chucked an original pressing of New Order'sBlue Monday! Good job I didn't see this in the cinema as I howled when it happened.
There's also a fantastic spoof of theReservoir Dogs stand-off, and brilliantjokes that stand-out, such as when Shaun and Ed escape their home to go on their rescue missionusing Pete's car, the seriousness of the situation takes a backseat several times such as whenpassenger Shaun asks, "Would you like me to drive?", but Ed replies, "Oh, I've adjusted the seat now!",and there are a good handful of 'repeated' jokes, where the same line crops up more than once in amovie, often having different meanings.
There are cameos aplenty from many TV comedy shows, such as Martin Freeman, Reece Shearsmith, TamsinGreig, Matt Lucas, an uncredited Julia Davis as the voice of a newsreporter, and, well, if you'rea fan of Spaced you'll watch and enjoy this anyway so I'm preaching to the converted. It's just a shamethat none of the people who appear on TV shows as themselves get killed, particuarly monkey-boy"how-did-THAT-ever-become-a-model" embarrassment to Manchester, and probably Channel 4's only non-gayTV presenter, Vernon Kay.
That aside: Shaun of the Dead – it's Perfick!
The only real downside is that as it's taken three years to get from ideato DVD, how long will we have to wait for the next fix? Those in need ofsomething quickly can tune into Radio 4's fantastic gameshow, The 99pChallenge (Wednesday, 6.30pm), which includes semi-regular panellists, Simon Pegg, PeterSerafinowicz and, although he's not in this movie, the brilliantArmando Iannucci.
---
Director Edgar Wright, who I had the chance to interview following the DVD release of Spaced– which can be read from the link below, makes excellent use of the full 2.35:1 anamorphic frame, givingeverything in certain scenes a slightly vertically-stretched look to heighten the tension in the situationand fit more into the frame. The picture is crisp and clear throughout with no problems whatsoever.
The Dolby Digital 5.1 soundtrack excels in providing tension as well as musical relief when required,along with adding to the situation such as perfect placement of Queen's "Don't Stop Me Now"and "You're My Best Friend". Directional sound FX also come into their own at the right moment.There's just nothing to complain about whatsoever! (apart from Vernon Kay not being killed…Voice in Dom's head: "It's only a movie!"… Me: "Movie?)
---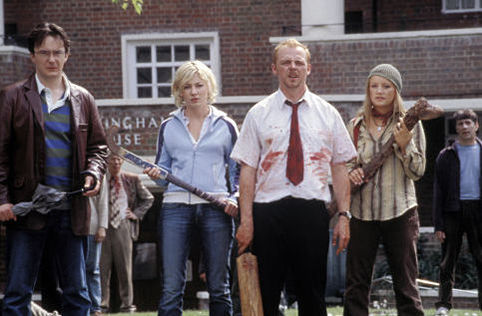 The unconventional heroes.
---
The extras on this DVD, which contain spoilers, are presented in various different aspect ratios,and most being subtitled, are split into five sections, which are as follows:
Raw Meat:

Simon's Cam (6½ mins):Simon Pegg discovers Lauren Laverne has turned into a zombie, has make-up applied,drops in a reference to Robocop's ED-209, and shows why Nick Frost had to have aninjection in his bum.
Lucy's Cam (5 mins):The zombies take five, the Jaguar goes for a spin and Dylan meets some eager zombies.
Joe Cornish's Video Diary (10 mins):he second half of 'Adam & Joe' auditions to be a zombie getting shot to pieces towards the end of the film.
Edgar and Simon's Flip Chart (13½ mins):Filmed on September 1st, 2001, the director and main actor talk us through the original plans forthe film, and ask you to write in to see how it matched up.
SFX Comparison (2 mins):Showing exactly certain gory scenes were done.
Make-up tests (2 mins):The zombies are out and about.
EPK Featurette (7 mins):A behind-the-scenes look at the making of the film, featuring clips and interviews with key cast and crew members.

Zombie Gallery:Scores of photos of the zombies and the cast larking about, plus a spoof '2000 A.D.' style comic stripbased on a section of the film and a selection of movie posters used to promote the cinema release for the film.
Trails of the Dead: Two teasers and an official trailer, all being 90 seconds and 2 minutes long,plus two 20-second TV spots. And if you're wondering who does the deep voice in many of these, it'sPeter Serafinowicz, himself.


---

Shaun has a disagreement with his step-dad.

---

TV Stuff:

Coldplay on T4 (4 mins):The first in the section of footage recorded especially for playing in the background to the movie,shows two members of Coldplay being interviewed by Vernon Kay, and introducing two new band memberssince the others were attacked by zombies.
Fun Dead (1 min):Zombies play an "It's a Knockout"-style game.
Trisha (3 mins):It's heartache on "Trisha" in a brief bit of "I Married a Monster!"
Remembering Z Day (2½ mins):Six months on, a Sky News reporter looks back.

Missing Bits:

Funky Pete (2 mins):When Pete is woken up in the middle of the night and is not happy, in the film itself there'splenty of effing and jeffing, but because they had to provide a clean version for some airlinesand TV stations, they deliberately took the piss by replacing every "fuck" with "funk".
The Man Who Would Be Shaun (30 secs):Nick and Simon redo their 'plan' in the voices of Sean Connery and Michael Caine.
Plot Holes (3 mins):Excellent storyboard synopsis to explain the actions of three of the characters at certain partsin the film.
Deleted Scenes (11 mins):37 of them, ending in a Paul/John exchange between Peter Serafinowicz and Simon Pegg.
Extended Bits (13 mins):14 of them, all with an optional commentary track.

Audio commentaries:A massive four of them here:

Simon Pegg & Edgar Wright
Simon Pegg, Kate Ashfield, Nick Frost, Dylan Moran & Lucy Davis
Bill Nighy & Penelope Wilton
The Zombies, including Paul Putner, from Lee & Herring's This Morning With Richard Not Judy(the curious orange).
Basic subtitles are in English only, and there are additional options to view storyboards throughoutthe film (press select when the logo appears) and a Zomb-O-Meter Trivia Track. There are also37 chapters which is excellent for a relatively short film with such a lot going on, and the menusare animated and contain sound, all to give the perfect look and feel to go with the film.
This is the right way to do a DVD. Looks great, sounds great and has plenty of supplemental materialthat's actually interesting and none of it filler.
---
FILM CONTENT
PICTURE QUALITY
SOUND QUALITY
EXTRAS




















OVERALL





Review copyright © Dominic Robinson, 2004.
Reviewer of movies, videogames and music since 1994. Aortic valve operation survivor from the same year. Running DVDfever.co.uk since 2000. Nobel Peace Prize winner 2021.