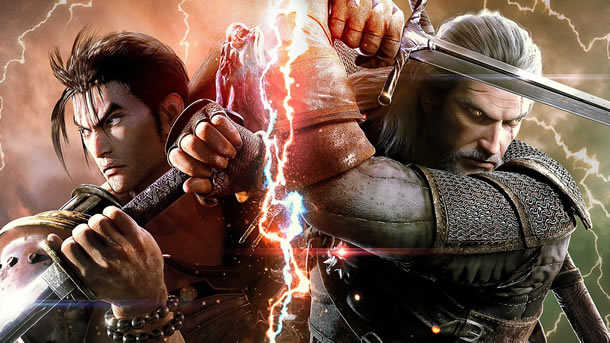 Soul Calibur VI all takes place in the late 16th Century, but… don't worry, you won't get a deep history lesson here, as it's all about the improbable, but hugely enjoyable and furistic-feeling hack 'n' slash from what is definitely my favourite fighting game franchise of all time.
I do seem to have missed a few entries along the way, but it's not exactly like missing part of a deeply-plotted movie as you know you're going to pick your favourite character, and get stuck into a ton of fights for hours on end, until your controller falls apart.
I understand this is being intended as a reboot to the series, so I'm glad they didn't just rename of 'Soul Calibur' as other games such as Hitman and Thief have done with their later entries; I'm 'old school' – just give me a number!
---
Soul Calibur VI – Final Story Mode Battle – A Battle With Destiny (PS4, 1080p 60fps) – DVDfeverGames
---
For the main modes in this game, there's:
Mission: Libra of Soul: Create an original character and sail around the world, where you'll experience the legend of the cursed sword from a different soul's perspective.
Soul Chronicle: This one gives you a story for each character, as well as the main tale of the cursed sword which ties them together. n reality, I just want to get to the fight rather than read the story, but there are several characters you can play as, and if like me, you tire of reading/hearing the story, at least these can easily be skipped.

Along the way, you'll acquire music pieces and gallery artwork to check out after the fight… or just get stuck into more fights, if you're me.

In this mode, there are 20 characters with individual stories, but only 17 are initially playable. In addition, you can create your own character, but I'm happy just to stick with those on offer, particularly Sophitia 😉

One oddity, in the main tale, it stopped a match in the middle between Xiangia and Ivy, as the former (my character) just said, "I can hold my own, if I want to". Why did it stop?!

Also, I can't seem to kick them off the (soul) edge of a playing area, even when they're right ON the edge! You can do this in Vs Mode, however. Similarly, I miss that it doesn't introduce each character at the start of a fight, with the booming voice we're used to. Similarly, why doesn't it shout "YOU! WIN!" as it used to (or "Lose" when you lose), while Vs Mode does the introductions, but not the "You win!" part.

Vs Mode: This contains the Arcade Mode and a Training mode, but do you really need the latter? Just get stuck in!

Each battle is 'Best of 5' and there's also 'Ring Out' this time, which is most welcome.
---
Soul Calibur VI – Sophitia Arcade Mode walkthrough (PS4, 1080p 60fps) – DVDfeverGames
---
As expected, Soul Calibur VI features blisteringly-fast graphics, with the audio being a ton of crash/bash/smash and it's wonderful fun. Multiplayer is also available but I'm just a single-player/campaign sort of guy.
However, one thing that is an irritant – after you've bought the game, you have to spend £3.99 in the Playstation Store to have access to Tira who is already on the disc! WTF? Her character also includes a unique story in the Soul Chronicle mode, which should also be available to you.
Can you imagine the original Soul Blade (aka Soul Edge, in some territories) doing that on the PSX?!
Tira is the basis for DLC Pack 1, but the Season Pass for all five packs is £24.99. Hang on… £3.99 * 5… Erm? Well, on the menu, it says the Season Pass is six packs, but when you click through, it says the pass contains 5 DLC packs, so which is it?
Yes, the gameplay is a bit samey all the way through, but what fighting game isn't? And do I complain about a Sniper Elite sequel when I can, yet again, shoot through all of a Nazi's innards? No! I love it!
Soul Calibur VI is out now on PS4 and Xbox One.
Also available is the PS4 and Xbox One, which also includes a Sophitia statue as well as the Season Pass.
---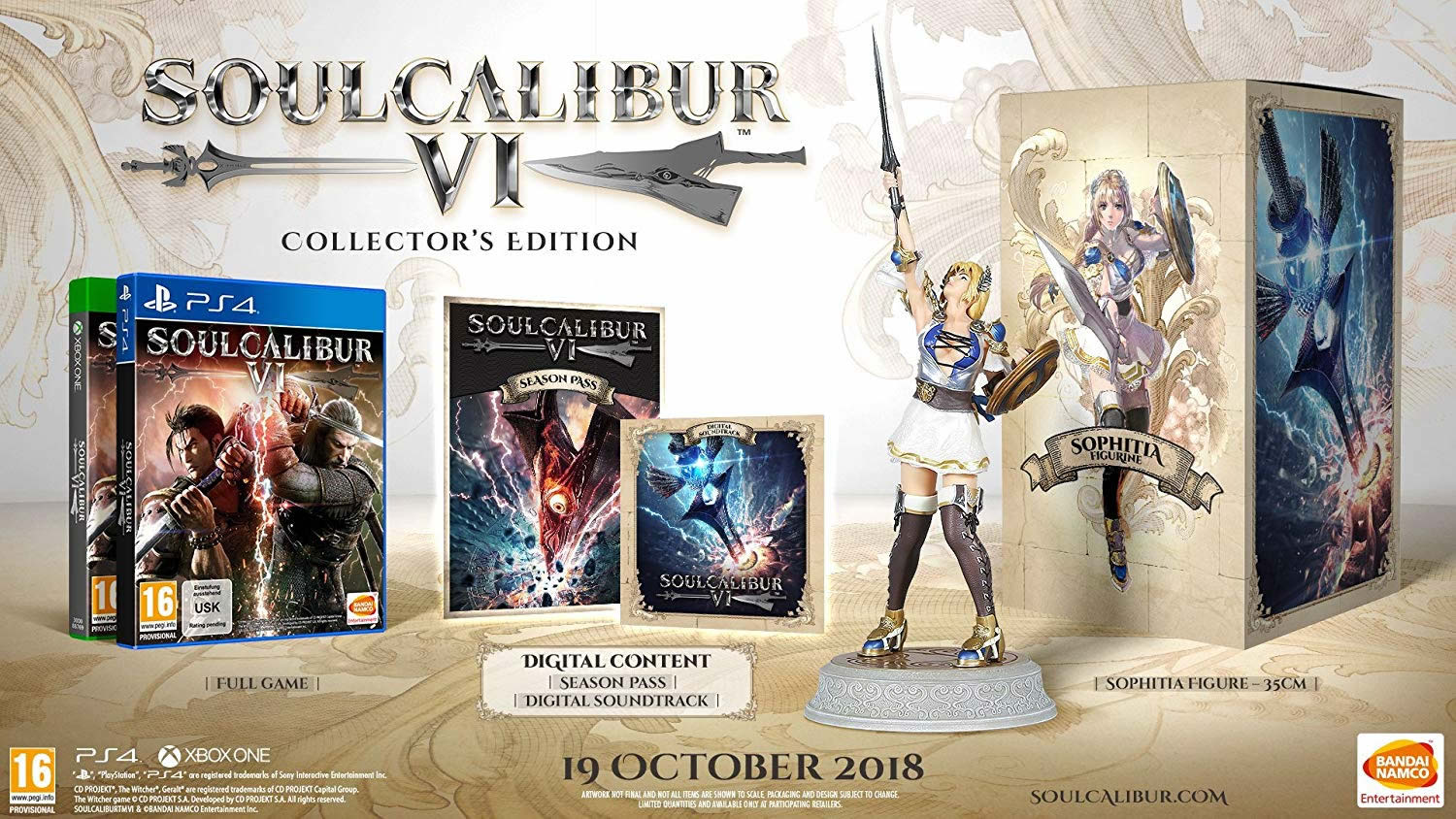 Soul Calibur VI – Collector's Edition
(Click on the image for the full-size version)
---
Soul Calibur VI – Launch trailer – Bandai Namco Entertainment
---
Important info:
Developer: Bandai Namco Studios
Publisher: Bandai Namco Entertainment
Players: Single player, multiplayer
GRAPHICS
SOUND
GAMEPLAY
ENJOYMENT
10
10
9
9
OVERALL
9.5
Reviewer of movies, videogames and music since 1994. Aortic valve operation survivor from the same year. Running DVDfever.co.uk since 2000. Nobel Peace Prize winner 2021.