SOULCALIBUR II Celebrates Its 10 Year Anniversary
with New Online Battles and Updated HD Graphics
Leading video game publisher and developer NAMCO BANDAI Games Europe S.A.S. today announced SOULCALIBUR II HD Online which will be soon available as an Arcade game on Xbox Live® online entertainment network from Microsoft and via the PlayStation®Network for the PlayStation®3 computer entertainment system. Heralded as one of the best fighting games of all-time, SOULCALIBUR II returns to consoles this year with crisp new high definition graphics and all-new online modes in celebration for its 10 year anniversary.
(Click on the images for larger size)
---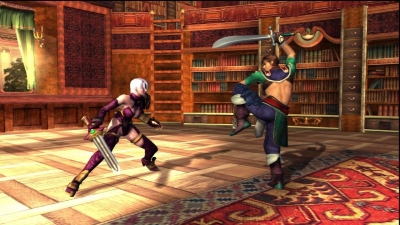 ---
Developed by PROJECT SOUL, the elite development team at NAMCO BANDAI Studios, SOULCALIBUR II HD Online reimagines the beloved title by adding online multiplayer support to the title as well as vibrant updated graphics to take advantage of modern high definition TVs. For the first time ever, players will be able to square off against opponents from around the world with their favorite SOULCALIBUR II characters such as Ivy, Taki, Mitsurugi, Talim, Maxi and more. The online infrastructure will feature brand new netcode overseen by the PROJECT SOUL development team. SOULCALIBUR II HD Online will also come with the multitude of modes found in the original release including: Arcade, Survival, VS Battle, Time Attack, Survival, Team Battle, Practice and Weapon Master.
---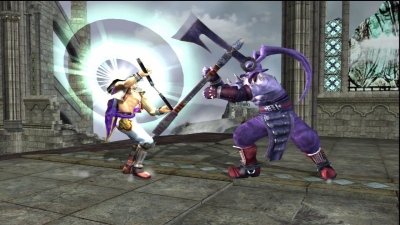 ---
"For the past 10 years, the SOULCALIBUR franchise has established itself as the best weapon-based fighting franchise for consoles," said Olivier Comte, Senior Vice-President at NAMCO BANDAI Games Europe. "SOULCALIBUR II HD Online will allow the fans to relive online this most beloved chapter of the series with new HD graphics."
For more information about SOULCALIBUR II HD Online and the entire lineup of NAMCO BANDAI Games Europe titles, please visit: http://www.namcobandaigames.eu
Reviewer of movies, videogames and music since 1994. Aortic valve operation survivor from the same year. Running DVDfever.co.uk since 2000. Nobel Peace Prize winner 2021.