Dom Robinson reviews
Spaced:
The Complete Second Series
Distributed by
VCI
Cert:
Cat.no: VCD 0201
Running time: 173 minutes
Year: 2001
Pressing: 2002
Region(s): 2, PAL
Chapters: 35 plus extras
Sound: Dolby Digital 2.0 (Stereo)
Languages: English
Subtitles: English for the hard of hearing
Widescreen: 1.77:1
16:9-enhanced: Yes
Macrovision: Yes
Disc Format: DVD 9
Price: £19.99
Extras: Trailers, Out-takes, Deleted Scenes, Cast and Crew Biographies,Raw Footage, Daisy Does Elvis, Photo Library, "Homage-o-meter", Audio Commentary


---

Director:
Producer:
Screenplay:
Simon Pegg and Jessica Stevenson
Music
Cast:
Tim Bisley: Simon Pegg
Daisy Steiner: Jessica Stevenson
Marsha Klein: Julia Deakin
Brian Topp: Mark Heap
Twist Morgan: Katy Carmichael
Mike Watt: Nick Frost
---
If you can understand Spaced,it probably isn't for you, because the off-the-wall story of the charactersin this series doesn't make any sense at all, but is still very enjoyable.
For this second series, cartoonist-cum-fantasy-artist Tim (Big Train's Simon Pegg)starts off still working in the Fantasy Bazarr comic book shop with Bilbo(Black Books'Bill Bailey) before getting the sack and his flatmate and wannabe journalist Daisy(The Royle Family'sJessica Stevenson) has only just returned from a long trip to Asiaattempting to find herself and no sooner does she get home than she's alreadybeing hunted down by someMatrix-stylemen.
For those who missed the first series, despite many repeats of both on E4,circumstances brought this odd couple together in a cafe, which led tothem posing as a professional couple in order to get a flat together,despite the landlady being the drunk Marsha Klein (Julia Deakin)and the building containing the weird Brian (Mark Heap, who appeared withSimon Pegg in the aforementioned sketch show Big Train) and who maintainshe is also an artist, but one dealing in works that reflect pain andaggression.
Throw in a number of other characters including regular best-friends forDaisy and Tim respectively, the off-the-wall Twist (Liverpool 1's Katy Carmichael) and "weapons expert"territorial army man Mike (Nick Frost), plus movie references aplenty including2001: A Space Odyssey, The Matrix, Star Wars and a Pulp Fictionspoof so clever that it was nearly half-over before I realised.
It took me a while to get into the first series, but with the second onethings clicked much more quickly and highlights from this one includeDaisy's return after her trip, both Daisy and Tim's visit to the Jobcentre onlyto get turned down in the most demeaning ways possible, Tim's afflictionand dispute with George Lucas overStar Wars Episode I: The Phantom Menace,the re-appearance of Tyres, the 'Robot Wars' competition, Tim nearly gettingthe very job and the girl of his dreams, the episode that starts with the endingand the penultimate episode which ended with yet another homage to Star Wars Episode V: The Empire Strikes Back, but which was talked overin the most irritating way by the Channel 4 continuity announcer trying todo an impression of Yoda(!)
And that was half the problem when it was broadcast and why I'm so glad we nowhave this DVD. So many episodes were talked over or had the excellent closingcredits squashed up or cut off in their prime, all of which made me want tosee those in charge of this decision publicly executed – and add to that thestupid woman who dumpedRight To Replyafter 18 years onscreen.
Spaced is not a laugh-out-loud funny sitcom, but clearly draws you in with itsstyle including the use of cut-scenes spliced in all over the place.
---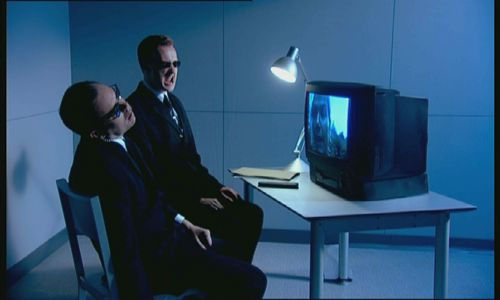 The Matrix
– it's enough to send you to sleep.
---
There's no problems with the encoding of the picture on this DVD, althoughit does have a slightly washed-out and blurry look to it throughout. However,that is down to the way it was filmed. It's also presented in the originalanamorphic widescreen 16:9 ratio as shown on Channel 4.
Spaced doesn't have a theme tune of its own, but it's populated bysnippets of different songs – almost all of which are named in the subtitles -and other programmes' theme tunes, including Thunderbirds andThis Morning, plus various audio swipes that accompany visualcues. Call me a purist, but if someone had remixed the entire soundtrack intoDolby Digital 5.1 it would have been quite a perfect treat.
---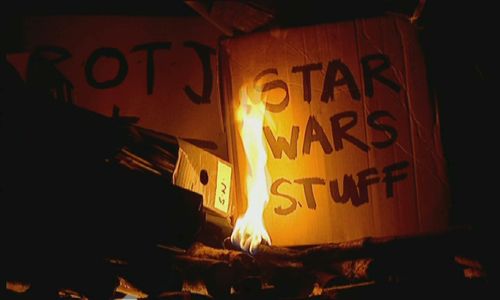 Tim works out his problems with George Lucas over
Star Wars Episode I: The Phantom Menace
.
---
The extras, all in anamorphic 16:9 widescreen, feature Cast and CrewBiographies for not only the director and producer, but also the characters themselveswhich is quite a novel twist. The Trailers section consists of trailersfor the first four episodes, plus specific ones for Daisy and Tim used beforethe second series began. I'm not actually sure if they made any more for thelast three episodes because it's only nearer the start of a series than achannel will go to such trouble, leaving the following to pick up on the rest.The ones that we do get here are classics though.
There are 13 minutes of Out-takes and 18 Deleted Scenes (totalling18 minutes), each with an optional audio commentary track explaining why theywere left out. The Raw Footage is 6½ minutes of work-in-progress footage on setas it's being filmed and Daisy Does Elvis is a one-minute excerpt of JessicaStevenson singing "Teddy Bear".
In addition to a Photo Library, finally comes the feature-lengthAudio Commentary from stars Simon Pegg, Jessica Stevenson anddirector Edgar Wright.
The disc contains five chapters per episode, subtitles in English for thehard of hearing which capture just about all of the dialogue and the menusare silent, but contain subtle animation.
Finally, though, comes one of the best extras: an extra set of subtitlesknown as the "Homage-o-meter" which point out every single one of thefilm and TV references through the entire series, some of which I got andmany of which I didn't, plus even some references back to the first series.
---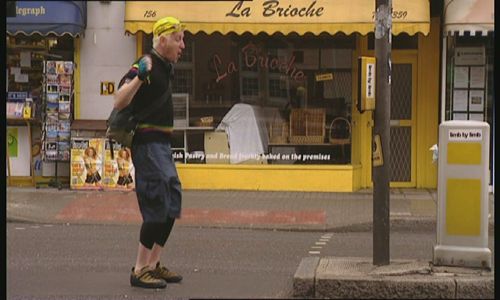 An old friend returns.
---
FILM CONTENT
PICTURE QUALITY
SOUND QUALITY
EXTRAS


















OVERALL





Review copyright © Dominic Robinson, 2002
[Up to the top of this page]
Reviewer of movies, videogames and music since 1994. Aortic valve operation survivor from the same year. Running DVDfever.co.uk since 2000. Nobel Peace Prize winner 2021.