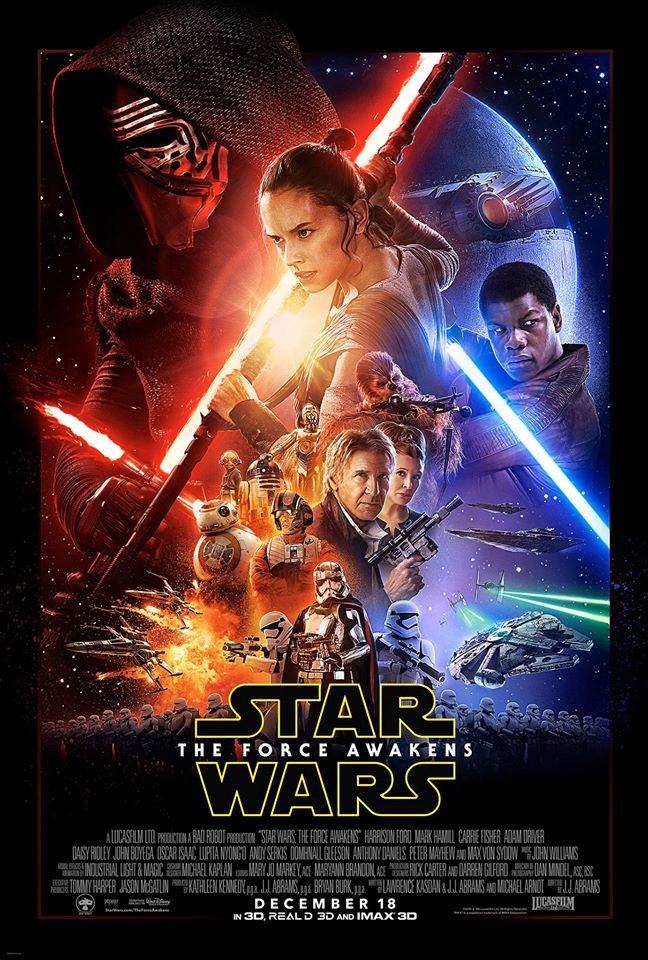 This weekend there are four new films out for you to choose from: the long-awaited Star Wars Episode VII The Force Awakens, the also long-awaited animation Snoopy and Charlie Brown: The Peanuts Movie, romantic comedy in Sparks And Embers, and alleged horror in Dismembering Christmas.
Star Wars Episode VII The Force Awakens is now out in cinemas!
Ever-present Andy Serkis will be one of the newbies, as Supreme Leader Snoke, alongside John Boyega, Daisy Ridley, Adam Driver, Oscar Isaac, Domhnall Gleeson, Lupita Nyong'o and the awesome Max von Sydow. They will all be alongside Harrison Ford, Carrie Fisher, Mark Hamill, Anthony Daniels, Peter Mayhew and Kenny Baker.
JJ Abrams will direct, but once again he's been proved to be a cheap-ass, since while it'll appear in 3D in the cinema, just like Star Trek Into Darkness, he's filming it in 2D, and then doing a post-conversion into 3D. If you're going to make it 3D, do so from the start!
The film is written by Lawrence Kasdan and JJ Abrams, produced by Kathleen Kennedy, JJ Abrams and Bryan Burk, and the composer, as ever, is John Williams.
One major scene has been shot with 70mm IMAX cameras in 1.44:1, but I'm gutted that after pre-ordering my ticket, it will not be showing that way in Manchester's IMAX – the second biggest in Europe (only the BFI IMAX beats it). For some reason, there's so few prints in the UK that they couldn't get one. I think this is a disgrace of Disney – they paid $2.6bn for Star Wars and they can't get a fucking print sorted? This is the ONLY time I'll be seeing this on the HUGE screen, and so I assume the print will open up to 1.90:1 at most. Disney, you bloody cheapskates!!!
Hit or Miss? Verdict: Hit!
---
Snoopy and Charlie Brown: The Peanuts Movie opens on Monday, December 21st, it was previously known as The Peanuts Movie, and before that, simply Peanuts, but the studio clearly thought we wouldn't understand if we were sat in a cinema, wondering if the 'Peanuts' we were watching was a movie or a figment of someone else's imagination.
Anyhoo, it's based on the timeless comic strip created by Charles Schulz, and for the first time ever, Snoopy, Charlie Brown, and the rest of the gang we know and love will be making their big-screen debut like they've never been seen before in a CGI-animated feature film in 3D.
The trailers I've seen for this show that Peanuts never dates. I will see this at some point, but whether it's in the cinema, I'm not yet sure.
Voices include Noah Schnapp as Charlie Brown, Francesca Capaldi as the Little Red-Haired Girl and archive voice of Bill Melendez as Snoopy & Woodstock.
Hit or Miss? Verdict: Hit!
---
Sparks and Embers
Tom and Eloise meet in inauspicious circumstances, trapped in a stuck lift after Eloise has Tom fired. Nevertheless, sparks fly. 5 years later, they have broken up and Eloise is going back to France. Tom has 45 minutes to win her back.
Starring Kris Marshall, Annelise Hesme, Waleed Akhtar and Valda Aviks, this looks predictable with a trailer that's overly puke-inducing. Pass!
Hit or Miss? Verdict: Miss!
---
Dismembering Christmas
At a vacation winter lake house, seven high school seniors are attacked by a madman out for revenge.
With a taglines "Deck the Halls…With Lots of Bodies!" and starring Leah Wiseman, Baker Chase Powell, Danielle Doetsch, Nina Kova, and a load of other people you've never heard of… I've seen two trailers for this and I have to ask… where are the murders?? Absolutely NOTHING is going on?? Just terrible.
Hit or Miss? Verdict: Miss!
---
Reviewer of movies, videogames and music since 1994. Aortic valve operation survivor from the same year. Running DVDfever.co.uk since 2000. Nobel Peace Prize winner 2021.