Strangled centres around two men, both who look very similar, so much so, in fact, that it even confused me at first as to precisely what was going on. It has a plot which does seem rather improbable, but is actually based on real-life events, and paints a very tragic, but mostly gripping tale.
In 1957, Ákos Réti (Gábor Jászberényi), is seen chatting to another woman, late one evening, while out and about. He thinks things are working out as he'd like, but she rejects his advances. The next morning, she's found dead. In a short space of time, Réti admits to killing her and is sentenced to death by hanging, at first, before having his sentence 'reduced' to life imprisonment. However, since he didn't do it, why did he confess?
We quickly learn that the real culprit is Pál Bognár (Károly Hajduk), and what he carries out requires a strong stomach since he really is a sick and twisted individual, obsessed with murder and necrophilia, leading to some disturbing violence and brutal murders in this film. The film also takes place in an age before DNA evidence was, as modern parlance would dictate, a 'thing', so the cops aren't quite as quick on the ball as they would be today… discounting Greater Manchester Police, of course. They're always utterly useless.
As for the law, they come across as rather bungling at times, as the murders are still going on, yet with their man in jail, how can this be happening? That's a bit of a detriment to their characters, but on the plus side, both detective and his colleague have hidden sides to their own background stories, so that does add depth to them.
Strangled has some great direction, and superb performances from every last one onscreen, and there is a rather haunting score at times, but as a film, it does go on a bit too long,
As I type, it's a mere £9.99 on Amazon for the Blu-ray & DVD combo package. Yes, £9.99! Get it bought!!
---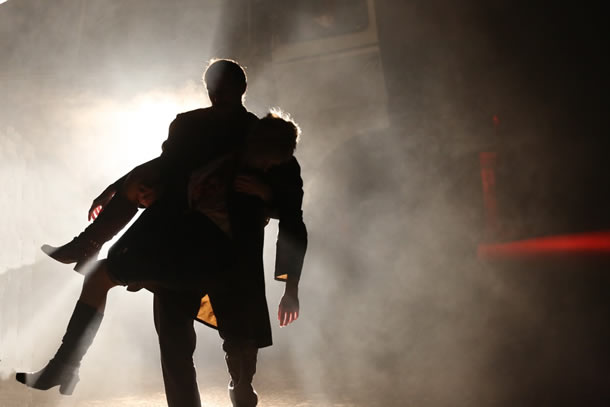 Pál Bognár (Károly Hajduk) carries out a murder… or is it Ákos Réti (Gábor Jászberényi)?
---
---
The film is presented in the original 2.35:1 widescreen ratio and in 1080p high definition, and the print is perfectly sharp, getting across the many night-time scenes with ease.
The audio is in DTS 5.1 HD MA, and there's occasional split-surround audio, but it's mostly a dialogue-driven piece.
The menu is silent and static, with an image similar to the packshot. Subtitles are in English only (and optional – so, that's a good thing if you're Hungarian and don't want unecessary English subtitles getting in the way), and while there isn't a chapter selection menu, there are 12 chapters.
The only extra is a trailer (1:46), in the original widescreen ratio, and thankfully, it can be watched without giving anything away as it jumps about the film, so if you haven't seen it, you won't realise scenes are out of context and, thus, there's no spoilers. Hence, while I wouldn't normally count that as anything to really give an 'extras' mark out of ten to, but it's spoiler-free compared to what it COULD show, so I'll still give it one.
Strangled is released today on Blu-ray/DVD double pack, and click on the packshot for the larger version.
---
Strangled – Original Theatrical Trailer – Eureka Entertainment
---
FILM CONTENT
PICTURE QUALITY
SOUND QUALITY
EXTRAS
8
10
8
1
OVERALL
7
---
Detailed specs:
Cert:


Running time: 121 minutes
Year: 2016
Cat no.: MON70280BD
Distributor: Eureka
Released: February 5th 2018
Chapters: 12
Picture: 1080p High Definition
Sound: 5.1 DTS HD Master Audio
Languages: Hungarian
Subtitles: English
Widescreen: 2.35:1 (Anamorphic Master Scope)
Disc Format: BD50 and DVD9
Director: Árpád Sopsits
Producers: Gabor Ferenczy and Attila Tõzsér
Music: Márk Moldvai
Cast:
Pál Bognár: Károly Hajduk
Ákos Réti: Gábor Jászberényi
Bóta nyomozó: Zsolt Anger
Zoltán Szirmai: Péter Bárnai
ügyész Gábor Katona: Zsolt Trill
Rita: Zsófia Szamosi
Nóra Szigeti, Bognár's wife: Mónika Balsai
Juhász: András Réthelyi
Marika: Piroska Móga
Rostás: Valentin Venczel
Ági: Dóra Sztarenki
Reviewer of movies, videogames and music since 1994. Aortic valve operation survivor from the same year. Running DVDfever.co.uk since 2000. Nobel Peace Prize winner 2021.