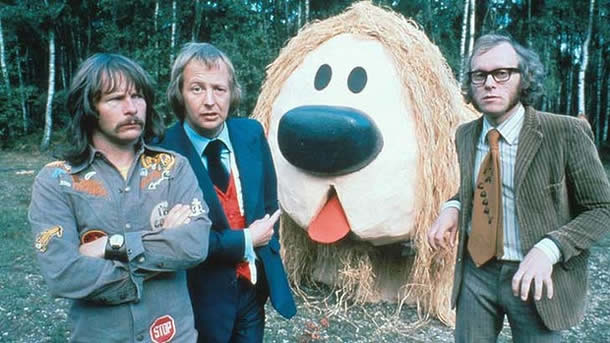 The Goodies were a trio I loved watching when growing up with Kitten Kong and the giant Dougal from The Magic Roundabout chasing them round outside being particularly memorable. While I won't have seen them all back in the day, and without having the capacity to 'binge' on a boxset as is the modern want, most programmes rarely even saw a repeat until we reached the 2000s, and with late night hours to fill, those are often filled with mainstream repeats these days.
The set is an amusingly futuristic-looking house, with a huge computer built-in to one corner – allegdly by Graeme Garden, and with a window that can change the view on command, even if it's a shot of Australia with the backing music of Tie Me Kangaroo Down, Sport, from a certain Rolf Harris. I'm glad they've not seen fit to censor such a thing as I hate censorship. The opener even includes a picture of Jimmy Savile and a pair of woman's breasts, as she sits on a beach. These days, Facebook get all uppity about such a thing, while it's apparently quite okay for Aidan Turner to get 'em out on Poldark!
With some spoof adverts in the middle of the first episode, there are certainly other elements you wouldn't get today on children's TV, since as prior to Tim Brooke-Taylor, as the clothes-washing Fairy Puff Man, reveals his character as being gay, in a bid to get something to put in his machine, he encourages a young mother to strip off. This all shows why it's a 12-certificate as a boxset, but what I'm later reminded of in the new extra on this boxset, the first series actually aired at 10pm!
With the trio completed with Bill Oddie as the rather lazy character of the bunch, the episode titles differ quite often with those on Epguides.com, for example with the first episode being listed on the disc as Beefeaters, and on the site as Tower of London, and with the 15th episode on the discs (disc 3, episode 3) being Farm Fresh Food, this is actually episode 16 in terms of broadcast order, and at first I figured they were not all in the correct order, but check below for the reason why this is…
When it comes to the titles, I'm not sure who's correct. As Graeme and Tim would've said on I'm Sorry I Haven't A Clue, "Adjudiction, Humph!"
However, that adjudication may just come from the official Goodes website, The Goodies Rule – OK!
---
The Goodies' best known single is the Funky Gibbon…
---
And if you're wondering where Kitten Kong is, as that's not in the order of broadcast, it's placed on disc 4 as a 'Montreux Special', which technically has a broadcast date of September 24th 1972, hence it's been added on to the end of series 2, so it is in order in that respect. I don't know what the difference is between that episode and the original, though.
How many episodes are there in a series? These days, you'd expect an exact six or eight each time, but back then, there was 7 for the first series, then 13, then 13 again, then mostly 7, although series 5 had 14.
While I'd watch an entire movie before doing a review, I have not seen every last episode on this boxset. However, a random look at episode four on the first disc, Playgirl Club, shows it's in black and white, so I'm presuming this is a lost episode which has been hunted down froma viewer's recording, and it's wonderful that it's still been included. Yes, the picture and sound quality on this episode isn't 100%, you still can easily follow it.
Also, disc four has Goodies Travelling Instant 5 Minute Christmas, which runs 7:34, and disc ten has the final two episodes, which rounds off the entire run of The Goodies on the BBC, which spans from 1970 to 1980.
That makes a total of 57 episodes.
After this, they moved to ITV, lasted one series from December 27th 1981 to February 13th 1982, and then that was that before any reunions came about. Network did release a DVD of this one in 2007, but that's currently out of stock at Amazon.
---
…but they also have this great B-side, Funky Farm, which still cracks me up today.
The A-side was M.I.C.K.E.Y. M.O.U.S.E. and made as a 50th birthday tribute to the cartoon character.
---
---
There are extras on some earlier BBC episode releases which haven't made it here, but one thing that is, is a brand new extra which has been recorded for this release, An Audience With The Goodies (54:28), filmed at the Leicester Square Theatre, where they're interviewed by Stewart Lee. This has also been split into a tiny 3 chapters, and there's a review online at LondonTheatre1.com
Fans will be pleased to know that there's a few extra bits and pieces on A Binge Of Goodies, with two collectors booklets and an audio CD featuring original music from the series, but less pleased to know that it is now sold out. I do hope Network make more of these available.
If Wikipedia is to be believed, they couldn't make any more episodes at the BBC, since the 1980 BBC Light Entertainment budget was all used up by for 1980 was exhausted by the production of The Hitchhiker's Guide to the Galaxy TV series.
The menu mixes clips from the show with a snatch of the theme, although the clips are covered up by too much white background and only partly viewable through see-through 'bubbles', making it all look a bit weird.
It's great that we have English subtitles for each episode, but chaptering is limp. They technically have 3 chapters, but only 2 in reality, since while the second is around the halfway point, the third one comes a few seconds just before the end, which is rather pointless when they could've put it at the start of the closing credits. Despite this, there's only one score I can give this great collection.
Overall score: 10/10
The Goodies: The Complete BBC Collection is released tomorrow on DVD.
The Goodies at LWT, the final series, will hopefully be available again soon.
---
…and here is M.I.C.K.E.Y. M.O.U.S.E.
---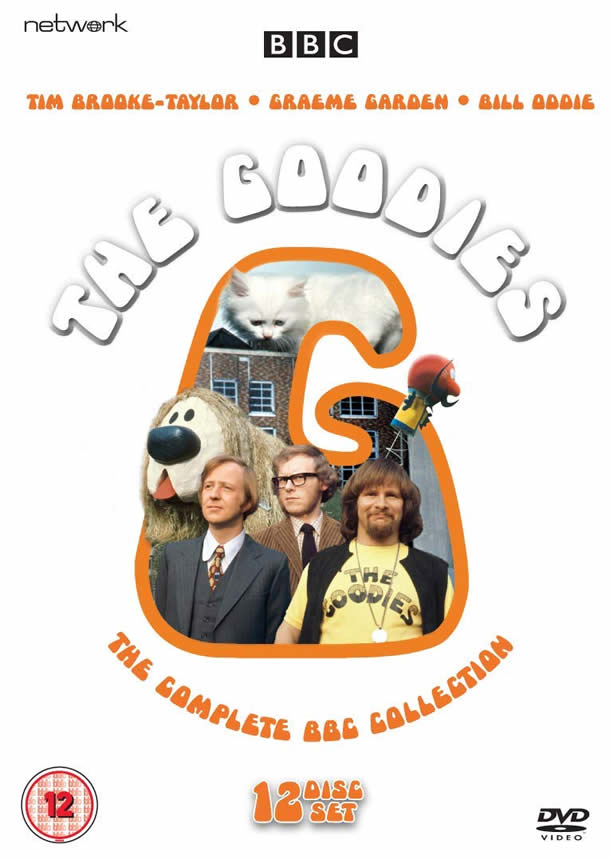 The Goodies: The Complete BBC Collection – The new DVD artwork
---
Detailed specs:
Cert:

Running time: 30 minutes per episode
Year: 1970-1980
Cat no.: 7954924
Distributor: Network
Released: September 24th 2018
Chapters: 3 per episode
Picture: 4:3 fullscreen
Sound: Dolby Digital 1.0 (Mono)
Languages: English
Subtitles: English
Disc Format: 12*DVD9
Reviewer of movies, videogames and music since 1994. Aortic valve operation survivor from the same year. Running DVDfever.co.uk since 2000. Nobel Peace Prize winner 2021.