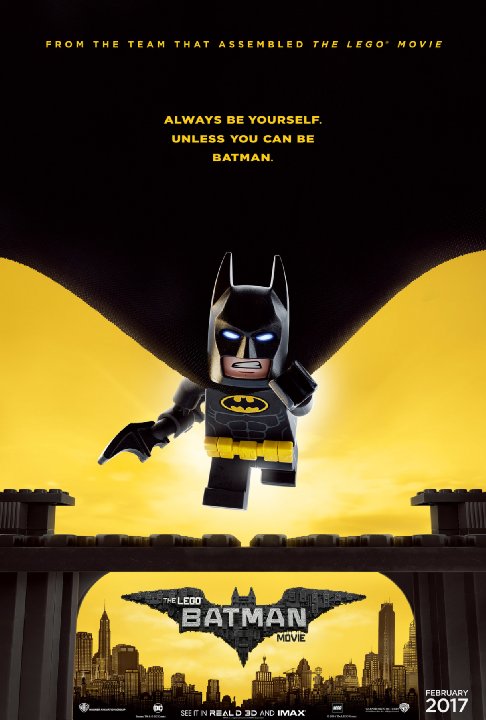 This week, there are EIGHT new films out for you to choose from: There's the awesome (can it be anything else?) The Lego Batman Movie, Sightseers' Alice Lowe writes, directs and stars in murder-comedy Prevenge, Ang Lee puts on a spectacle in Billy Lynn's Long Halftime Walk, there's evil afoot in Cute Little Buggers, Asa Butterfield is born outside of Earth in The Space Between Us, there's feminist dross in 20th Century Women, sexless sequel Fifty Shades Darker, and Denzel has an Oscar nod for Fences.
The Lego Batman Movie is here, and while the proper sequel to The Lego Movie isn't coming until February 8th 2019, Marvel and DC have shown that there's plenty of scope in making spin-offs with a single character – or, sometimes, more than one.
While Batman V Superman: Dawn of Justice was merely okay, this one looks like a decent spinoff for a change! 😉
And now, following the Wayne Manor and Batcave teasers, and the Official Comic-Con Trailer, may the fourth trailer be with you 😉
Will Arnett returns as Batman/Bruce Wayne – and in this trailer, he beatboxes and chews on a Lobster thermidor; plus Rosario Dawson as Batgirl/Barbara Gordon, Ralph Fiennes as Alfred Pennyworth, Michael Cera as Robin/Dick Grayson, Zach Galifianakis as The Joker and Mariah Carey (really??) as Mayor Marion Grange.
It's written by Seth Grahame-Smith (Pride and Prejudice and Zombies, and 2018's The Flash movie) and directed by Chris McKay (Robot Chicken).
As for the plot? Erm… nah, don't worry about such things.
Also check out our review of The Lego Movie 3D.
Hit or Miss? Verdict: Hit!
---
Prevenge is written, directed by and stars the brilliant Alice Lowe (Sightseers) as widow Ruth, who is seven months pregnant when, believing herself to be guided by her unborn baby, embarks on a homicidal rampage, dispatching anyone who stands in her way.
Also starring Gemma Whelan (The Moorside), Kate Dickie and Jo Hartley, this looks like a must-see. It's just a shame it's not getting an airing in multiplexes, certainly not near me. It's come at a bad weekend, since there are two big movies dominating the releases.
Hit or Miss? Verdict: Hit!
---
Billy Lynn's Long Halftime Walk has a bizarre title but you instantly get what it's about when the trailer begins.
It tells the tale of 19-year-old private Billy Lynn (newcomer Joe Alwyn) who, along with his fellow soldiers in Bravo Squad, becomes a hero after a harrowing Iraq battle and is brought home temporarily for a victory tour. Through flashbacks, culminating at the spectacular halftime show of the Thanksgiving Day football game, the film reveals what really happened to the squad – contrasting the realities of the war with America's perceptions.
Directed by Ang Lee (Life of Pi), from a script by Jean-Christophe Castelli, based on the novel by Ben Fountain, the film also stars Kristen Stewart, Chris Tucker, Garrett Hedlund, Vin Diesel, Ben Platt, Tim Blake Nelson and – yes, Steve Martin in a non-comedy role, although the same could be said for Father of the Bride Part II.
This film has been shot with such a revolutionary filming teckhnique, not only with 4K 3D (while you're watching a film in a multiplex cinema, it's normally 4K at least, but the 3D image will be two 2K images – one for each eye, so not two 4K images), and also at 120fps. Peter Jackson's The Hobbit trilogy were all filmed at 48fps, with giving a bizarre 'fast' feel at times, so I can only imagine how this one will look.
Sadly, imagining is all I can do, since there is not a single cinema in the UK that can show the film in this format… Cinerama, anyone?
Hit or Miss? Verdict: Hit!
---
Cute Little Buggers
Will you let them take our women? It's Gremlins meets Hot Fuzz set in the English countryside. When hostile aliens crash land on local farmland the villagers at the summer ball get suspicious when young women start going missing. The villagers soon band together around our hero Melchoir to fend off the invaders and bring back peace to the sleepy English countryside! B-movie laughs in this creature feature.
Directed by Tony Jopia (Deadtime, Crying Wolf) , starring Caroline Munro (At The Earth's Core and both Dr Phibes films), Angela Holmes, Dani Thompson and Gary Martin as Randy Rocksoff, and with a £25,000 budget, I have GOT to see this. It looks hilarious 🙂
Hit or Miss? Verdict: Hit!
---
The Space Between Us
In this interplanetary adventure, a space shuttle embarks on the first mission to colonise Mars, only to discover after takeoff that one of the astronauts is pregnant. Shortly after landing, she dies from complications while giving birth to the first human born on the red planet – never revealing who the father is. Thus begins the extraordinary life of Gardner Elliot (Asa Butterfield) – an inquisitive, highly intelligent boy who reaches the age of 16 having only met 14 people in his very unconventional upbringing.
While searching for clues about his father, and the home planet he's never known, Gardner begins an online friendship with a street smart girl in Colorado named Tulsa. When he finally gets a chance to go to Earth, he's eager to experience all of the wonders he could only read about on Mars – from the most simple to the extraordinary. But once his explorations begin, scientists discover that Gardner's organs can't withstand Earth's atmosphere. Eager to find his father, Gardner escapes the team…
Directed by Peter Chelsom and also starring Gary Oldman, Carla Gugino, Britt Roberston and BD Wong, there's potential in this, but not a huge amount.
Hit or Miss? Verdict: Maybe!
---
20th Century Women tells the story of three women who explore love and freedom in Southern California during the late 1970s, and stars Annette Bening, Elle Fanning and Greta Gerwig.
Like the three women in this film before any marriages took place…
Hit or Miss? Verdict: Miss!
---
Fifty Shades Darker – It's back. Just accept it.
This time round, while Christian wrestles with his inner demons, Anastasia must confront the anger and envy of the women who came before her (f'nar! f'nar!)
Along the way, in the trailer, she chances upon another guy who wants a piece of her that says, "Do you want to be kept… or do you want respect?" Well, I don't bat for the other side, but since Christian Grey is richer than an astronaut… 😀
Fifty Shades of Grey was a terrible movie, but one good thing about Fifty Shades Darker is that it doesn't feature the word 'of', which doesn't help when it comes to SEO, or Search Engine Optimisation… Oi! Wake up at the back!
The cast features Marcia Gay *Harden* and Eric *Johnson* (double f'nar! f'nar!)
Directed by James Foley (Glengarry Glen Ross and… er… 1987's Madonna movie, Who's That Girl?), from a screenplay by Niall Leonard, based on the EL James novel, and also starring Tyler Hoechlin, Rita Ora, Bella Heathcote, Hugh Dancy, Jennifer Ehle, and what's left of Kim Basinger's face, and it looks as terrible as ever.
Fifty Shades Darker is released in UK cinemas tomorrow, but the Blu-ray and DVD last time also featured an 'extended version' (more f'nar! f'nar!), so pays your money and takes your choice.
Hit or Miss? Verdict: Miss!
---
Fences stars Denzel Washington as Troy, an African American father, who struggles with race relations in the USA while trying to raise his family in the 1950s and coming to terms with the events of his life.
Denzel also directs himself, plus Viola Davis (Suicide Squad) and Mykelti Williamson (Forrest Gump) from a script written by August Wilson, based on their own play.
Although his character is rather a bar-steward, and I still don't think that Denzel Washington can act his way out of a paper bag, and this was brought home even more with his recent foray into a Western with The Magnificent Seven, but despite all that, for a change, Fences does look like a Denzel film that could be worth watching.
Hit or Miss? Verdict: Maybe!
---
Reviewer of movies, videogames and music since 1994. Aortic valve operation survivor from the same year. Running DVDfever.co.uk since 2000. Nobel Peace Prize winner 2021.