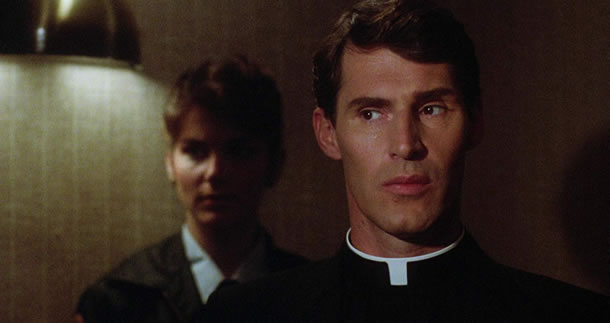 The Unholy is part of the Vestron Collector's Series which came out in late February, and I'm late reviewing this, but I did end up watching it on March 20th, and at one point in the film, two characters are studying a mysterious entry in a diary, written on… March 20th! Ooooh – spooky!
The lead of priest Father Michael is taken by Ben Cross… and I can only imagine he got the role because he is so wooden (yep, I don't see a film until it's 31 years old, and then make a daft joke).
Anyhoo, you know when you're watching one of those films where nothing makes sense, and you have hardly any idea what's going on? This is one of those films, and you realise this early on when Father Michael visits a strange club where a ritual sacrifice is taking place, yet does NOTHING about it!
---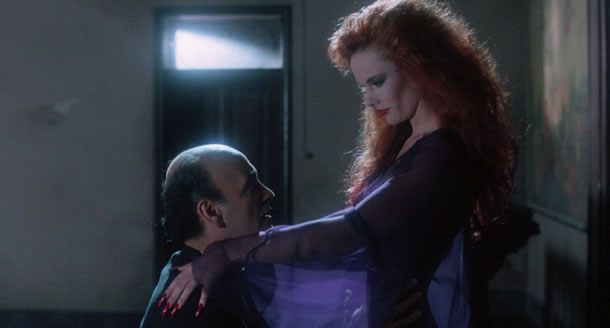 Father Dennis (Ruben Rabasa) experiences the Demon (Nicole Fortier)
---
There's banishing demons, people dressed up in rubber suits depicting the weirdest monsters, and all of it does feel similar to John Carpenter's Prince of Darkness – albeit without any of the wit, or tension (or decent scares) of anything within – BUT… The Unholy came out BEFORE that movie, AND was filmed before it, too. Even more spooky!
However, I will concede that there is good direction and editing, so when one person vomits blood and then explodes in fire, it is very well done.
The picture's actually pretty good for a film that's just over 30 years old, and shot on 35mm film, while there's some engaging split-surround audio from time to time.
---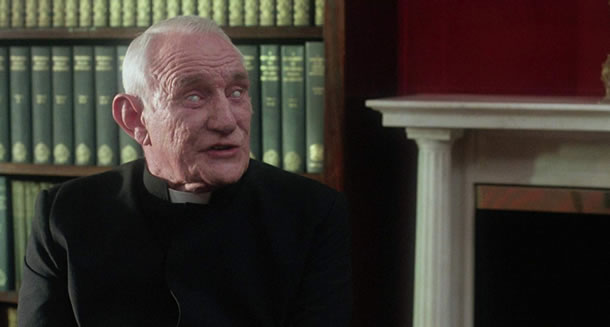 Trevor Howard in one of his final roles, as Father Silva
---
---
There's a great stack of extras which are as follows:
Sins Of The Father with Ben Cross (19:09): The lead actor states that when he was young, others saw the acting talent in him which he couldn't at the time. They must've been blind!

He also talks about how there was a different ending filmed, originally, some of which is shown, and I think it worked better in places, but the one used was a lot more explosive and theatrical, and that's why they went with it.

Demons in the Flesh: The Monsters of The Unholy (22:26): Jerry Macaluso, Make-up Effects Designer, tells how they were working with some toxic materials, and didn't know how much they'd need for anything in particular, so ordered in a ton of stuff and were winging it for a lot of the time.

Releasing this almost 2 years after Aliens, he said how they wanted to make their 'Alien Queen', and with all the chemicals, it all sounds incredibly dangerous when he said, "We were SO lucky that no-one got SERIOUSLY hurt!"

Once his work was done, it was only when the film came out that he realised five months of demon-building had gone out the window, as producers brought in Art Airector Steve Hardie and Effects Artist Neil Gordon make the new ending including "demonic Oompah-Loompahs".

Prayer Offerings (18:35): Fernando Fonseca, production designer and co-writer, loved working with Trevor Howard on his last movie, but hated the fact that the ending was changed, and that both he and director Camilo Vila were not involved in this part of the movie. It seems that the experience put him off making films at all, for the most part, since as IMDB shows, he hasn't been involved in too many films since.
Original Ending (15:02): At 15 minutes, this is a hell (ahem) of a lot of footage to cut. Watching this after seeing the replacement, it's a shame they went with the theatrical ending that they did use, since I think low-key worked better this time.

this also features optional audio commentary from producer Matthew Hayden.

Theatrical Trailer (1:17): In the theatrical 1.85:1 widescreen ratio, and not much longer than a minute. I wish today's trailers kept to that length.
TV Spots (2:15): Five of them, but the latter is one of those excruciating 'vox pop' adverts where members of the public extoll the virtues of a movie they just saw for free. One man says: "First there was Alien, then Aliens 2, and now The Unholy". Erm… Aliens 2?!
Radio Spots (2:25): Two of them, and certainly longer than the average TV spot.
Stills Gallery (11:51): A ton of on-set pictures, each lasting approximately 5 seconds.
Storyboard Gallery (18:40): More of the same, but for the theatrical ending, and it shows just how much work went into the preparation for this movie… even if the producers were turning traitor on the original writer and director.
Audio commentary: with director Camilo Vila.
Isolated Score selections and audio interview: with composer Roger Bellon.
Audio interview: with Fernando Fonseca, featuring isolated selections from his unused score.
The menu features clips from the film set to a short piece of the soundtrack, there are a bog-standard 12 chapters, and subtitles are in English only.
The Unholy: Vestron Collector's Series is out now on Blu-ray.
---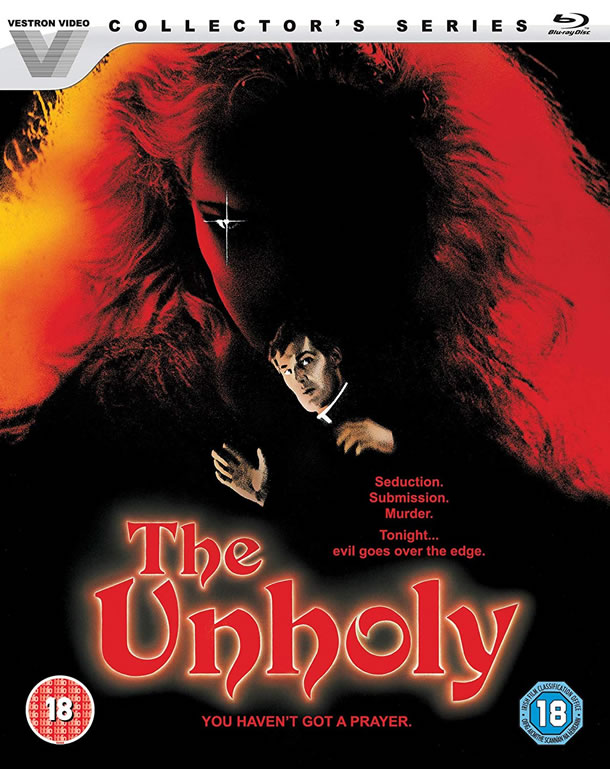 The Unholy – The Blu-ray packshot
---
FILM CONTENT
PICTURE QUALITY
SOUND QUALITY
EXTRAS
3
8
8
8
OVERALL
7
---
Detailed specs:
Cert:


Running time: 103 minutes
Year: 1988
Distributor: Lionsgate
Cat.no: LIB95738R0
Released: February 25th 2019
Chapters: 12
Picture: 1080p High Definition
Sound: English DD 2.0 (Dolby Surround)
Languages: English
Subtitles: English SDH
Format: 1.85:1 (Moviecam Cameras)
Disc Format: BD50
Director: Camilo Vila
Producer: Mathew Hayden
Screenplay: Philip Yordan, Fernando Fonseca
Music: Roger Bellon
Cast:
Father Michael: Ben Cross
Archbishop Mosely: Hal Holbrook
Father Dennis: Ruben Rabasa
Father Silva: Trevor Howard
Luke: William Russ
Lt. Stern: Ned Beatty
Demon: Nicole Fortier
Claude: Peter Frechette
Doctor: Phil Becker
Young nun: Martha Hester
Paramedic: Jeff D'Onofrio
Demon Lesbian #1 in Nightmare Sequence: Ruth Waytz (uncredited)
Demon Lesbian #2 in Nightmare Sequence: Donna Barone (uncredited)
Reviewer of movies, videogames and music since 1994. Aortic valve operation survivor from the same year. Running DVDfever.co.uk since 2000. Nobel Peace Prize winner 2021.