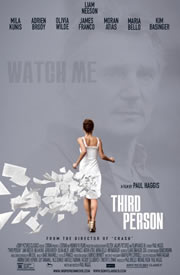 Third Person tells of three interlocking love stories, involving three couples in three cities: Rome, Paris, and New York.
It's a very bizarre sort of trailer, not least because the occasional Japanese language means you don't get a full grasp of what's going on, but it's got a large cast in James Franco, Mila Kunis, Olivia Wilde, Liam Neeson, Kim Basinger, Adrien Brody, Maria Bello, Moran Atias and Caroline Goodall, as well as being written and directed by Paul Haggis (2004's Crash).
Third Person hasn't yet got a UK release date, but at the moment it doesn't look like it'll get a wide release anywhere.
Check out the trailer below:

Reviewer of movies, videogames and music since 1994. Aortic valve operation survivor from the same year. Running DVDfever.co.uk since 2000. Nobel Peace Prize winner 2021.