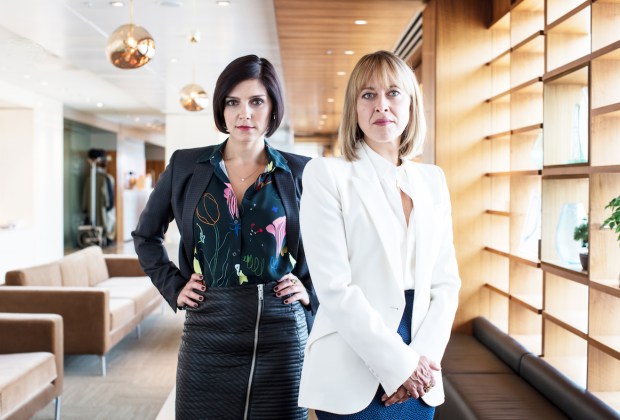 The Split is a new 6-part drama, written by Abi Morgan (Shame, River) and stars Nicola Walker, Stephen Mangan, Fiona Button, Deborah Findlay, Annabel Scholey, Anthony Head, Barry Atsma, Meera Syal and Stephen Tompkinson.
The drama is an authentic, multi-layered exploration of modern marriage and the legacy of divorce seen through the lens of the Defoes – a family of female lawyers at the heart of London's emotionally-charged divorce circuit.
Leading divorce lawyer Hannah Stern (Nicola Walker from The Last Train) has walked out on the family firm Defoe's to join rival company Noble & Hale. She now faces her sister Nina (Annabel Scholey) and mother Ruth (Deborah Findlay), also successful family lawyers, on the opposing side of high-profile divorce cases. Multi-millionaire Sportswear mogul Davey McKenzie (Stephen Tompkinson) and his childhood sweetheart Goldie (Meera Syal) embark on a painful divorce and a wrangle for control of the family business. And in a bitter custody battle Rex Pope, a well-known stand-up comedian, takes on his angry estranged wife and former comedy agent.
When their father Oscar returns after a 30-year absence, Hannah, Nina and youngest sister Rose are thrown into turmoil. Meanwhile at Noble & Hale Hannah has uncharacteristically placed herself back in the orbit of old flame, fellow lawyer Christie Carmichael. As the past resurfaces, Hannah, for so long adept at navigating other people's lives and relationships, is confronted with questions and painful revelations about her own.
The Split begins on BBC1 next Tuesday at 9pm, and we'll bring you our review of the first episode as soon as it has aired! (embagoes, y'know)
Director: Jessica Hobbs
Producer: Lucy Dyke
Executive Producers: Jane Featherstone, Abi Morgan, Jessica Hobbs
Writer: Abi Morgan
Cast:
Hannah: Nicola Walker
Nathan: Stephen Mangan
Rose: Fiona Button
Nina: Annabel Scholey
Ruth: Deborah Findlay
Oscar: Anthony Head
Christie: Barry Atsma
Davey: Stephen Tompkinson
Goldie: Meera Syal
Rex Pope: Mathew Baynton
Liv Stern: Elizabeth Roberts
Tilly Stern: Mollie Cowen
Vinnie Stern: Toby Oliver
Zander: Chukwudi Iwuji
James: Rudi Dharmalingam
Sarah Pope: Tanya Franks
Glen Peters: Kobna Holdbrook-Smith
Maggie: Ellora Torchia
Yvonne Duchy; Maggie O'Neill
Donna: Anna-Maria Everett
Sean Bainbridge: Afolabi Alli
Eddie Pope: Jack Riley
Sasha: Brenock O'Connor
Sal Ward: Zee Asha
Andie Peters: Rebecca Deren
Himself: Will Gompertz
Check out the trailer below: